No way to celebrate your son's 21st - time for an independent inquiry into a death in Garda custody?

dublin | rights, freedoms and repression | feature

Thursday March 23, 2006 12:30

by kevin - imc éire
The Wheelock family protest outside the Dáil on what should have been Terence's birthday. An extended interview with Laurence Wheelock, brother of Terence Wheelock.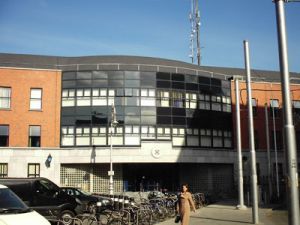 I remember my 21st birthday. My friends all came out and we hijacked a large corner of a pub in town. There were cards, presents, pints bought and songs sung. That's nearly nine years ago for me. Your 21st is generally seen as a celebration of your arrival into adulthood. In your twenties you grow up more, make new friends, lose others, find more of your independence, switch jobs a few times, make mistakes, learn, maybe travel a bit, fall in love, start a family. This afternoon one Dublin family, the Wheelocks, will be marking the day of their sons' 21st birthday, were he alive, outside the Dáil with a protest.
Terence Wheelock died in September last year after being on a life support machine for three months. He had been in a coma since his arrest and detention on June 2nd in Store Street Garda Station, along with three other people on suspicion of car theft. The Garda Press Office made a statement, claiming that Terence had tied a ligature around his neck, and secured this to a "fixture" which was "counter sunk into the wall". The subsequent renovating of the cell after his death, and the lengths to which the Gardai went to prevent the family from accessing his clothes, has raised many serious and troubling questions about what happened to Terence Wheelock while in custody in Store Street on June 2nd, 2005.
I met up with Terence's brother Laurence in the family home in Summerhill, who told me about what is happening at the Dáil today at 2pm. "The protest is for people from the local and wider community who have an interest and who would empathise with our situation as a family," says Laurence. "Terence would have been 21 today, but he never made it to his 21st birthday. We're asking the Minister for Justice: Why? We'll be doing a birthday card protest. We cant present Terence with a card on his birthday, so instead we're presenting it to the Minister for Justice. In doing this, we're asking him - "Why is it that we cant give this to Terence today?" The card is going to have a key on it, a key to the door for his 21st birthday. People will be handing this in at the gate, in a democratic protest. This will hopefully draw attention to our campaign in a peaceful and dignified way."
"We're also going to outline a few questions to Michael McDowell related to the case, and ask him if he's going to establish an independent inquiry to find out what happened. We have no faith in an internal Garda inquiry, it doesnt answer the questions satisfactorily. McDowell hasnt agreed to meet us tomorrow but I am calling on him to do so. We hope that the Taoiseach will also come out and meet us, he's the representative for this area, so we can at least talk to him about some things we feel are very wrong with the case. Joe Costello is going to be there, he's been doing great work with the family. Joan Collins has also been working with another family [the Moloneys] out in Crumlin, so as I understand it she will be also doing something for this family, such as handing in a petition."
At the last Coroner's Court hearing, agreement was reached between the Wheelock family and the State, regarding independent forensic examination of his clothes. Rather than the clothes being sent to the UK, foreign forensic scientists will be coming to Ireland. "The Garda are saying that Terence committed suicide. So at the time, the Garda had no legal right to hang on to his clothes. They wouldnt give them back to us. They had said they were keeping them because a possible criminal prosecution might come out of it. Now the DPP has decided nothing will happen. That's something that didnt surprise us, we were expecting that. We have had to fight tooth and nail to get Terence's clothes back. We believe that there is some forensic evidence there. They're delaying us, and we belive that the longer that we dont have the clothes, the more likely it is that they are forensically contaminated. Any evidence there will be damaged, comprimised. We asked for them back to we could have them independently examined, but the Garda will not hand them back.
"We said that we didnt have the money needed to bring over experts from England over here, its a very costly business. So the Minister for Finance and the Minister for Justice have said that they will assist us somewhat with the expenses. So now the independent experts will be coming over here. They'll have to do the examinations in Ireland. They wont be able to take the clothes out of Ireland, but they might be able to take a few fibres for further tests. But what I cant understand is how its taken nearly a year for forensic scientists to come over. A lot of questions have arisen over this. I would have preferred to have gotten Terence's clothes from the outset. They had no justification in taking them. We're going back to the Coroner's Court on April 6th to see if there has been any progress with mediation, between our independent experts and the forensic scientists attached to the State."
The Director of Public Prosecutions has decided that no charges will be brought against any Gardai in relation to Terence's death. The Garda Commissioner had appointed Detective Superintendent Oliver Hanley from Dun Laoghaire Garda Station to examine the circumstances surround Terence's death. "The DPP's decision was solely based on Oliver Hanley's investigation," says Laurence. "We have not seen that report. He investigated Terence's death, John Moloney's death, and every death in Garda custody in Dublin over the last 15 years. There was not one case of negligence brought against the State in his findings. We have had no correspondence with him at all - apart from not wanting to hand the medical records over to him. The reason for that is that this is our only form of defence left. We've been obliterated every other way. They've conned us, they've disorientated us, they took his clothes away. We just felt we had to hang on to the medical records. They never contacted us to let us know how the internal investigation was going. This Garda spent 15 years working in Store Street station, so he may as well be investigating his friends. So of course we were not happy with this type of investigation. The only type of inquiry we would be happy with is one completely independent of the State. Not someone like Judge Kevin Haugh as an Ombudsman, because he is still in some way attached to the State. He's still a member of the judiciary.
"As I said, it didnt come as a surprise that they weren't going to charge anyone. What I did find, to the utter disgust to the memory of my brother, is that the Minister for Justice formed his opinion that Terence himself was the sole cause of his own death, on the basis of this DPP report, without having looked at or even considered an outcome of a future inquest. And it took him seven months to form this opinion, to come out and say Terence was responsible for his own death. We are never going to see this report. We have to fight and lobby for everything - politicians, judiciary, district courts, high courts - just to access simple documentation attached to this case. Information that should be afforded to us straight away.
"I dont want to get into a class struggle debate here but I believe if this was a middle class area with someone from an affluent background, an independent inquiry would have been established almost immediately, and the Gardai involved would have been suspended due to an inquiry taking place. They know we're not in a strong financial position, but we'll do whatever it takes. We really just want to know why my brother died. He went in that cell that day, we dont know what happened. But what happened afterwards - there appears to be a concerted cover-up. It took them ten minutes to ring an ambulance for Terence. When the ambulance men came, he wasnt found in his cell - he was out in the hall. The ambulance men say there was no bruising on his body but we dont believe that, we think that's just the Garda's story. We have detailed evidence from photographs to show Terence was bruised - excessively bruised, all over his body. He had a two and a half inch open laceration on his spine. He had a shard of metal embedded above his eye, which we have no idea where this came from. Plus by a doctor's admission he had a major blow to his head. Now Terence was supposed to have been able to hang himself from two and a half feet off the ground. Unless he was on a bunjee rope its hard to see how he could have got those injuries.
"When the Garda came to the door, they told my mam straight away that Terence had hung himself, without asking her to sit down first. They told us that Terence was in James's Hospital knowing full well he was in the Mater. They disorientated my family for an hour, not knowing where Terence was. When we get there, there were two Gardai walking out with Terence's clothes. The cell was renovated even though there was a court order preserving it. The disappearing of the evidence that would either make or break our case. This just added to our paranoia about what might have gone wrong in the cell in Store Street on that day. These problems are issues that would merit an independent inquiry on their own. Evidence like this would ordinarily be very dear to a Garda's heart - if this was a murder inquiry that they were investigating, the evidence wouldnt go missing. The doctoring of custody records; apparently there's no record of an arresting Garda, so Terence shouldnt have been in the station in the first place? But they're not saying that, they're saying he was there. But when you look at the custody records, the arresting Garda names have been scribbled out. So are they saying now there's no arresting Garda? How did he get there? This is a legal document and its been tampered with. These are questions, in my mind, that any normal, civilised, decent society should be asking for an independent inquiry into.
"If nothing comes of the forensic exam, well... we'll have to consider that if it comes. I'd say that the scientists will know if there was any contamination from the outset, any deliberate contamination. At the end of the day, if they do say that Terence committed suicide, then why was there the need to take his clothes? These were personal artefacts that should have been given to the family. There was obviously something they were worried about. They denied that Terence had a t-shirt on him, yet all of a sudden two months later in court it turned up. The clothes went missing, they even denied they had them as well. There was an awful lot of cloak and dagger stuff going on there. We're not out for blame, we're not out for revenge. We just want to know what happened, plain and simple.
"Relations between the youth and the Gardai, not only in this area but many areas in Dublin, have been strained. This is because of the attitude of the Gardai towards the young people today. I cant say exactly what goes through all people's minds with regard to what happened to Terence, but the general consensus out there is that Terence was murdered. Now this is not what we are saying as a family, it is what I hear on the street. They do believe it because they know what the Gardai are capable of. There's people claiming that they're getting broken up every day of the week. I've seen young lads with black eyes and their arms broken that the Gardai have only arrested a couple of hours before. The relationship is strained, not necessarily as a direct result of Terence's death, its always been strained, but I dont think that all this has helped the situation at all. With regard to Father McVerry's comments... my family could not condone the behaviour in O'Connell Street last month. Our marches have always been peaceful and dignified, and will continue to be. We would urge everyone involved in our campaign to remember it is about justice, not revenge.
"The campaign has had great local support. When we marched on Store Street station, around a thousand people came out, despite the torrential rain. We need support from the wider community. We hope that from our campaign, that we can change the law with regards to an ombudsman, where like in the north, someone appointed from outside the State can come in, close down the police station for a day, do all the necessary legal, forensic and technical work, and seize all relevant documentation. At the end of all this we're not out for revenge, we just want justice. We've been so distracted with getting answers to all this... only when the truth emerges can we begin to grieve as a family."