#SpanishRevolution comes to Greece: #M25Gr = #GreekRevolution

international | anti-capitalism | feature

Friday May 27, 2011 13:55

by #GREEKREVOLUTION - M25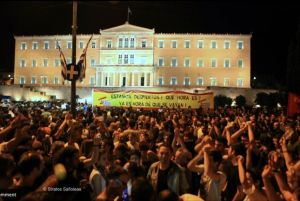 Yesterday was a beautiful beautiful day and a very very important one. 10 days after the "Spanish Revolution" kicked off peacefully all over Spain, it has been replicated massively in the homeland of Democracy, Greece. Yesterdat, M25, 20,000 people took to the streets and squares all over Greece... 7,000 alone and absolutely peaceful in Constitution square in athens. They have been inspired by Spain and the simple core idea of the movement; That we have had enough, that we are "indignant", we will not take it any more, its time to stand up, take to the streets, occupy squares, create a "true democracy"... and hope that the Spark of peaceful Revoution spreads all over this little planet...

Follow the #GREEKREVOLUTION as it unfolds and spreads...

Real democracy Greece - http://real-democracy.gr/

Related Links: Tahrir Comes to Spain | Tahrir > Spain > World | "Peoples of Europe, Rise Up" Greece's message being taken up by France, and maybe beyond too? | #SpanishRevolution – Instaling Democracy 2.0

+VIDS from earlier moments outside this square:
RAW INCREDIBLE VIDEO: Greeks Battle Riot Police & Storm Parliament - HUGE PROTESTS | People will rise against bank bailouts globally |

vid from #acampadaBCN - Barcelona

#IrishRevolution starting July 16th? - They say it can't happen, let's prove them wrong:
Hashtag: #irishrevolution
Facebook: Act for Ireland
Facebook: #irishrevolution #july16 facebook page
Facebook Event: Protest: for a true democracy now!
Instaling Democracy 2.0 █████░░░░░░░░░░░░░░░░ 10%

"Peoples of Europe, Rise Up"
In many ways this is almost an echo, a year ago the Greeks hung a massive banner from the Acropolis with a simple message: "Peoples of Europe, Rise Up". Over the last year we have seen some responses, In October we saw massive strikes in France, we saw the students of London rebel against the harsh cuts being imposed at Christmas and in Spain we saw a general strike on S29, September 29. But none of this seemed to take off quiet as powerfully as that which has unfolded here in Spain over the last 10 days. In recent months we have seen the "Arab Spring", which was a massive inspiration to the "indignant" in Spain; the idea that it IS POSSIBLE to mobilise the masses (especially more so now with social networking tools; facebook, twitter etc...) and to absolutely change things PEACEFULLY. The movement here in Spain continues to grow and grow, and outside too it has sparked in a very quick profound way (650 global events around planet 3 days ago) but this response from Greece is something very very special, because of the size, because this is all about re-questioning, re-examining, re-creating the whole idea that came from Greece so many centuries ago; DEMOCRACY.

We have to remember that Greece has seen massive and very violent protests for a long time, so there was a fear that yesterdays first day of action could lead to the normal stand off between riot police and petrol bomb wielding anarchists, thankfully this did not surface, in fact 1 protestors message in 1 of the papers is that the government can deal with the violence, it doesnt threathen them, but this, this massive peaceful action does, they do not know how exactly to deal with it. So hopefully we will see these numbers growing, taking to the streets and starting to occupy squares to set up little free zones to talk, but also to demonstrate what true democracy looks like; a more direct and participative form as opposed to the once every four years version we see at present, which has failed us and left us in this sorry state of affairs.

S2S - communication is our weapon
Also last night, the second beautiful moment; When we in the occupied square of Placa Catalunya in Barcelona, #acampadaBCN (campsite Barcelona) connected live with the thousands in the square outside the parliament in Athens via live stream (again how great these new tek tools enable us to connect, even on this massive scale; S2S : square to square). After the massive cheers of greetings from each square of defiance and revolution to the other, we had about 5 or 10 minutes of exchange, giving updates on the situations and hoped for plans for where we go from here.

International Reports:

Πάνω από 20.000 «Αγανακτισμένοι» στο Σύνταγμα - "Ξυπνήσαμε" φώναξαν
Over 20,000 "indignant" shouted "Wake up" in front of the Constitution
http://www.star.gr/ellada_kosmos/93169
Google translation - http://translate.google.es/translate?js=n&prev=_t&hl=es...93169
Greek STAR.GR media report with vid and many photos (click on image and repeat clicks to view)


The pulse in each case was sensational with the assembled shouting "Hellas, Hellas," Greece, Greeks indignant "and" Bread, Education, Freedom".

It had "fallen" from early Wi-fi in the area (for several hours "fell" and the mobile network) so many to report that it might cut deliberately to avoid contact with the world focused on the internet and send impressions and photos.

In the process, however, said that the slogan was written by Greek students and it was ironic but ... warning meaning that if the Greeks wake up it will toll around the world!
Φωτορεπορτάζ από τους «Αγανακτισμένους» στις επαρχιακές πόλεις -
Photo of the "indignant" in provincial cities
http://www.star.gr/ellada_kosmos/93169
Google translation -
http://translate.google.es/translate?hl=es&sl=el&tl=en&...03%2F
Apart from Athens, Syntagma Square where thousands gathered flooding the city center, common slogans and banners, with no trace of violence and partisan coloring, and other provincial cities protesting citizens who are just "angry." all over Greece!

In Thessaloniki, more than 5000-6000 people all ages gathered in front of the symbol of the city, and they demonstrate peacefully uniting the voices of indignation they drown.

And Heraklion (more than 1,000 people), Chania and Rethymno held demonstrations, and especially young people in our country seems to take the baton from the movement of Indignados Spain.
Live stream out from greece was at
http://www.star.gr/ELLADA_KOSMOS/93174
VID FROM ATHENS LAST NIGHT:
http://www.youtube.com/watch?v=-p5yR9Xylcc
Spanish reports:
Los «desesperados» griegos montan la #greekrevolution (ABC)
The "desperate" Greeks mount the #greekrevolution
Con banderas de Grecia y España, se concentran en todo el país contra la corrupción y a favor de una mayor justicia social
With flags of Greece and Spain, they gathered all around the country against corruption and for greater social justice
http://www.abc.es/20110525/internacional/abci-papandreu....html
Google translation -
http://translate.google.es/translate?hl=es&sl=es&tl=en&....html
The "angry" Greeks protest at this hour in the Plaza de la Constitution (Sindagma) in Athens, in a peaceful rally organized through Facebook that aims to emulate the call that started in the Puerta del Sol Madrid Greece have been baptized as "desperate" ("aganagtismeni" stronger word "angry") against corruption and for greater social justice. You can see it here live .

Concentrations have been convened in the Plaza of the Constitution in Athens, to the White Tower in Thessaloniki and in the Plaza de San Jorge de Patras. But little by little have been adding more groups in other cities. They all insist that it is spontaneous and peaceful concentrations without signs, without parties, without any tip or organizations.
Miles de griegos protestan contra los recortes frente al Parlamento de Atenas
Al menos 7.000 personas se concentran en la plaza Sintagma contra las medidas de austeridad
http://politica.elpais.com/politica/2011/05/25/actualid....html
The Movement 15-M crosses borders. At least 7,000 people, police said, met on Wednesday in a peaceful manner in Syntagma Square (Constitution) of Athens, in response to a call of "outraged" Greek to protest against government austerity measures, Efe reported . At the rally in front of the Greek Parliament, a banner written in Castilian in the colors of the Spanish flag reads: "We are awake What time is it? It's time to go."
Rage and Responsibility
By Stratos Safioleas
http://www.facebook.com/media/set/?set=a.10150271025546...51912
I understand rage. I expect responsibility. I am not here to vent my frustration. I demand a new course.
Αγανάκτηση χωρίς επιθυμία για αλλαγή, δική μας, είναι απλώς εκτόνωση. Δε θέλω εκτόνωση. Θέλω κρίση. Θέλω αυτοκριτική. Θέλω προοπτική. Θέλω σχέδιο. Θέλω εργασία. Θέλω αλλαγή. Από όλους μας. Τώρα.
Tweet during live stream:
http://twitter.com/#
!/fuspey/status/73480734479892480
#spanishrevolution > #greekrevolution @acampadaBCN has connected live with Athens
http://tinyurl.com/3uj37k4
#15m #25mGR #yeswecamp #protest
Follow DEMOCRACIA REAL YA, GRECIA (FACEBOOK)
ΠΡΑΓΜΑΤΙΚΗ ΔΗΜΟΚΡΑΤΙΑ ΤΩΡΑ!!
http://www.facebook.com/home.php?sk=group_218940354800038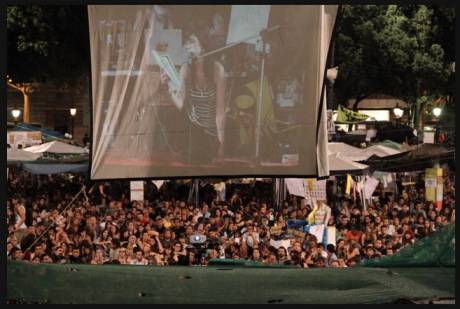 S2S - Placa Catalunya connect live with Ahtens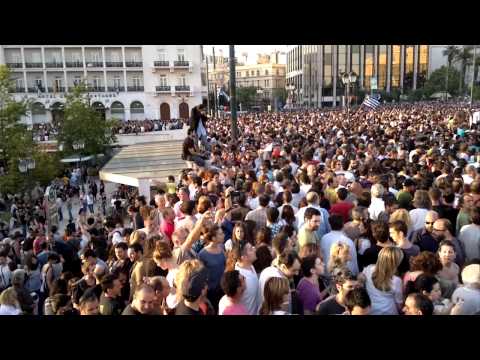 Caption: #SpanishRevolution comes to Greece: #M25Gr = #GreekRevolution

Caption: #acampadaBCN

Caption: People will rise against bank bailouts globally