We Will Not Be Gagged: Wikileaks

international | rights, freedoms and repression | feature

Wednesday December 22, 2010 15:24

by pat c
Julian Assange may be imprisoned but Wikileaks is still operational, still releasing the information that Obama and Clinton do not want us to see. False rape charges have been filed against Assange in Sweden so that he might be extradited to there and then on to the US where he would likely face life imprisonment. More likely death as its very easy to arrange murder inside a federal prison.

Those who have collaborated with the attempts to close down Wikileaks have learned there is a price to pay.

Below is a statement from Wikileaks. This is followed by excerpts from other articles regarding Wikileaks.
Indymedia Links:
Indymedia.org: Governments and Corporations Attempt to Repress Wikileaks: Holding Up Mirrors | Hands Off Wikileaks. | Rally for Wikileaks - Dublin 18/12/2010 | Australians in London Demand Release of Assange & Confront OZGovt. Complicity | US Court attempts to muzzle Wikileaks | How to act to defend Wikileaks. | Operation Payback: "The first great cyber war?" | Irish/ Australian international peace activist, Ciaron O'Reilly, referred to in Secret US cables ... | Dermot Ahern "convinced" that "rendition" flights went through Shannon: wikileaks |
External Links:
WikiLeaks document exposes US complicity in Sri Lankan war crimes | International campaign targets WikiLeaks web site | WikiLeaks exposes US cover-up of Georgian attack on South Ossetia | WikiLeaks continues exposure of predatory US foreign policy | US escalates threats and attacks on WikiLeaks | Comic Jon Stewart attacks WikiLeaks' Julian Assange | WikiLeaks founder jailed in London on bogus charges | WikiLeaks cables cast fresh light on coup against former Australian PM Rudd | Australia: WikiLeaks cables reveal secret ties between Rudd coup plotters and US embassy | WikiLeaks documents show Shell Oil domination of Nigeria | WikiLeaks cable highlights fears in Beijing over social fragility | Obama administration steps up vendetta against WikiLeaks' Julian Assange | Journalist John Pilger speaks out on charges against Julian Assange | Leaked cables show German-American conspiracy to stifle prosecution of CIA kidnappers | The French "left" attacks WikiLeaks | WikiLeaks document points to US contractor role in "dancing boys" incident | Cables Reveal Background of Pro-Dictator U.S. Policy | Economics of Slaughter. It really is us against them | Lebanon Holds its Breath Over Leaked Revelations | WikiLeaks Cables Show Deeper U.S. Military Role in Muslim World | What's Behind the War on WikiLeaks | US cables: Oil giants squeeze Chávez as Venezuela struggles | WikiLeaks cables: Pfizer used dirty tricks to avoid clinical trial payout | WikiLeaks founder Julian Assange may face trial in US | US Cables: Texas Company Helped Pimp Little Boys To Stoned Afghan Cops | American Ambassador thanked Dermot Ahern for rejecting demand for inspections of Aircraft at Shannon Airport | Irish Politicians asked to show the "support" for Julian Assange and Wikileaks | Selection of Articles from the Huffington Post | CBS news finally gets in on the act too(!)
Wikileaks mirrors and up to date info:
wikileaks site mirrors | regular wikileaks news updates | cablegate on twitter
Ethical Hacktivism info:
Anon news | Anon Twitter feed ! LOIC (protest tool) | Tor network (provides some anonymity)
WikiRebels
WikiRebels - a rough cut of an upcoming documentary on Wikileaks

Some more information for the Internet Activist: Top Secret America
STATEMENT: "We will not be gagged" #cablegate #censorship

Following the detention of Wikileaks founder and editor-in-chief Julian Assangem, Wikileaks spokesman Kristinn Hrafnsson said:

"Today, Wikileaks editor-in-chief Julian Assange was refused bail by a UK court. While we are troubled by this bizarre decision, we know Julian is grateful for the support of both his legal team and prominent figures such as Ken Loach, Jemima Khan and John Pilger.

"However, this will not stifle Wikileaks. The release of the US Embassy Cables – the biggest leak in history – will still continue. This evening, the latest batch of cables were released, and our media partners released their next batch of stories.

"We will not be gagged, either by judicial action or corporate censorship. Today Visa joined Mastercard, Paypal, Amazon, EveryDNS and others in cutting off their links.

"Wikileaks is still online. The full site is duplicated in more than 500 locations. Every day, the cables are loaded more than 50 million times.

"US Senator Joe Lieberman today attacked the New York Times for its decision to publish the cables, just days after calling for companies to boycott Wikileaks.

"Just minutes later, the State Department announced the US will host next year's UNESCO Press Freedom day. The irony is not lost on us. We hope in future, UNESCO celebrates press freedom somewhere where it exists."

Visit the Cablegate site at http://www.wikileaks.ch/cablegate

MasterCard Site Partially Frozen By Hackers In WikiLeaks 'Revenge'
By Esther Addley

http://www.countercurrents.org/addley081210.htm

The website of MasterCard, the international credit card, has been hacked and partially paralysed by hackers, in apparent revenge for the payment network's decision to cease taking donations to WikiLeaks

Visa And Mastercard Are Happy To Transfer
Donations To The Ku Klux Klan, But Not WikiLeaks
By War In Context

http://www.countercurrents.org/wic081210.htm

Charles Arthur, the Guardian's technology editor, points out that while MasterCard and Visa have cut WikiLeaks off you can still use those cards to donate to overtly racist organisations such as the Knights Party, which is supported by the Ku Klux Klan

Assange Case: Evidence Destroyed Over And Over Again
By Göran Rudling

http://www.countercurrents.org/rudling081210.htm

An extraordinary internet detective work by Göran Rudling one of the alleged victims of Julian Assange's sexual offence, tried to destroy evidence over and over again

Assange Could Face Espionage Trial In US
By Kim Sengupta

http://www.countercurrents.org/sengupta081210.htm

Informal discussions have already taken place between US and Swedish officials over the possibility of the WikiLeaks founder Julian Assange being delivered into American custody, according to diplomatic sources

When Interpol Cares About Sexual Assault
By Laura Flanders

http://www.countercurrents.org/flanders081210.htm

Tell it to hundreds of women in US jails and immigration detention centers -- who charge that they can't get justice against accused rapists -- or women in the US military (two of out three of whom allege they've experienced assault.) In Haiti hundreds of unprosecuted cases of rape in refugee camps could use some of Interpol's attention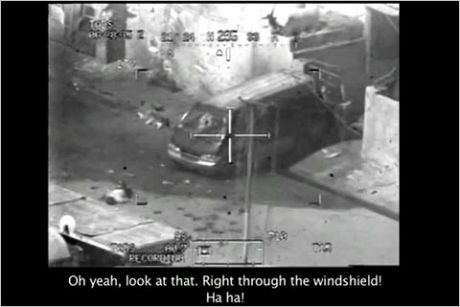 Flashback to the Wikileaks warlogs where US Apache pilots blast people out of existence