Symbolic Protest

national | crime and justice | feature

Friday April 09, 2010 16:52

by Religiousabusetruth

religiousabusetruth at gmail dot com

0862692524
'Religious Abuse Truth' held a symbolic protest at the Pro Cathedral on Easter Sunday by placing children's shoes at the altar.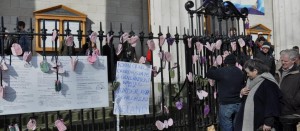 One thousand pairs of children's shoes of all sizes were tied to the railings outside the cathedral representing the victims of Roman Catholic abuse. Some passers by stopped to tie shoes. Many abuse survivors and supporters came together from as far as Cork and Wexford to attend the protest.
Related Links: Spring meeting for Bishops http://www.indymedia.ie/article/96011
Bishops meet survivor groups http://www.indymedia.ie/article/95764
Clerical Abuse Protest (25/01/2010) http://www.indymedia.ie/article/95574
Protest at the National Seminary of Ireland http://www.indymedia.ie/article/95555
Time to ban the Catholic church? http://www.indymedia.ie/article/95013 Murphy Report and a secularist challenge to the church http://www.indymedia.ie/article/95012
A Litany of Abuse, Abuse, Abuse – Part 1 http://www.indymedia.ie/article/94927
After the FERNS Report, the RYAN Report and the latest DUBLIN DIOCESE report what questions remain? http://www.indymedia.ie/article/93299
After the Ryan Report...The Next Big Scandal? http://www.indymedia.ie/article/93062
Closing the book on institutional abuse https://www.indymedia.ie/article/92659
Time To End Church Control of Schools, Hospitals and Social Services https://www.indymedia.ie/article/92497
The exposure of class prejudice http://www.indymedia.ie/article/92412
Release of child abuse reports http://www.indymedia.ie/article/92398

Report by Commission of Investigation into Catholic Archdiocese of Dublin http://www.justice.ie/en/JELR/Pages/PB09000504

When Archbishop Duirmaid Martin approached a protestor he was told "that we do not negotiate with child abusing terrorists in Ireland" and "that the Roman Catholic Church is the largest paedophile ring in the world should leave Ireland immediately".

Duirmaid Martin was interrupted while listening to another survivor, he again was attacked by the verbal onslaught "that they did not have any credibility in Ireland and he was wrong to ask a man to apologize for what was all evident to be true" Apologising later to the lady who was interrupted, she said that "it was ok, she didn't mind, I just wish I could say what you say"

As the protestors made their way into the cathedral they were prevented from entering by stewards and Garda. One protestor was assaulted as he was told to leave the building he wasn't welcome here. The Garda are investigating the incident after a complaint was made.

Kevin Flanagan said "that his mother had paid money for over 15 years to build that church. He had been refused entry into a house of GOD". He then read out a poem from the steps of the cathedral written by a supporter of the survivors of abuse.

Some protestors did get to make their way to the altar to place the shoes they had brought to remember all who were abused, alive and dead. They were verbally abused too as they made their way in and out of the cathedral. A protestor broke down as she recalled harrowing scenes from the institution she had been detained in as she was interviewed by the press.
Some mass goers were offended by the shouting of the abuse that went on. Luckily for them it only last a short while, for many, it went on incessantly for years non stop.

Less than one hour after the protest was over, all the shoes had been taken down. On returning from lunch to remove the shoes, protestors were aghast to find bare railings with no shoes. The removal of the shoes has been reported to the gardai and an investigation is underway to find the shoes. The shoes costing €4000 were specially made for protests concerning religious abuse.

In response to the Irish Time article link to the 'protesters disrupt pro cathedral mass', I would like to say "The verbal abuse was intense but fleeting, it will cause them no harm. For those who were so inhumanely abused for decades by catholic's, the harm is permanent. I make no apology to any terrorist organisation in my country, I do not negotiate with terrorists". What God has made so beautifully, the Catholic Church has destroyed for their own gains for a Catholic supremacy state. As for one's faith, that's Gods call, I do not question it. I question the largest child abusing terrorist paedophile ring in the world, who's sole purpose seems to be destruction of mankind through 500 years of demeaning child abuse and torture of the innocent.

Putting child abuse before terrorism tends not to invoke the real terror in terrorism. 9/11 is a prime example of how terrorists put fear in peoples lives. How governments respond to terrorism in stricter security measures at all airports. Fighting terrorism to make our world a safer place. Yet, children who were exposed to such harsh regimes and legions of abusers are kept silent about their trauma and abuse. Growing into adulthood, childhood has left an ugly mark that can never be removed. Subjected to over 90 years of systematic and clinical abuse of children by the Roman Catholic Church, is 'TERRORISM'.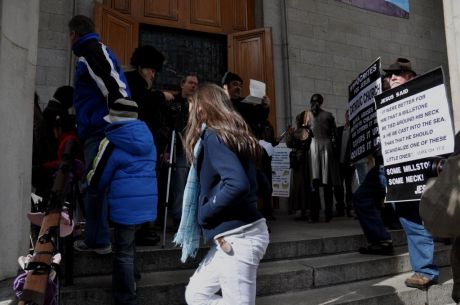 Protestors on the steps of the Pro Cathedral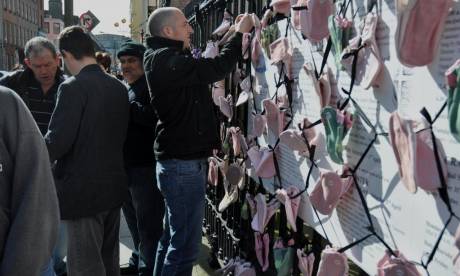 Protesters tying shoes to railings at the Pro Cathedral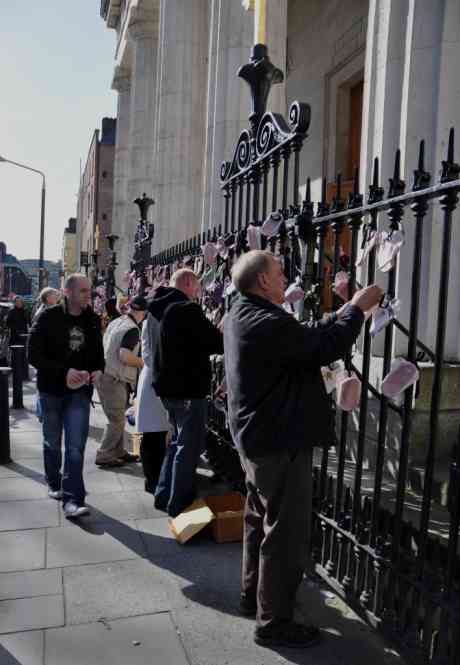 Protesters tying shoes to railings at the Pro Cathedral