Council Ignores Flood Victims.

wicklow | miscellaneous | feature

Wednesday August 20, 2008 07:59

by Flood Victim - Killincarrig Residents

Killincarrig Cross Roads
Wicklow County Council has no flood plan and it's Fire Service is not allowed respond to flooding.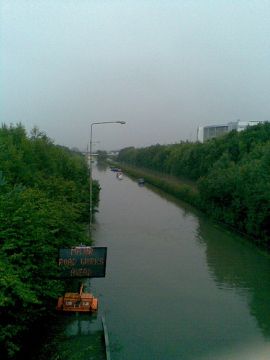 On Saturday 16th August at 3pm the Coolagad river burst its banks in Delgany Co. Wicklow. A culvert under the R761 collapsed and forced a road closure and millions of gallons of water to flow into Killincarrig village. What happened next can only be described as gross negligence by Wicklow County Council and it's Fire Service. Approxamitely 20 residents started to look for assistance from the various state agencies but were ignored. WCC had no emergency numbers in place, had no crews working on the ground, had no sandbags filled and would not allow its Fire Service to be dispatched.

Wicklow is the only County in Ireland that refuses to dispatch Fire Brigades to floods. In light of the recent history of this service and its problems in Bray you would think that the powers that be would put their budgetary problems aside and assist the taxpayers that fund this service. Dublin Fire Brigade provides a call-out service to Wicklow Fire Service from Tara St. in Dublin.
The operators of this service informed our residents that they received 250 calls from Wicklow Residents to deal with flooding. They were unable to dispatch any Wicklow based brigades because of restrictions imposed by the Chief Fire Officer of Co. Wicklow. They were also unable to give an emergency number for WCC.

Related Links: Climate Change will flood Limerick | Ramor Ryan gatecrashes the ineffectual UN Conference on Climate Change | Daily Video Reports From Camp For Climate Action | Creative Commons Images of Flooding In Ireland
The phones lines in WCC buildings in Wicklow were automated and not programmed to deal with emergencies. The phone line in the Greystones office rang out. Members of Greystones Fire Brigade have informed us that they are not allowed respond to floods and did not receive any calls to do so on Saturday 18th August.
Met Eireann started to issue weather warnings via the media on Friday morning, these warnings were titled "Severe Weather Alert for the East Coast of Ireland - expect severe flooding" Wicklow County Council ignored this and should now be held accountable. Please lobby your local Councillors to stop this abandonment of our citizens in their time of need. Call for the resignation of the Fire Officer and the County Manager and call into question the planners of this county that continue to allow streams to be diverted into culverts.
Add your comments and experiences here.