Ahmadinejad at Columbia University New York

international | rights, freedoms and repression | feature

Tuesday September 25, 2007 14:30

by moral fibre
"We refuse to choose between Islamic fundamentalism and American imperialism"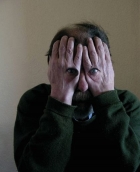 Under a storm of controversy Iranian President Mahmoud Ahmadinejad was invited to speak at Columbia University in New York City. Ahmadinejad is in New York for the UN General Assembly meeting. The Iranian President had already caused controversy by seeking to visit the site of the Twin Towers disaster. The request was swiftly denied by the US authorities. The invitation to speak at Columbia was attacked by many across the political spectrum of the US despite many US citizens priding themselves on the right to free speech. The Iranian Presidents speech to the University has come at a time when the US establishment has increased its propaganda war against Iran in what appears to many as a precursor to war.
Mahmoud Ahmadinejad has just finished speaking and answering questions at Columbia University in New York City. Nobody got tasered for asking awkard questions. The university last year disallowed a visit from the Iranian leader and as the BBC rather quaintly captioned a photo on the news story "many Americans oppose Iran". Perhaps mindful of this hostility, the the dean at Columbia's School of International and Public Affairs, John Coatsworth told the audience of "an extraordinary opportunity to directly engage in an atmosphere of civility and restraint." Tickets to the event had sold out within one hour of it being announced, which indicates the event dubbed "access of Evil" by Foxnews might contribute to improving student union facilities at the university in the future. Already minute by minute reports are appearing at all levels of reading & viewing difficulty.


......."Lee C. Bollinger, the university's president, defended the decision to allow the Iranian president to speak at the Columbia University forum. But he also criticized at length Iran's human rights record, Mr. Ahmadinejad's call for the destruction of Israel and his description of the Holocaust as a myth, among other positions......"
...those other positions of course would be the girl on girl & boy on boy action thing. Ahmadinejad did touch the destruction of Israel, Holocaust, homosexuality, Gun control, Atomic Bombs & brown jacket things through the day & no doubt everyone is pouring over the details.
Excellent coverage from the New York Times
http://www.nytimes.com/2007/09/24/world/worldspecial/24...=1&hp
updated blog style report on what was being said, who said what, was he being grilled, would it be tough enough for him to avoid a war, why can't he admit he got it wrong -
http://cityroom.blogs.nytimes.com/2007/09/24/protests-a...ecial
_______________________________________________________________
Local indymedia coverage - has been a bit wanting in the lead-up phase, but now happy imc'istas are getting all passionate & hitting the qwerty - the official line coming out from libertarian central is though :-
We refuse to choose between Islamic fundamentalism and American imperialism
Readers were reminded on the feature page how Iran reacted to 911, since of course Mahmoud has been refused permission to lay a wreath at ground zero during his visit.
http://nyc.indymedia.org/es/2007/09/91089.html
The newswire had seen a protest announced for the Mahmoud gig on the
http://nyc.indymedia.org/es/2007/09/91196.html
but it is true that most people protesting him came in on the general Fox News circuit.
Coverage since has included these
" Campus Circus Maximus: Ahmadinejad Visits Columbia
Even on its best days, Columbia University exhibits something of fortress-like mentality. Its statuesque stone walls add a touch of Romanesque grandeur, of course, but they mostly just serve to remind visitors and the occasional perceptive student of the institutions' historic isolation from the surrounding community. September 24 2007 was not one of Columbia's best days, as the visit of Iranian President Mahmoud Ahmadinejad segmented the campus and the streets outside into varying playpens for the exercise of free speech."
http://nyc.indymedia.org/es/2007/09/91197.html
Stop Demonization of President Ahmadinejad! "Stop the war drive against Iran"
reminded imc people in NYC that contrary to Mahmoud's insistence there will be no war, there's still a war drive, which is actually more profitable.............anyway.
"..... We denounce the campaign of demonization against Iranian President Mahmoud Ahmadinejad that has preceded his visit to attend the United Nations General Assembly in New York. We call on the anti-war movement, progressive organizations, students, workers and community groups to stand up to this racist campaign and say loudly and clearly: No war against Iran!"
http://nyc.indymedia.org/es/2007/09/91198.html
& as an aside for people whose world ends at the mysterious Nazca lines of tara as seen from space, just as I was inputting this text an article appeared "as if my magic" on a tara protest over there in the Big Apple. would you believe it. The great traditional air by Moore (Thomas not Michael) having got an airing raised voices and a plucking on the harps, Saturday last
http://nyc.indymedia.org/es/2007/09/91201.html
______________________________________________________________
For those of you who have your mind made up about evolution, gays, the right to bear arms, & need for nukes - Fox news of course has offered people a delightful coverage. The "access of evil"
http://youtube.com/watch?v=p09iDvRF65k
good for a giggle. They've now followed up
http://www.foxnews.com/story/0,2933,297823,00.html
& I'll be serious here, have spun one of the key changes in Mahmoud's chatter. This time he tweaked his Holocaust denial, which is why it is being reported as "inferral" now. But till we all read the exact verbatim we won't know.........what he said.........that is...........
_________________________________________________
Just in!!!!
a video made by a student of the introduction, I presume this blog address will see more coverage added later on tonight (or today as it is in NYC)
http://dandelionsalad.wordpress.com/2007/09/24/columbia...ideo/