From Abu Ghraib to Shannon

national | anti-war / imperialism | feature

Thursday October 26, 2006 17:01

by Deirdre Clancy & Fintan Lane - Anti-War Ireland
US Iraq Vets to Speak at Anti-War Rally at Shannon Airport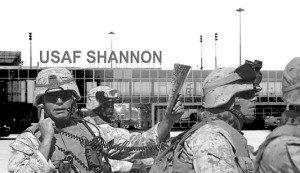 This week and next, Anti-War Ireland will host a series of events aimed at re-focusing attention on the continuing use of Shannon Airport as an important logistical stop by one of the world's most dangerous and vicious military machines.
The campaign to demilitarise Shannon airport received a boost in July this year with the unanimous acquittal in Dublin's Four Courts of the five Pitstop Ploughshares activists (Deirdre Clancy, Nuin Dunlop, Karen Fallon, Damien Moran and Ciaron O'Reilly). It was a remarkable outcome to a lengthy legal process that began with their decommissioning of a US warplane in Shannon back in February 2003, and it highlighted the extent of anti-war sentiment in this country.
On Saturday, 28 October, anti-war activists are returning to Shannon with flowers and banners to hold a mock-funeral from the town centre to the airport in memory of the dead of Iraq, Afghanistan and the United States. Among those attending this first major protest at Shannon this year will be two of the acquitted Ploughshares – Deirdre Clancy and Ciaron O'Reilly – and three members of Iraq Veterans Against War – Joshua Casteel, Stephen Lewis and Tony Lagouranis – all former US interrogators at the infamous Abu-Ghraib prison in Baghdad. The US military veterans will also address a series of Anti-War Ireland public meetings around the country.
More info: Former Abu-Ghraib interrogators speak in Dublin | Maynooth meeting on Friday with US Iraq War vets | Shannon demonstration on Saturday | Cork bus to Shannon demo | Dublin bus to Shannon demo | Galway bus to Shannon demo | Cork meeting with Abu-Ghraib vets next Tuesday | Belfast meeting with Abu-Ghraib vets next Wednesday
This demilitarisation campaign has been ongoing since 2001. In late 2002 and early 2003, it became obvious to many Irish people that the pretexts for the proposed war of aggression on Iraq were bogus. Many were aware that the economic sanctions against Iraq had drastically undermined civilians in what had recently been a largely prosperous and culturally advanced society, and throughout the 1990s had served only to strengthen the repressive regime under which they lived. The idea that the same forces that were most robust in imposing those sanctions would now attack an already largely poverty stricken and vulnerable population, on the pretext of 'decapitating' the regime, seemed almost unbearable to think about and staggeringly hypocritical, given the history involved. One of the largest mass mobilisations ever seen in Ireland occurred, part of a massive day of global action. In Dublin, 100,000 people marched against the impending war and against Irish government complicity with the US war machine. Nonetheless, several governments utterly ignored the will of the people and went on to create or to be silently complicit in a bloodbath in Iraq. A recent Lancet report indicates that as many as 655,000 Iraqi men, women and children may have been killed in Iraq since March 2003, and the bloodshed continues.

Shannon airport, on the direction of the Fianna Fail/PD government, has facilitated this slaughter. It assisted the invasion forces in early 2003 and it continues to facilitate a brutal and unacceptable occupation that has been repeatedly rejected by the overwhelming majority of Iraqi people. Irish 'neutrality', if it ever truly existed, died at Shannon airport with the facilitation of the Bush war machine. Huge numbers of troops from a belligerent power have been allowed to pass through on their way to an illegal and unjust war.

As Irish people mobilised against the war in early 2003, it quickly became apparent that it was not just the usual suspects – the bedraggled peaceniks, lefty militants or earnest do gooders – who were angry. Moreover, with soldiers returning home to the US and Britain in body-bags, families (in particular the mothers of soldiers who died in Iraq) began to add their passionate voices to the mix. Among the most powerful voices to be raised against the war have been those of soldiers who went to Iraq, either inadvertently through their status as economic conscripts, or idealistically believing they were defending their country from terrorists, and came back determined to try to relate the horror of what they had been a part of, often at great personal cost.

Three of these soldiers are coming to Ireland to demand the demilitarisation of Shannon airport and an end to Irish complicity with the Bush killing machine.

Joshua Casteel (who has told his story in Ireland before), Tony Lagouranis and Stephen Lewis served together as interrogators at the notorious Abu Ghraib prison. Joshua and Stephen applied for conscientious objector status on ending a tour in Iraq. Joshua went on to become involved in the Catholic Worker movement in the US. Spc. Tony Lagouranis (Ret.) was a US Army interrogator from 2001 to 2005. He served a tour of duty in Iraq from January 2004 to January 2005. He maintains that interrogations throughout Iraq by US forces amounted to 'a culture of abuse'. All three men were in the 202 military intelligence battalion, and all are now active members of Iraq Veterans Against the War, committed to speaking out about the abuses they witnessed.

All three US veterans will speak on Saturday at the Anti-War Ireland demonstration in Shannon. Assembling at 2pm outside Lidl in Shannon town centre, the demonstration will take the form of a mock-funeral procession, complete with coffin, to the airport, where a rally will be held. Following the rally, participants will be asked to lay flowers across the entrance to the airport in memory of those who have died. We will be remembering the dead of Iraq, Afghanistan, the United States and others affected by the military aggression.

We are asking people to consider wearing black for the occasion and to bring flowers. The theme of the protest will be 'Remembering the Dead'.

Anti-War Ireland is also hosting the former US Abu-Ghraib interrogators at a series of public meetings around the country. They will speak in Dublin, Maynooth, TCD, Cork and Belfast during their stay in Ireland. Details can be found in the 'events' section of indymedia or at AntiWarIreland.org

The Shannon demonstration will be the first major anti-war protest at the airport this year and Anti-War Ireland appeals to people to please make the effort to be there. It is unacceptable that an Irish civilian airport has been integrated into the US war machine. It is not acceptable that the Irish government has dragged Ireland into a war that most Irish people utterly oppose.

Come to Shannon on Saturday and make your voice heard against the presence in this country of the US war machine. Remember: 2pm, assembling at Lidl in Shannon town centre, next Saturday, 28 October. Please be there!