Another death caused by Garda Hospitality? - The parents of John Moloney demand an independent inquiry

dublin | crime and justice | feature

Monday April 10, 2006 14:47

by kevin - imc éire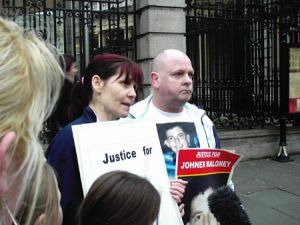 An interview with John and Sandra Moloney, the parents of "Johner" Moloney, who have joined up with the Wheelock family in their campaign in recent months.
On March 23rd, the family of
Terence Wheelock
were joined outside the Dáil by the family of John (Johner) Moloney. They linked up with the Wheelock family, as they felt that both of their sons' deaths raised serious questions about their time in Garda Custody. Johner Moloney was found unconscious, bloodied and bruised, behind a church in Rathfarnam in May 2003, shortly after having been arrested for a couple of outstanding warrants for driving with no tax and insurance. He was brought to Tallaght Hospital with massive brain injuries, and never regained consciousness. He died when his life support machine was switched off.
"We got in contact with the Wheelock family for the protest outside the Dáil," says John Moloney, Johner's father. "We met them at a meeting in the Mansion House, that had people speaking who had been victims of Garda harassment up in Donegal. We introduced ourselves to each other, and starting talking and organising after that. Its been working out great with them. Once you have two families organising together, it seems to work better. You do get fed up sometimes with going into town, and its great to have the support."
"I had been following Terence's case in the papers when it happened, and I had called up the Mater Hospital looking for contact details for the Wheelocks, but I was told they couldn't give out that information for confidentiality reasons," says Sandra, Johner's mother. "I kept an eye on the case still because there were very similar circumstances to what happened my son. We make a good team. Terence's mother Esther, she's been through the same pain as me, had the same experiences. When Tallaght Hospital called me to say my son was dying, it was like someone had ripped out my heart. Losing a son is just too hard to describe sometimes. "
Sandra says that the family has recieved letters from some TDs in the Dáil, saying that they would bring it to the attention of the Minister for Justice, to see if an independent inquiry could be established. "That's all we want really, we just want the truth to come out. In my heart as a mother, I feel I know the truth already. But I want answers, recognition of what happened to him. My son was found on a street, at the back of a church, unconscious, approximately 15 minutes after he supposedly left the Garda station.
"He walks into a Garda station perfectly healthy. He leaves not soon afterwards, supposedly with a spring in his step, as the Gardai say. Ten minutes later he's found 90% brain dead, with bruising to the chest, hips, and legs, and the back of the neck. I just really need answers to this. I didnt even know initially that my son had been brought to Tallaght Hospital. I heard a snippet of a report on the radio and something in me just recognised it was my son. I got a phone call from one of his friends on the bank holiday Monday [May 5th '03], telling me that Johner had been in Rathfarnam Garda Station. So I rang up Rathfarnam Garda station and they said that they never had anyone in there by the name of John Moloney. I rang Terenure Garda station, they said the same thing. Crumlin, Dundrum, the same answer."
"His friend Alan Kennedy had been let out of the station the previous Sunday morning," says John. "When he was leaving he turned around to the Garda Sergeant and asked what the story was with his friend, Johner Moloney. The Garda replied to him that Johner had two outstanding warrants [for driving with no tax and insurance], and that he was going nowhere, except to court on Tuesday morning after the bank holiday.
"On Tuesday, after we had heard the report early in the morning on the radio, I went up to the Crumlin Garda station at about 8 o'clock. I said that I was inquiring about a John Moloney, who was supposed to have been locked up here at the weekend, nobody seems to know where he is. The Garda asked me what station had him, and I replied as far as I knew it had been Rathfarnam. The Garda then told me to walk down there myself, but I pleaded with him could he not just ring or radio down to them straight away, it would be much quicker and easier. A detective came into the office then, and heard me talking. He said that he had heard something on the radio too, so he rang Rathfarnam station for me. They said they never had any John Moloney in there.
"The detective took my mobile number, and told me he would give me a call if he heard anything more. But just before I left, he asked me where Johner had his tattoo. I told him it was on his upper arm. I also told him that he was wearing a gold bracelet and a ring on his finger. The detective said to leave it with him, and he would get back to me. About fifteen minutes later my phone rang. It was the detective, telling me that my son was up in Tallaght Hospital with two Garda officers there. They would meet me at the hospital. So I went out there, and two detectives were waiting. I told the people at the desk that we were here to see John Moloney.
"The detective on the phone had told me that my son just had a small bump on his head, that it would only be a headache. We went up to ICU (Intensive Care Unit), and a nurse brought us in. Then I saw my son. There were tubes everywhere. In his nose, down his throat, I'm not joking when I say everywhere. I went crazy. I started shouting and screaming at the two Garda right in the middle of the ward. They said it had nothing to do with them, that he hadnt been in custody at all over the weekend. I said to the doctor that I wanted every part of his body checked. The two Garda just handed me a card, and then they were gone out the door.
"Where Johner was found at the back of the church, there was a man selling papers outside there, and a traveller begging for money as well, for hours. There would also have been hundreds of people going to and from mass. Yet nobody ever saw him."
Sandra also did her own door to door inquiry up in the estate where Johner was found. "Oliver Hanley [a Garda Superintendent from Dun Laoghaire who investigates deaths in Garda custody in the Dublin region] had come to our house," she said. "We had been asking him questions about why the area had not been sealed off for forensic examination. He told us that it hadn't been necessary - but we argued that this standard practice until the cause of the injuries is established. He also told us that he had done his own inquiries in that estate, but when I asked the people in those houses he had supposedly talked to if a Garda had made house call inquiries, all of them said no. No Garda had ever come near their door. Later on we were handing out leaflets pleading to people for information. The Gardaí were following us around, watching us, intimidating us.
"None of our witnesses were allowed to contribute to the inquiry afterwards. Oliver Hanley was investigating it, he was also in charge of the Terence Wheelock inquiry. Why are there so many cases similar to Johner's, with young men left heavily bruised or in a coma? There's another well known case down the country of Brian Rossiter. Another girl has contacted us personally about a young lad who was found dead in Tallaght with similar circumstances. Its nearly always the same situation, especially with brain injuries which can come from heavy pressure being put on someone's chest, but the Garda will always have an excuse or explanation to hand straight away.
"The Coroner's Court inquest into my son's death finished with an open verdict, that fresh evidence was needed to further the investigation. How I am supposed to get fresh evidence? You have the Gardai investigating themselves. You're banging up against a brick wall. That's why we need people to help us with our campaign, so we can break down this brick wall. That's what I need."
"A story appeared in The Star after his death claiming that Johner died of a huge overdose, which was very sickening to us," says John. "The paper had given us great coverage at the start. Then they rang me up to tell me they were going with this story of an overdose. This was even before the inquest. I said to the journalist that they had more information than me, that I had heard nothing about this at all. We reckon it was the Garda that passed on the information to The Star. The Star went ahead and printed the story about Johner taking a massive overdose of cocaine. Then when the inquest came around, it was concluded there was a minute trace being found in his urine four days after he had been initially admitted.
"This came out on the Saturday after he died. The story claimed he had swallowed a very big bag of cocaine. Yet they found nothing in Tallaght hospital when he was brought in first. Marie Cassidy said in the inquest that she had never heard of someone Johner's age dying of a cocaine overdose from the amount of cocaine which was found in his urine, which was less than a pinhead's worth. But yet the doctors in Tallaght found no drugs in his system from the blood tests when he was admitted initially. Four days after he was admitted, they tested his urine because the Garda were involved, and they found a minute trace in his urine. So The Star ran with this story.
"We subsequently made an appointment to see a Professor Keogh, who was on duty in the hospital when my son was brought in. We went up there and we were sitting outside his office waiting for him. I saw him walk over to his secretary, and she told him that the Moloney family were here to ask some questions. He gestured with his to his secretary to indicate to her that he wasnt in, and he didnt want to talk to us. He turned around and saw me looking at him, and said to me I had better come in.
"We sat down and I said that there was rumours going around about cocaine in his body. I wanted to know if there was any alcohol in his system. He sat down and went through the list of records. I was asking him various questions, but I wanted to know what had killed Johner. Professor Keogh turned the records around to me, and at the end where the blood test results should have been, the end had been ripped off. He wasnt even able to tell me what blood group my son was.
"The total length of time that Johner is supposed to have been in Rathfarnam Garda station is about 35 minutes. During this time there was a drug search, a check of his warrants, he went for a nap, and was also banging on the door of his cell - all within 35 minutes? When Johner was brought in, the cameras in the station supposedly weren't working either. I'm not saying that every Garda is a 'pig', but there are some real rotten apples out there. There needs to be totally independent investigations into complaints, assaults, and deaths of people while in Garda custody."
Sandra feels that Johner's case would recieve more attention, and justice would be easier to obtain "if we had money or we were some big powerful family. The Club Anabel case is an example of this. Those families are wealthy, yet the young lads in the fight only got very light sentences for an assault that killed someone. Yet I guarantee you that if I had been my son, or someone else from around here [Crumlin], they would have gotten life for it. It's all about money and power in this country.
"We need people out there to back us up, our family and the Wheelocks too. People believe that there's no way that the Garda would cause someone's death, but they said the same things years ago about Artane Industrial School, that such things would never happen. Similarly with the Morris tribunal at the moment, those two girls in Donegal who were mistreated in custody were just like us, up against that brick wall, but eventually the Garda came clean and made a statement - nearly ten years later. Things like this give me hope. Eventually the truth comes out, it may take years but we'll keep on fighting until we knock down that brick wall.
"Its caused our whole family so much pain and stress, but I'll keep fighting no matter how many years it takes. Until we get justice we feel as if we arent really living, we're only just existing. We'll never give up hope. One day we'll get justice. It'll only be then that we can bury him, knowing what happened to him."