Stop Shell's peat removal!

mayo | environment | feature

Tuesday November 29, 2011 12:16

by j debender - Rossport Solidarity Camp

A field in Aughoose, between Pullathomas and Bellanaboy

085 114 1170
Come up to Mayo, people are needed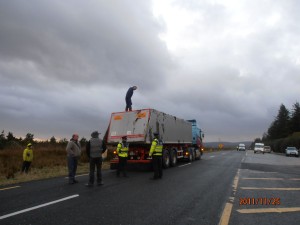 Friday 25th November saw over 5 hours of Shell's peat and stone haulage completely blocked by campaigners, and no arrests were made. First thing in the morning four campaigners had trucks blocked for over an hour and a half, and later on one person climbed on top of a peat truck outside Shell's Bellanaboy refinery, remaining there for 3 and a half hours stopping all haulage.
Related Links:
Shell's Peat Haulage Has Begun... And Been Disrupted ! | Day of Solidarity in Erris, Co. Mayo | Shell's Peat Haulage Has Begun... And Been Disrupted ! | Campaigners block Shell's peat haulage morning after An Taisce faces local community | Occupy Shellanaboy set up at refinery gates in Erris | An Taisce withdrawal sparks four protests in two days | IRMS continue to assault Corrib campaigners on public roads | The Strange Adventure of Dick and Liz in Drumshambo | Fracking in the Lough Allen & Clare Basins
At about 7.15am Friday 25th November four people went out to Shell's haulage route to stop workers from getting to the Aughoose tunneling compound. A van full of workers was stopped, along with the first load of quarry trucks which came along about 10-15 minutes later.

A squad car with one garda was present, but he was unable to stop people from blocking on his own. Eventually more gardaí arrived so people stopped blocking, and the trucks that had been stopped up all morning started making their way to the compound. No arrests made.

Later that day at 3.30pm, three people stopped a peat truck outside Gate 1 of Shell's Bellanaboy refinery. Seeing as there were only three people to block the truck and gardaí would surely arrive soon to move people out of the road, one person climbed on top of the lorry to ensure all haulage would be stopped.

Solidarity camp member Grainne Clancy speaks, "We are doing all we can with the numbers we have at the moment, but we really need more people up here right now. Sometimes there's only a couple of us blocking, if we had even a few more people we could be doing a lot more to disrupt Shell's peat removal"

She continues, "There have been some actions like the last Barrett's [quarry in Bangor] one, where security could barely handle us as it was, and with a couple more people we would have been successful"

See report and photos from Barrett's quarry action here: http://shelltosea.com/content/shells-peat-haulage-has-b...upted

On Friday the person remained on top of the truck for three and a half hours, until Shell stop work at 7pm. All Shell traffic was blocked but local traffic was still able to pass on the other side of the road, aside from when gardaí rather arbitrarily claimed the entire road was blocked, turning local traffic around.

At a lock-on protest earlier in the week a garda was overheard giving orders to "shut the road down to local traffic, if they see a local in the lock-on they'll be delighted," apparently trying to stop local traffic from seeing one of their neighbours with an arm in the concrete lock-on.

At the protest on Friday gardaí were overheard explaining to drivers that protesters have the entire road shut down, when clearly traffic could pass and it was actually gardaí shutting the road down. Eventually the gardaí gave up blocking the whole road and resumed directing local traffic around the stopped lorry.

By 4.30pm a lot of locals had shown up with tea and snacks, and at least 20 people remained there for the early evening. At 7pm the person got down from the top of the peat truck and walked away, escaping arrest.

Grainne Clancy continues, "Friday was great, but the possibilities of what we could do with a few more people is really exciting. Shell are only allowed to use one haulage route, and with us blocking it all the time they'll hardly get any work done. Please come up to Mayo"

The Rossport Solidarity Camp is a welcoming base for anyone interested in learning more about the campaign or anyone interested in taking action against Shell. All are welcome at any time, come visit and see what it's about for yourself. And taking action against shell doesn't have to mean climbing on trucks or doing lock ons. Help is needed with taking photos and video, making dinner, building lock ons, chopping wood, and lots of other things it takes to keep the camp running smoothly.

The camp is located in a field in Aughoose, next to Aughoose Church (between Pullathomas and Bellanaboy).

To ring for directions, questions or to let us know you're coming: 085.114.1170 or email: rossportsolidaritycamp[at]gmail[dot]com