Shell Telly Bingo Tuesday Night with Crime-Fighter Paul Williams
mayo | environment | feature
Tuesday June 02, 2009 12:12
by Shell Ireland
The TV3 farce of the year can be extra fun with this one-off game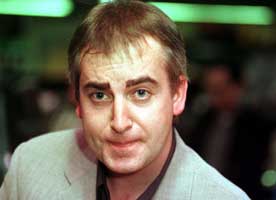 Hi folks!
In the most hysterical hatchet-job to date on the campaign against Shell's discredited and disastrous inland refinery experiment in north Mayo, Sunday World crime-fighter Paul Williams turns shock jock as he presents a "documentary" about the Corrib Gas project on TV3 at 9pm on Tuesday, 2nd June. To accompany what is set to be an entertaining farce, we bring you a one-off Telly Bingo game so you can track whether any facts, relevant information or editorial balance creeps into the show.
The Boxes You'll Be Looking to Have Ticked:

* Pipeline Safety
* Trevor Sargent
* The Giveaway of Irish Gas and Oil
* Michael D. HIggins
* Opinion Polls
* Joe Higgins
* Kevin Moore's Verdict
* Colm Rapple
* Shell's Lawbreaking
* Rossport 5
* Minister Eamonn Ryan
* Local Organisations
* Denis Halliday
* Parish Priests
* Goldman Prize
* Michael McCaughan
* Shell on Trial in New York
* Project-Splitting
* Experts
* The Paul Williams Factor

As can be seen from its promotional blurb, the producers are openly promoting this as an unashamedly one-sided programme. After all, balance is tedious.

Paul Williams Investigates:

In recognition of the dawn of the Tubridy era in current affairs, the show will skip over all the boring bits: the health, safety and environmental aspects of Shell's refinery; fatal pipeline explosions at lower-pressure pipelines worldwide; the giveaway of Ireland's gas and oil; and will focus instead on -- to quote the promotional blurb -- "personalities ... and the various political and ideological motivations of those leading the ongoing protest."

Rather than look at the years of meticulous research carried out by local campaigners (how dull), it will paint a picture of technology-fearing and impressionable bog people led astray by a sinister band of "outside agitators"... No, not the thousands of gardai bussed in from around Ireland -- they're the sources, stupid. The baddies are the eco-campaigners, lefties, republicans and the like.

It will leave out the depressing facts (phew!) about Ray Burke and Bertie Ahern's multi-billion euro giveaway of Irish offshore resources to private companies, focussing instead on sensational sub-plots, such as unverifiable Garda claims of mysterious "armed gangs" entering Shell's compound. It will use images of a couple of republicans turning up amongst hundreds of local protestors to weave a terrifying tale of IRA involvement, without any substantiation (substanti-what?).

Paul Williams, Ireland's celebrity crime writer, is capitalising on his track record of dramatic fiction on this topic. In October 2006, he told a fantastical tale in the Sunday World, headlined "IRA take control of protests". Based on anonymous sources, it claimed that unnamed "Shell to Sea thugs" were threatening and intimidating people connected with Shell. Nothing has since been heard of this; no charges have ever been brought.

NOW LET'S PLAY SHELL TELLY BINGO!

To make this unique programme more fun, a special Shell Telly Bingo game has been devised to accompany it. Simply print off this list (below) of 20 crucial aspects to the Corrib issue, in no particular order, including potential interviewees, salient facts, relevant experts and major news angles. As you watch the programme, just tick off any that are featured. Williams' track record and the programme blurb suggest that all of these will be ignored. But have your pen ready, just in case one of them creeps in!

• PIPELINE SAFETY
Plenty of exciting visuals available here: explosions and such. A pipeline in Carlsbad, New Mexico (pressure 47 bar) exploded in 2000, incinerating 12 people camping 230 metres away. The onshore section of the Corrib pipeline (pressure 144 bar) will pass just 1.4 metres below roads, farmland, a beach and an estuary, and just 140 metres from houses.

• TREVOR SARGENT
Protested at the gates of the refinery in 2006 as Leader of the Green Party. Campaigned with Shell to Sea up until he entered government in 2007.

• THE GIVEAWAY OF IRISH GAS & OIL
540 billion euro worth of gas and oil lies under Irish waters (Dept of Energy and Natural Resources figures). 100 per cent of this will belong to the companies that bring it ashore, thanks to legislative changes made by Ray Burke in 1987 and Bertie Ahern in 1992. Shell, Statoil and Marathon will sell the Corrib Gas to Bord Gais at full market rates. They are also entitled to export it.

• MICHAEL D HIGGINS
Articulate and quotable west of Ireland TD. The Labour Party President has been a vocal opponent of the inland refinery and has spoken at campaign events.

• OPINION POLLS
All opinion polls taken in Mayo on the issue have shown a clear majority opposed to the inland refinery and supporting the offshore processing option.

• JOE HIGGINS
Always a lively interviewee. The Socialist Party leader has written articles on the issue and has protested at the refinery gates. Hold on, that's two party leaders and a party president -- surely some easy Bingo points there?

• KEVIN MOORE'S VERDICT
An Bord Pleanala rejected permission for Shell's inland refinery in April 2003; the board's senior planning inspector, Kevin Moore, said the location at Bellanaboy was "the wrong site" on grounds of safety, environment, planning and sustainable development. Following meetings between Fianna Fail ministers, Shell executives and An Bord Pleanala, the company reapplied, a new inspector was appointed and permission was granted for the same location. (www.publicinquiry.ie/reports.php)

• COLM RAPPLE
Renowned economist, author and radio pundit with nice, gravelly voice. Has written extensively about the stunning fact that Corrib -- and other Irish gas fields -- represent a net loss to the Irish exchequer of literally hundreds of billions of euro. He has written: "We gave the Corrib gas away and now Éamon Ryan is intent on giving away the remaining choice areas of our offshore acreage at less than bargain basement prices." (Irish Mail on Sunday, 14th December 2008)

• SHELL'S LAWBREAKING
Paul Williams is all about crime. So surely he will take a look at Shell's lawbreaking. The company has been caught breaking the law several times. In 2005 it had to dismantle 3km of illegally-assembled pipeline. Currently, Shell has a compound at Glengad beach for which it has no planning permission, in violation of the Planning and Development Regulations 2001.

• ROSSPORT FIVE
Not mentioned in the programme blurb, but surely one of them will be interviewed? Jailed for protecting their land: that's got to have news value. Their legal stance was finally vindicated by Justice Mary Leffoy in the High Court in April 2007.

• MINISTER EAMON RYAN
A prominent Shell to Sea campaigner until 2007, now the minister with responsibility for the project. Speaking in the Dail in November 2005, about the inland refinery, he said: "I contend that [Taoiseach Bertie Ahern] put remarkable and untold pressure on An Bord Pleanála to accept the Government's will and to do the right thing in this case."

• LOCAL ORGANISATIONS
Any representative of Pobal Chill Chomáin, a local community group, or Pobal Le Chéile, a local business group, both opposed to the inland refinery. These groups have this year been in talks with Shell and Ministers Eamon Ryan and Éamon Ó Cuív.

• DENIS HALLIDAY
Irishman and former UN assistant secretary general. Has recently applauded campaigners and said he doubts "the ability and commitment of the Government to find a solution that best serves the interests of all Irish people".

• PARISH PRIESTS
Any one of the three local parish priests, Fr Michael Nallen, Fr Michael Gilroy and Fr Seán Noone, who have campaigned against the inland refinery on behalf of their parishioners and have proposed an alternative refinery location at Glinsk. You get no points for Fr Kevin Hegarty: he's flagged in the promo as a "local priest" and an interviewee in the programme. "Local" in his case means Knock, a 100km drive away. He occasionally writes a pro-Shell column in the Mayo News.

• GOLDMAN PRIZE
The fact that the world's most prestigious environmental prize was awarded to Willie Corduff of the Rossport Five in 2007 in recognition of the campaign against Shell's inland refinery.

• MICHEAL McCAUGHAN
Wrote a book about the Corrib issue in 2007, 'The Price of Our Souls'. Former Latin American correspondent for The Irish Times and Guardian. Surely worth an interview?

• SHELL ON TRIAL IN NEW YORK
Surely this has news value? In the very week the programme is airing, Shell goes on trial in a New York court, accused of complicity in the 1995 hanging of Ken Saro-Wiwa and other leaders of a movement protesting alleged environmental destruction and other abuses by Shell against the Ogoni people in the Niger Delta.

• PROJECT-SPLITTING
The practice used by Shell for Corrib, whereby planning permission is sought for different stages of a project at different times and in pre-emptive sequence. This is illegal under EU law. For example, Shell has now almost completed building the refinery, but does not have planning permission for the pipeline to bring gas to it. This is very dull: five points if it gets a mention.

• EXPERTS
Any independent gas pipeline expert or environmental expert.

• THE PAUL WILLIAMS FACTOR
Perhaps a media commentator to give a view on the phenomenon of "crime" correspondents covering a health and safety/environmental issue. In particular, whether Paul Williams is qualified to report on a conflict, in which Gardai are key players on one side, considering he is indebted to the Gardai for round-the-clock protection and gets most of his stories from the Gardai. 50 points if this comes up.

Have fun!