Indymedia.ie Still Wrecking Heads 7 Years On / A Shindig for the Server.
national | arts and media | feature
Thursday January 08, 2009 11:54
by Indymedia Worker Drone
after seven years, indymedia.ie will even outlast George W Bush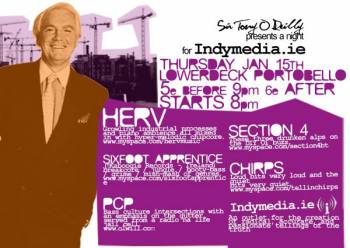 8pm - Thursday Jan 15th
The Lower Deck Portobello, Dublin
Playing: Herv / 6ft Apprentice / PCP / Section 4 and Chirps.
As editors, we, more than most, realise Indymedia.ie's had it's ups and downs in contributions and content. Editors have come and gone, and the very nature of online publishing and user generated content has fundamentally changed with the Web 2.0 revolution.
But once the dust of discussion has settled, one clear fact remains, the Irish movement has yet to create a media outlet with the reach and scope of Indymedia.ie. Until something better comes along, Indymedia.ie remains a vital communicative node for those in struggle in Ireland, it binds us together where usually we fracture. But to survive, we need your help.
Read on to see how you can help...
Over the years we have done some extraordinary things. Remember the excitement of countering the mainstream media's constant implicit acceptance of the Gardai's line on policing anti-globalisation protests with video evidence of the vicious attack on the Dame St Reclaim the Streets?
It was this site that shattered the illusion of government claims that US Military aircraft were not re-fuelling in Shannon airport in those early days of the Iraq conflict. For all the trolls, all the vitriol, and the spelling mistakes, Indymedia.ie has consistently provided one of the only media outlets for Irish social struggles.

These have ranged from the Anti Bin Tax campaign to the anti-deportation campaigns to the student movement, environmentalism and the to the campaigns against the imposition of a Shell Oil refinery on a community in Rossport
We have done all this on a tiny budget, with no advertising, no employees and complete autonomy from all political organisations. We use an open and transparent method to organise our work. Our editorial collective is made up entirely of volunteers, organised as equals. This has allowed us to remain truly independent and to provide space for all those voices marginalised by the mainstream. From Dublin to Rossport, Clonakilty to Donegal, we give people a voice and a way to be heard.
Our current costs are 470€ per quarter, therefore we need approx 2000 per year. A month or so ago we had a bit of a fundraising drive. However due to technical problems during Nov/Dec 2008, Paypal had locked us out of our account due to EU Anti-Money Laundering regulations to collect official documentation and personally identifying information from customers who receive more than a set limit in total payments. We now once again have running update of the donations received so far on our donatations page. As things stand, we've got about 1,500 euro and we need 500 more blips to cover our asses.
Why not give us a hand and spread word of our little shindig through your social networks? There's a larger version of the poster we are using to advertise the gig available if you want to get printing some off to plaster around your 'hood. The full line up is below. If you can't make the gig, you can always head over to our donote page and get your brown envelope buzz on..
INDYMEDIA.ie FUNDRAISER
HERV (GO AWAY / RICHTER)
SIX FOOT APPRENTICE (KABOOGIE)
PCP (KABOOGIE/ RADIO NA LIFE)
SECTION 4 (DIY OI)
CHIRPS (LOUD BITS LOUD QUIET BITS QUIET)
8PM - THURSDAY JAN 15TH - THE LOWER DECK PORTOBELLO
The Lower Deck Located in the heart of Portobello and known locally as Ryans of The Harbour. You can find a map here.
FIVE EURO BEFORE NINE AND SIX AFTER
HERV
After almost a year's absence, Herv returned last month with Lithic, possibly his most dancefloor friendly release yet. If Lithic is anything to go by, on the night you can expect breaks, spinbacks and stabs of oldskool rave, thudding acid techno, growling industrial processes and piano ambience all mixed in with Herv's trademark hyper-melodic chipcore. Optimus lives!
http://www.myspace.com/hervmusic
SIXFOOT APPRENTICE (!Kaboogie Records - Ireland)
Dublin based dj and producer Sixfoot Apprentice has been playing around Ireland for the past 2 years. He has also been busy making remixes and mashups of local and international acts, and is currently working on more of his own original material. His sets are a mixture of breakcore, jungle, booty-bass, grime and a general digital mish-mash of genres. You can check out his live set from this years Mantua Festival here...
http://www.myspace.com/sixfootapprentice
PCP On his olwill.com blog, PCP claims to get his "instructions from streetsigns, newspapers and pieces of conversation I snap out of the air the way a vulture will tear from other mouths." A few years ago he was known for dishing out a tasty decks meets guitar show with his brother ludo that took in a strange range from the Cocteau Twins, via Aaron Spectre jungalism's to Irish hip hop. These days he's busy exploring the intersections of bass cultures with an emphasis on the gutter. See his olwill.com site for a proper taste of the man's style.
SECTION 4
These three drunken alps started playing a few songs in august 2007. They are DIY. They like to play gigs. They hope to have their first release out in the first half of 2009. In total they have 22 fingers!
http://www.myspace.com/section4bt
CHIRPS
Chirps are a three piece rock type outfit from Ballina that keep the loud bits very loud and the quiet bits quiet. The vocals are low in the mix, with melodic as well as heavy bits trading off and even teaming up. They all live in Dublin and send money home to their mammies as often as they can. In return for this they receive hugs. Chirps are mad for gigs, they plan to record an album sometime soon and once played a Mission of Burma cover.
http://www.myspace.com/tellinchirps
ABOUT INDYMEDIA
The Independent Media Centre Network is a network of collectively run media outlets for the creation of radical, accurate, and passionate tellings of the truth. We work out of a love and inspiration for people who continue to work for a better world, despite corporate media's distortions and unwillingness to cover the efforts to free humanity. The money raised at this gig will be put towards paying our server costs and keeping the site online.