BitTorrent Now Available: 'Route Irish' Documentary - Come and Seed
national | anti-war / imperialism | feature
Friday November 23, 2007 13:03
by ec - Revolt Video Grey Squad
'Internet!, Video!, Seed!' sez Wag. 'Sounds kinky. I'll have some of that.'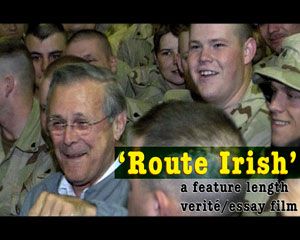 'Route Irish', a feature length verité/essay film on the campaign(s) against Irish facilitation of the US/UK Invasion of Iraq, is now available for bittorrent download. The torrent file is available for download at this torrent link: Route.Irish.DivX.avi.torrent. Please seed the torrent as much as you can for as long as you can.
You can find detailed information about the film and some high resolution screenshots from it here. This is the first time a feature length Irish documentary has been distributed primarily through P2P technology and it needs your help for it to work out. You can also help the film on its way by spreading the word that it is available for downloading beyond the Indymedia Ireland community. The file fits neatly onto a CDR. Burn it and spread it around that way too. Continue to the rest of the article for assistance if you are unfamiliar with the use of bittorrent and need some help to download.
If you are unfamiliar with BitTorrent please go to this page at Pirate Bay for a simple guide to setting yourself up to download and share material through BitTorrent. Where they say 'download a torrent from the piratebay' - replace with 'download the 'route irish torrent from indymedia.ie'. All the rest is the same. 'Azureus' is very simple and straightforward to use and is available for PC and Mac.
For viewing you can use VLC. It is available as a free download for Mac and PC here.
Thanks to those who have been assisting with this.
The film is free. If you want to support this kind of initiative you could make a donation to Indymedia Ireland or Revolt Video.
If you hold a screening please leave details in the comments here.
Copies of the film without the voice-over commentary are available to interested parties within the broad activist community which uses and contributes to the development of Revolt Video and Indymedia Ireland. It is hoped that those who disagree with the personal analysis/version of events put forward by 'Route Irish', or find it unsatisfactory, or want to improve it, will take it upon themselves to version this slice of history.
You can contact the editor of the film at ecrudden (at) gmail (dot) com.
route.irish.divx.avi.torrent 0.05 Mb