Shannon, Torture, Troops, and Timebombs
clare | anti-war / imperialism | feature
Friday December 02, 2005 00:01
by Tim Hourigan - Cosantoiri Siochana
0879777703
Shannon secrecy still in force.
Last week a German documentary team was at Shannon as part of a program on CIA renditions. After seeing troops and cops, and doing interviews with planespotters, they also got to see the Gardai chasing the plane spotters around the airport.
Today, as Dermot Ahern is seeking assurances from Condeleeza Rice that the CIA is not using Shannon for torture, a USMIL a/c with hazardous cargo landed at SNN prompting an evacuation of parts of the airport and neighbouring industrial estate according to Clare FM.
Previous reports from Tim Hourigan
which include the Swedish documentary that matched his plane spottings in Shannon to the world wide evidence of US torture renditions. This caused a Scandal in Sweden and Spain.

Access all Indymedia Anti-War stories at http://www.indymedia.ie/antiwar
On Thursday and Friday of last week, three of the Shannon Planespotters, Conor, Ed and Tim were out at Shannon keeping an eye on things, but also meeting a documentary team from Germany.
The German crew are making a program about CIA "extraordinary renditions" - the snatch missions using the Guantanamo Bay Express and other torture jets. We spoke to the journalists, and showed them around the airport, and noticed a suspicious aircraft which Ed [Horgan] reported to the Garda Siochana.
On Friday, we showed them a bit of how we monitor the flights, and we brought them around the back of the airport while we waited for a US military flight to land. We saw an ATA Boeing 757 land and taxi to Gate 42 at the passenger terminal (Gate 42 is fenced off for the US military).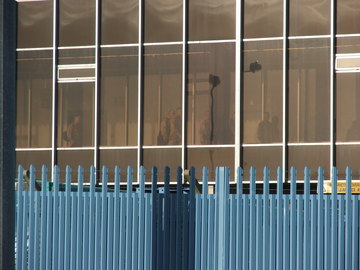 We got photographs of troops in desert uniforms, while we displayed banners in the car park ( "CIA TORTURERS OUT OF SHANNON" "US MILITARY OUT OF SHANNON"). The troops didn't even seem that surprised to see us there. They were mostly young men aged about 18-20, who stopped to read the signs, and waved at us as we waved at them (I think they understood we didn't mean anything personal, but were aiming our message at the Irish and US governments).
After the troops had all moved to the duty free area, we went to photograph the aircraft (the German crew filmed it also). We could see a Garda standing there, but they didn't notice us for a while, until we were getting ready to go, and they got a bit overexcited when they realised we'd been taking photos. The TV crew kept going, having been told of previous illegal camera snatches by Gardai at the airport.
Three Gardai started running towards us, but couldn't go very far due to the fences. One was wearing a ski mask. Another did most of the talking:
Garda:
"
C'mere.... C'MERE...Hey you C'MERE!!!
"
TH:
"
What d''you mean come there? There's two fences between us. What do you want anyway?
"
Garda:
"
What are you doing here? You're not supposed to be here. Aren't you banned?
"
TH:
"
I'm in a public place Garda. How do you mean banned? I don't think so. But even if I was, it would be a matter between me and Aer Rianta, it's a civil matter from the High Court injunction. The Garda Siochana needn't concern themselves.
"
Garda:
"
And who do you think enforces the High Court injunctions?
"
TH:
"
That's only if there's been a court order, which there hasn't Garda. I'm in a public place on lawful business.
"
Garda:
"
Taking photos of planes is not lawful business
"
TH:
"
How is it not lawful? It's gathering evidence of a crime.
"
Garda:
"
Under the Air Transport Navigation Act, I'm requesting you to leave.
"
TH:
"
I was already leaving when you called me, but anyway, have a nice day.
"
Garda:
"
What?
"
TH:
"
I said have a nice day Garda.
"
After that Ed and I started to cross the carpark, heading back to the hotel where the TV crew was staying. We noticed a Garda Squad car rushing around inside the airfield, having to take the long way around to get out.
As we got to the hotel, the squad car sped into the hotel car park, and Gardai jumped out, shouting for us to stop. We delayed our compliance by about 5 feet until we were inside the hotel reception (just in case anyone was temped to snatch any cameras in the absence of witnesses).
The Garda asked our names, which we gave, and the Garda gave his name. After that we had a cup of tea, while we waited for our guests to return to pick up the radio mic I was wearing. Conor spoke to the Garda outside, and after we bade farewell to our visiting journos, we left, escorted by the Gardai.
Today our Minister for Foreign Affairs, Dermot Ahern is meeting Condi Rice, US Secretary of State, to ask for another assurance that the CIA is not using Shannon to transport people to places of torture. While refusing to have any of the CIA planes inspected, the [Irish] government line has been that the assurances of a friendly nation are good enough. (Then why are we asking for another one?)
The Council of Europe, and the European Commission have both started investigating reports of CIA prisons in Europe (allegedly in Poland and Romania), while the UN Special Rapporteur on Human Rights is believed to have made formal contact with the Irish Government this week about CIA landings in Ireland.
In an alarming development for safety at Shannon airport and town parts of the industrial estate, as well as the airport, were evacuated for an emergency landing of a USAF C-17 Globemaster carrying 'hazardous material'. The aircraft, part of the 446th Airlift Wing, based at McChord Air Force Base in Washington State was heading East, first landing in Kansas, and routing for RAF Mildenhall in England when it developed problems with its hydraulic system and diverted to Shannon, advising the ground that it was carrying 'hazardous material'. It landed at 8.15 and was moved to the middle of the airfield, where smoke was spotted coming from the right wing.
According to CLARE FM's report ( http://www.clarefm.ie/news/index.htm#1

Over 400 employees from the West side of the Shannon Industrial State were evacuated amid reports the aircraft was transporting hazardous material. The C17 aircraft is capable of carrying up to 169,000lbs of cargo, including tanks, Apache helicopters , artillery, and weapons such as the Patriot Missile System.
It was further reported that the coastguard was advised that if the aircraft was forced to land off the runway at Shannon, the crew would ditch it Shannon Estuary. (The concern being that if all the hydraulic fluid leaked out, that the brakes wouldn't work well enough to stop the plane on a 2 mile runway).
Conor Cregan and Ed Horgan took photos of the plane and made complaints to Shannon Garda demanding that the cargo be confiscated before it could be used to kill and maim innocent people in Iraq.
Photos and updates from other planespotters to follow.