Government Creating 'Facts On The Ground' At Tara Hill Complex Despite Huge Opposition
meath | history and heritage | feature
Sunday August 14, 2005 12:51
by eeeekkkkk
'Tara Day' Aimed At Protecting 38 Sites Planned For O'Connell Monster Meeting Anniversary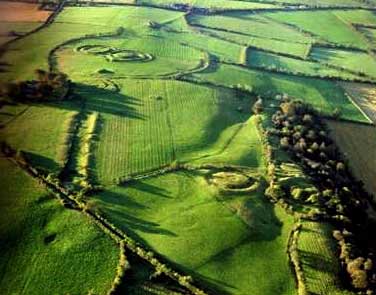 "Whilst Tara relies on its rich literature and associations, those that are insistent on this route rely on our ignorance of this same rich literature and associations. Whilst there is an almost unique abundance of history and lore associated with Tara, our Government has neglected it whilst sites such as the Céide Fields and Brú na Boinne have flourished, been respectfully developed and protected. Hopefully Cú Chulainn may yet be saved from turning in his grave, literally, during the valley's excavation."
Despite widespread opposition from hundreds of academics worldwide, from the Director of The Irish National Museum and from those activists bringing upcoming legal challenges (which have experienced delays) to the routing of a new tolled motorway through the Tara-Skryne complex, the Irish Government is creating facts on the ground by pushing ahead with hasty and crude excavations of the many sites of archeological interest on the proposed route.

The Tara-Skryne Valley Group, the main activist group opposing the planned motorway have called on the government to halt their pre-emptive work and to stop wasting Irish taxpayers money on wanton destruction of a whole area which they believe should be protected as a National monument.

Meanwhile the mainstream media here looks away and has largely failed to let the people of the country, who according to a recent poll are absolutely against this motorway, know that digging at the Tara complex has already begun.

Campaigning against government sanctioned heritage destruction at the Tara complex will continue on Monday 15th August when concerned citizens are being invited to express their opposition to the proposed twice-tolled Motorway through the Gabhra (TaraSkryne) Valley. The event, dubbed 'Tara Day' by campaigners, marks the 162nd anniversary of Daniel O'Connells famous Repeal Association 'Monster Meeting'. Information will be available at the event on the 38 sites along the proposed route, including those presently being excavated and others that may be investigated in the future.
Some Activists who are involved in the campaign link the issue to peak oil, the countdown to $100 per barrel oil, and criticise the insanity of massive private investment in tolled motorways at the expense of public transport which is severely underfunded at the present time.
Others adopt a more pragmatic approach and ask straightforwardly why a 2 1/2 km shorter and uncontentious alternative route (see orange line on this map), which would cost less, avoid costs associated with hasty archeology and which would most likely not be subject to delay and public expense due to court challenges was not chosen. This question remains unanswered in any coherent way and has led to the increased voicing of suspicions that vested interests have driven the route selection for commercial gain.

Some activists also believe firmly that corrupt officials and property speculation are behind this almost unbelievable slicing up of one of the most ancient and key symbols of the Irish nation.
Full Indymedia Ireland Archive On This Issue
Map 1: Note Huge Bevy In Current Route Between Dunshaughlin And Navan
Map 2: Note More Direct And Cheaper To Build Alternative Route In Orange
Essay: The White Mare Of Tara
Crazy Cut MP3: Tara Tune From Coscan
RELATED STORIES
Washington Post Article On This Issue | Possible Halliburton Involvement
VARIOUS VIEWS OF WHAT IS HAPPENING


Two Views Of How Proposed Moorway/Interchange will Impact Tara Skryne Complex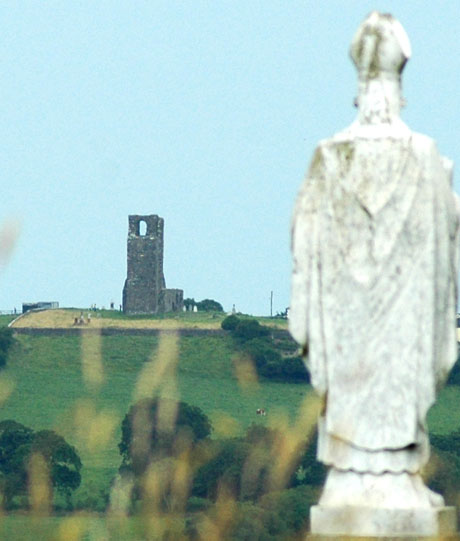 Motorway to run between St Patrick on the Hill of Tara and the the Church on the Hill of Skryne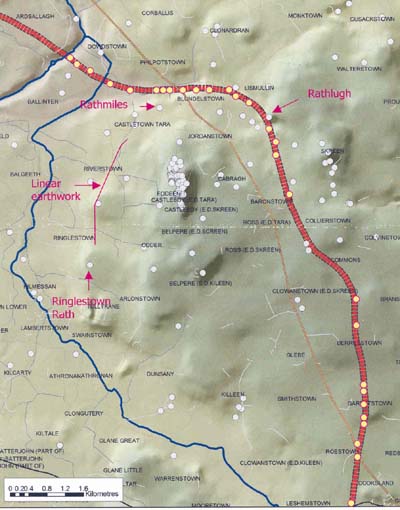 Known Sites Of Archeological Significance In Path Of Planned Motorway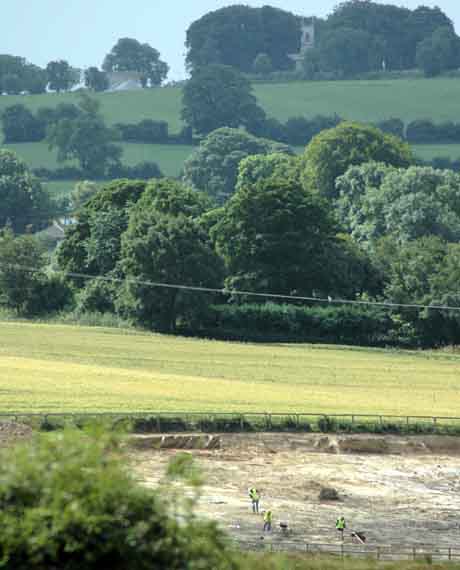 Work Now In Progress