Tara - N3 - Widen The Road Instead. Traffic, Cars and Peak Oil.
national | history and heritage | feature
Wednesday November 24, 2004 19:12
by Terry - None
'Lovely graph' sez Wag, 'but what does it all mean?
"Building a motorway which would be designed for handling 50,000+ cars a day is a complete waste of time. We will be destroying our heritage for nothing. It is worth noting that the scheduled completion date for the new motorway by the NRA is around 2010. From the graph and of course the latest date for peak oil (2005) from ASPO, we will already be on our way down in our usage of oil and cars and the steep decline in place continues after that time."

The tolled Motorway through the Tara and Skryne Valley should not be built for two main reasons. 1) It will destroy our heritage and 2) it will soon become a White Elephant. Instead, Dunshaughlin, Navan and Kells should be bypassed and the existing N3 road should be widened. This would be more than sufficient to deal with the traffic.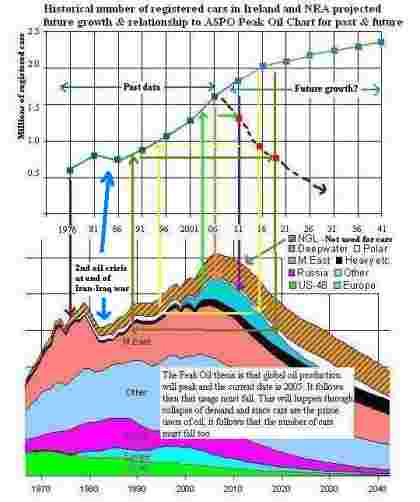 The National Roads Authority (NRA) forecasts for the traffic levels and the total number of cars in Ireland are flawed because they do not take into account the looming issue of
Peak Oil
. The growth for the number of cars is based on the rising population, GNP and a rising car per capita rate. This was a reasonable assumption up to now, but Peak Oil changes everything and this continued growth is very unlikely to come to pass.
Continue at the link below for the rest of the feature and an explanation of the graph
In the image with this comment is a graph of the historic number of registered cars in Ireland for 1976 - 2001 in green and the NRA forecasted number for 2006 - 2041 in blue.
Forecasted traffic is strongly based then on the numbers of cars and annual mileage per vehicle.

These figures are taken from the NRA 'Future Traffic forecasts for 2002 to 2040', with the historic figures originally sourced from the Dept of Environment.

The actual figures are:
Historic Numbers of Registered Cars (1976 - 2001)
Year Cars
1976 551,117
1981 774,594
1986 711,087
1991 836,583
1996 1,057,383
2001 1,384,704

NRA Forecast Numbers of Registered Cars (2006 - 2041)
Year Cars
2006 1,661,655
2011 1,876,168
2016 2,028,235
2021 2,160,704
2026 2,262,455
2031 2,334,765
2036 2,389,788
2041 2,433,164

Note: These figures do not include trucks, but they are both clear of past trends and what the NRA think is a continuation of the past, with a tail off as car ownership levels saturate. We will never get there, though.

The latest projection from the Association for the Study of Peak Oil and Gas -headed by the renewed Dr Colin Campbell, is for it to occur in 2005. In other words next year!

Thereafter, just what it means, the global production of oil will have peaked and will fall. This means there will be destruction of demand. The prime use of oil in the world is for usage by cars and trucks. As the production of oil falls, obviously the usage falls. Either the mileage of cars will fall, efficiency will have to improve by 4% or 5%, maybe even more, every year or the number of cars will fall. While efficiency gains may help, it will really only apply to new cars and take time to work it's way into the national fleet. It is likely that we will be hit by multiple recessions as the economic effects kick in globally.

If we look at the graph, we see during the 2nd major oil crisis during the Iran-Iraq war and just after where the price of oil soared, a recession followed a few years after the spike in prices (mid 80s), that the number of cars in Ireland fell. This is a precursor to the near future.

In the graph I attempt to show where we were at various positions on the upside of car growth to the upside of the Peak Oil chart. On the way down, using the purple, yellow and green lines, it is suggested that the number of cars will fall to equivalent levels for the same amount of global oil back to equivalent levels in the historic data. These correspond to the red boxes and are used to estimating the future DECLINE in the number of cars in Ireland (and very likely elsewhere).

It is clear in less than 10 years and probably a lot sooner that the effects will kick in. Building a motorway which would be designed for handling 50,000+ cars a day is a complete waste of time. We will be destroying our heritage for nothing. It is worth noting that the scheduled completion date for the new motorway by the NRA is around 2010. From the graph and of course the latest date for peak oil (2005) from ASPO, we will already be on our way down in our usage of oil and cars and the steep decline in place continues after that time.

The critics may point out that the traffic levels can't fall on the N3 corridor, because so many houses have been built and so many people now live there, that it will take much longer for the reduction to occur. They will say it simply just can't happen. How will all these people get to work and go about their daily lives? Indeed, but unfortunately we in this country and in many others are soon going to pay the price for the suburban, totally car dependent culture, form of unsustainable development which has largely being going on during the era of 'cheap' and plentiful oil. We have somehow all been led to believe it is normal. It is not. Wishful thinking and denial are not going to solve this one easily.

It may be true that initially car usage will not decrease as quickly. It is very likely people will cling to their old ways, since there is no alternative in terms of a decent public transport system; despite the rising prices. But this strategy cannot last and the consequences of this global phenomena will have deep and far reaching effects and will burst upon our lives. Nevertheless, even if the decline is put off, by a mere handful of years, it still leaves the argument for widening the existing road intact combined with some bypasses as the best possible solution.

Against Peak Oil, some have suggested the Hydrogen Economy. There is no free hydrogen to speak of. The only sources are methane which is natural gas which is fossil fuel. The amount of energy to convert methane to hydrogen is 6 times the amount of energy you can get from burning that hydrogen. The other source of hydrogen is through splitting water via electrolysis. This takes energy. Where is this energy going to come from? Fossil fuels? Again the same gross inefficiencies in energy conversions apply as above. The Hydrogen Economy myth is a distraction for the public to avoid panic.

There are no magic bullets for this. Go and check it out yourself.

http://www.oilcrisis.org/
http://www.asponews.org/
http://www.endofsuburbia.com/