Indymedia Video Screening - Bush's Hundred Thousand Unwelcomes
dublin | indymedia ireland | feature
Monday August 30, 2004 21:29
by Indymedia Ireland Editorial Group - Indymedia Ireland
Indymedia Premiere - 7.30 pm, IFI, Temple Bar, Friday September 3rd
Premiere Screening of Indymedia Ireland's latest two video productions documenting Bush's visit to Ireland in June 2004 and the protests against it.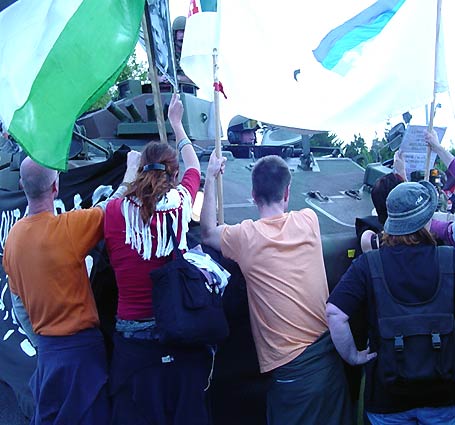 On Friday, June 25th 2004 approximately 20,000 people turned out in Dublin to let George W. Bush know that he was not welcome in Ireland. Thousands also travelled from all over the country to Shannon Airport and the nearby Dromoland Castle (where W holed up while in the country). The Irish State deployed masses of police and military to hide Bush from the protestors while the Media deployed masses of cameras and journalists focused primarily on on grandees and dignitaries in an effort to play down the extent of the protests.
Indymedia Ireland has created two video compilations which focus on the opposition to the Bush visit that was largely ignored at the time by the propaganda machine that has the cheek to call itself the media.
Reclaiming Dignity by Rasta4i and Bush Weekend by indyvidhead include interviews and comments from people involved in the "Bikes Against Bush Critical Mass", the Shannon Peace Camp, the Dublin March, the Anti-War Ireland protest at Shannon, the IAWM protest at Dromoland and, most sensationally, the AmBush protest at Shannon which was confronted by massive ranks of riot police and armoured military vehicles. Despite being completely blanked by the mainstream media this protest managed to delay Bush's departure by two hours.
All of this has been documented by independent camera-people interviewing real people with real opinions, a scarce commodity in the compliant Irish media.
Indymedia Ireland will be holding a screening of these two documentaries about the Bush visit on Friday September 3rd in the Irish Film Institute in Temple Bar, starting at 7:30pm. There will be a 5 euro charge on the door and all funds will go towards sustaining and strengthening the Indymedia project. Come along and support our media - we are all the media.
Previous Indymedia Feature on Bush Visit
testing 0 Mb