Derry City Council Rejects Arms Trade Investment
derry | anti-war / imperialism | feature
Thursday January 08, 2004 17:57
by Peter Doran - Green Party
pfdoran at hotmail dot com
028 90 87 42 56
Council moves to adopt socially responsible inward investment policy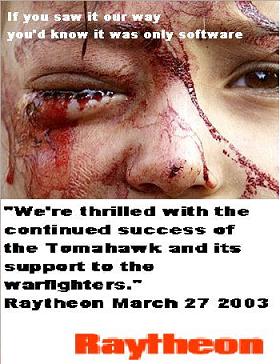 A special meeting of Derry City Council has adopted an unprecedented New Year resolution to introduce a 'policy of opposition to the city's economic participation in the international arms trade' and instead elaborate a policy of Socially Responsible Investment (SRI). The special meeting was convened at the request of the Foyle Ethical Investment Campaign (FEIC) to consider the role of the Raytheon corporation in the production and proliferation of weapons of mass destruction. The company -- one of the biggest defence companies in the world -- established a software development centre in Derry but claims that only civilian work is conducted there; a claim fiercely contested by members of FEIC at today's meeting. Production includes work on I-ORION, an information system that enables Raytheon to enhance its design, procurement and sales of armaments. A Green Party member of FEIC described the Special Council resolution as historic and a great source of pride and hope for arms trade activists in Derry and across the world. 'Derry can now retake its rightful place as a place of hope and solidarity, where peace and democracy are cherished for one and all.'

Reaction / Report from Foyle Ethical Investment Campaign

Background From Indymedia Archives
What are Raytheon hiding in Derry?
The Irish Arms Trade
Derry Walk against War and Weapons
Raytheon Derry: Significant Victory for Direct Action
Derry Direct Action Against Merchants of Death

Addendum
Irish Govt has ordered $12m worth of Anti-Tank Missiles from Raytheon/Lockheed Martin
FULL TEXT OF ARTICLE AS ORIGINALLY PUBLISHED ON IMC NEWSWIRE
Derry City Council has received a delegation from the Foyle Ethical Investment Campaign, which has led a campaign to expose the reality behind raytheon's Software Development Centre in Derry. FEIC activists have long held the view that raytheon - one of the world biggest defence companies - has no place in Derry.
A special meeting of Derry City Council has adopted an unprecedented New Year resolution to introduce a 'policy of opposition to the city's economic participation in the international arms trade' and instead elaborate a policy of Socially Responsible Investment (SRI).

The special meeting was convened at the request of the Foyle Ethical Investment Campaign (FEIC) to consider role of the raytheon corporation in the production and proliferation of weapons of mass destruction. The company - one of the biggest defence companies in the world- established a software development centre in Derry but claims that only civilian work is conducted there; a claim fiercely contested by members of FEIC at today's meeting. Production includes work on I-ORION, an information system that enables raytheon to enhance its design, procurement and salesof armaments.

A Green Party member of FEIC described the Special Council resolution as historic and a great source of pride and hope for arms trade activists in Derry and across the world. 'Derry can now retake its rightful place as a place of hope and solidarity, where peace and democracy are cherished for one and all.'

In a poignant presentation, Richard Moore, founder of Children in Crossfire, described how he was blinded as a ten year old boy while making his way home from school in Creggan. He asked councillors to consider how the city would have responded if someone had proposed establishing a rubber bullet factory or a related plant in Derry during the 1970s. The meeting was also addressed by Green MEP, Patricia McKenna, a long-time supporter of FEIC.

Sinn Fein and SDLP councillors agreed a joint resolution in response to the FEIC presentation and campaign. The resolution includes the following commitments:

a. Derry City Council has a vision for a City in which all its citizens have pride, building on its proud traditions of civil rights, religious liberty, tolerance and nonviolence. Derry City Council believes this City ought to be known throughout the world as a centre of opposition to violence and human degradation....Our City should be set apart internationally by being marketed as abeacon for socially responsible investment.

b. Derry City Council opposes the arms trade, because it depends upon and promotes the continuation of war and instability and creates poverty and disaster, sucking in physical, human and intellectual resources into a vortex of violence.

c. Derry City Council resolves to elaborate and introduce a policy of opposition to the City's economic participation in the international arms trade. A copy of this resolution will be sent to the Chancellor of the University of Ulster and copied to the Provost of Magee University College.

d. Derry City Council resolves instead to elaborate and introduce a policy to create a climate that is conducive to socially responsible investment taking root.

e. Derry City Council further resolves to support and encourage initiatives which promote education about the effects of the international arms trade and greater understanding between people in the global north and the people of the global south, particularly amongst young people.

f. Derry City Council acknowledges that raytheon's core business is the arms trade. raytheon is an integral part of the international arms trade and Derry City Council wants no part of that trade here in this city. In particular we declare our opposition to the development or production of weapons or any software whose end use is a military application and if that is shown to be the case at raytheon in Derry then Council will declare the firm to be unwelcome here.