Carry On up the 'Gorman
dublin | bin tax / household tax / water tax | feature
Wednesday October 01, 2003 16:44
by Activist - Dublin City Anti-Bin Tax Campaign
087-9558930
5pm Thursday Oct 2nd: Campaign calls for protest during city-centre commercial collection.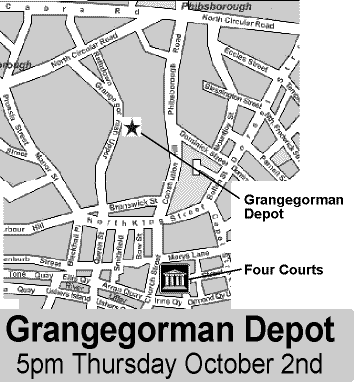 A meeting between several activists from several different local campaigns and political groups has called for a protest on Thursday evening at the Grangegorman depot, starting at 5 pm, during the city-centre commercial collection runs. This has since been endorsed by the steering committee. Campaign chairman, Dermot Connolly, announced it to an enthusiastic reception at the rally outside the Dail on Tuesday evening.

The government knows that opposition to the tax is so strong that they can't take on all areas at once. So they've started non-collection only in areas where the campaign is weak, slicing up the city like salami.

The campaign has responded by mounting solidarity blockades in areas where bins are still being collected. In the last 10 days there have been up to 20 blockades in areas such as Cabra, Stoneybatter, East Wall, Finglas, the Liberties, Crumlin, Ringsend and Harold's Cross.



Oct 31st Dail Bin-Tax Protest Photos and Report
While the Bins pile up in Fingal
South Finglas Blockade: Weds Oct 1st
Blockades Continue: Fingal and Knocklyon: Tue 30th Sept
Blockades Continue: High Court Prevaricates: Mon 29th Sept
The Campaign enters week four: Detailed Roundup of News: Sat 27th Sept

So far these have been of limited duration, intended to let the government know that we won't stand by while they carve the city up and let Fingal drown in it's own rubbish. Meanwhile, the collection of commercial waste in the city centre continues uninterrupted from the Grangegorman depot. By taking part in this protest we intend to send a clear message to the government that we won't allow them to continue with business as usual while they withdraw the essential services that we pay them for.

This protest comes as a result of activists from different local campaigns and political groups working together towards formulating a common strategy. Activists from the SP, WSM, WCA and ISN participated. Although it was originally planned by the Cabra and Stoneybatter campaigns for the following Monday, Socialist Party national organiser Kevin McLoughlin impressed the meeting with the urgency of the situation in Fingal, causing it to be brought forward to Thursday - despite the short notice.

We emphasise the importance of getting along to this protest, as it would be a great confidence boost for the campaign if we could get a big turnout to this. The campaign needs to find a way to take common action against the salami tactics. Grangegorman is only a 10-minute walk from the four courts; an hour or two after work could go a long way towards the struggle to end this unjust tax.