GAAW NOVEMBER 2012 BULLETIN
galway | anti-war / imperialism | opinion/analysis
Saturday November 10, 2012 21:56
by GALWAY ALLIANCE AGAINST WAR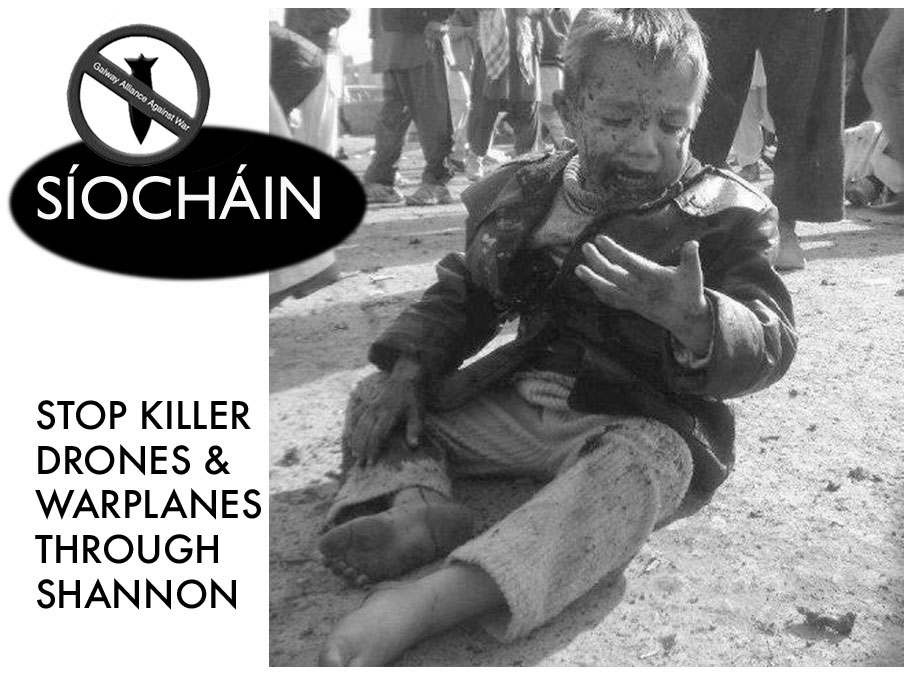 CONTENTS
1. GAAW CAMPAIGN AGAINST KILLER DRONES
2. OBAMA – NO CHANGE
3. GAAW DEATH CALLERS UNCOVERED
4. THAT NOBEL PEACE PRIZE & THE EU
5. AN END TO THE SYRIAN BLOODBATH?
6. PRESIDENT HIGGINS ON HOW TO ACHIEVE PEACE
7. CIA BOSS RESIGNS!

GALWAY ALLIANCE AGAINST WAR
NOVEMBER 2012 BULLETIN

FORTHCOMING GAAW EVENTS
CHARLIE BYRNE'S BOOKSHOP:
FRIDAY 23RD NOVEMBER @ 6PM
HARRY BROWNE TO LAUNCH
SHANNONWATCH BOOKLET : WAR & RENDITIONS BY JOHN LANNON
& GAAW'S KILLER DRONE POSTCARD
************************************************************
GAAW ANNUAL GENERAL MEETING
FRIDAY 13TH DECEMBER 2012 @ 8PM SHARP
RICHARDSON'S, EYRE SQ, GALWAY
Guest Speaker: MICHAEL RANDLE – The veteran British Peace Activist and writer. Michael has been imprisoned on a number of occasions for his peace activities. It was during one spell in Wormword Scrubs jail (1962-63) that he got to know the Soviet spy George Blake. In 1966 he, Anne Randle, Pat Pottle and Seán Bourke helped Blake escape from prison.
****************************************************************
JOIN US ON OUR FACEBOOK GROUP PAGE: https://www.facebook.com/#!/groups/312442090965/
OR BEFRIEND US ON FACEBOOK: https://www.facebook.com/#!/galway.antiwar

GAAW SUPPORTED PEACE EVENT
PEACE VIGIL SHANNON
SUNDAY 11TH NOVEMBER, 2-3PM
AT THE ROUNDABOUT BEFORE THE ENTRANCE TO SHANNON AIRPORT

1
GAAW CAMPAIGN AGAINST KILLER DRONES
GAAW opened its campaign against killer drones on the 7th October – the 11th anniversary of the outbreak of the US Afghan war – when two of its members, Margaretta D'Arcy & Niall Farrell, went 'airside' at Shannon Airport and blocked the runway. The fact is, these drones, which have been responsible for thousands of deaths and the terrorisation of communities from Afghanistan to Yemen, are transported freely through Shannon Warport by the US military. Indeed, Irish soldiers stand guard over these weapons of mass murder to protect them from 'criminal elements' such as ourselves!

The next phase in our campaign will be the release of a postcard depicting a young Pakistani boy minutes after one of these drone attacks. He was one of the lucky ones. But for how long? Obama has constantly increased the use of these drones. While George Bush sanctioned the firing of 52 drones, by September last Obama had almost upped that figure six-fold to 292.
As has been widely reported Obama draws up his death list every Tuesday of "terrorist suspects" to be executed. But not only such "suspects" die in the carnage. The human rights group Reprieve has estimated that of the 3,180 people killed by Drones since 2004 at least 1,007 victims have been wholly innocent, including 175 children.
(see: http://www.reprieve.org.uk/investigations/drones/ )
No surprise that Tom Clonan writing in the dreadful Irish Times on 8th November prefers to quote the New American Foundation, which would have us believe that only 1% of drone victims are civilians. This is clearly false: drone strikes have taken on a distinct pattern. The initial strike is invariably followed by a second while civilians are tending to the injured.
Our postcard campaign will include setting up stalls in Shop St Galway asking people to send one of our postcards to Eamon Gilmore at the Dept of Foreign Affairs or to other politicians. The message on the postcard is unambiguous: "Síocháin: Stop Killer Drones & Warplanes Through Shannon". We also hope to project in public places in Galway short videos dealing with the impact of drones as part of this campaign.
On October 7th on Shannon Airport's runway Margaretta D'Arcy attempted to engage the security people in a "public conversation" - à la President Higgins - on the morality of Shannon airport being turned into a US military base. Alas, there were no takers. One wonders whether our two intrepid protestors will get a similar response if they find themselves in front of a court for their peace action.

2
OBAMA – NO CHANGE
After Obama's election 4 years ago Dan Boyle of the Green Party – then in coalition with Fianna Fail - assured our supporters at a GAAW organised protest at a Green 'think-in' that all would change under the new US President. As we now know, Shannon remained a US military base, Guantanamo remained open and the wars continue unabated.
Make no mistake there will be no change this time either with Obama's second presidency - the war in Afghanistan will continue. And you don't have to take our word for it, the NATO Secretary General Anders Fogh Rasmussen said as much when he held a press conference in Brussels the day before the US Presidential election. Rasmussen told journalists that even without a UN mandate NATO forces would remain in Afghanistan at the "invitation" of the Afghan regime.
The question is how will the Irish Government wriggle its way around keeping its small number of troops and Gardaí in Afghanistan without the UN mandate?
http://www.counterpunch.org/2012/11/07/obamas-fatwa/

3
GAAW DEATH CALLERS UNCOVERED
For at least 5 years GAAW's PRO, Niall Farrell, has been receiving threatening phone calls. They have been a combination of death threats and obscene references to his murdered sister, IRA Volunteer Mairéad Farrell. Fortunately, our PRO has such a dark sense of humour that he found the calls somewhat amusing. Besides, he always firmly was of the view that the callers would eventually be uncovered. And so it has come to pass. Several weeks ago Niall received a call from Alicante, Spain. The caller proceeded to name one of the people responsible for the obscene calls and then began to indulge in a few obscenities himself!
The person named is a local B&B owner. Our PRO made inquiries amongst GAAW members and very quickly had the name and the Galway address of the Galwayman-in-Alicante. Both 'gentlemen', who appear to have had an acrimonious falling-out, have rather 'colourful', or to be frank criminal, pasts.
Being a law-abiding citizen Niall then made his way to his local Garda station and presented this information. The B&B owner was interviewed by the Gardaí but denies any wrong-doing. A lack of concrete evidence means he is unlikely to be charged. He did, however, phone our PRO's mobile phone pleading his innocence. Niall immediately recognised his voice. But the question arises how did the B&B man get Farrell's mobile number?
As for the B&B owner's former sidekick – who was in a high profile court case not too long ago – he is still out of the country. But GAAW is delighted that it now knows who these cowardly callers are.
We would particularly like to praise and thank Garda Sergeant John Gormley of the Oranmore Gardaí for his help. And we sincerely hope his superiors will not take a dim view of him because of our appreciation!!!

4
THAT NOBEL PEACE PRIZE & THE EU
At this stage we should not pay any heed to this silly peace prize. But as a peace group we feel compelled to comment on the EU receiving it. The excuse given is that it is in recognition of the establishment of peace between the European countries where the two world wars stemmed. The committee – in our view – deliberately fails to recognise the radical change in geo-political relations since 1945 and again in 1990 with the end of the Cold War. What we have now is a far-from-peaceful North-South geo-political dimension arising from the EU and the USA's lust for resources.
Since the Amsterdam Treaty in the 1990s, with its Common Foreign & Security Policy, the EU has become a much more militarised and dangerous animal on the international stage. The growing militarisation culminated in the Lisbon Treaty that is bristling with military clauses and stipulates that each member state undertakes to progressively improve its military capabilities.
Ironically, the EU has been given the Peace Prize when it is actively involved in wars in Africa, Central Asia and the Middle East. Indeed, its overt and covert activities in this latter region could easily produce an imminent third world war.
While the EU avidly wishes to exploit natural resources of the South - for example, we can see its increasing military involvement in Africa - it has built a very firm 'fortress Europe' policy. In other words, the EU will take Africa's resources, but African refugees are unwelcome. This is hardly the actions of a peaceful European community! Reprehensibly, the Irish state has followed suit with this policy. Recently here in Galway refugees have been treated more like farmed animals, being herded from pillar to post, than vulnerable human beings.
On top of that, Brussels is waging an austerity war with its neo-liberal economic policies against working people throughout the EU. This is particularly evident in the peripheral nations within the EU, including dear old Ireland.
Meanwhile, the EU has received this peace prize as it is preparing for another military adventure in Africa, this time Mali. This conflict arises directly as a result of the war waged in Libya by Britain, France and the USA. Yes, the Nobel Peace Prize is a nonsense.
5.
AN END TO THE SYRIAN BLOODBATH?
The Egyptian government is seeking to bring together the four regional powers linked to the conflict in Syria in an attempt to end the bloodshed. This includes Assad's Syrian regime, the dictatorship in Saudi Arabia and the Turkish and Iranian governments. Twice diplomats from these four countries met, a third meeting was boycotted by the Saudis. The Russians are backing this initiative which is being instigated by Egyptian President Mursi.
The best prospect for a peaceful solution emanates from the UN Geneva agreement of the 30th June. The five permanent members of the UN Security Council were in attendance when this accord was negotiated under the chairmanship of Kofi Annan. It foresees a transitional government comprising the opposition forces and the present Syrian cabinet.
However, soon after the agreement was formulated, the USA, Britain and France opposed Russia's attempt to have this passed as a UN Security Council Resolution. On Monday 5th October Kofi Annan's successor, Lakhdar Brahimi, stated that the Geneva Agreement should become a UN Resolution, which could lead to the end of the awful bloodbath in Syria.
6.
PRESIDENT HIGGINS ON HOW TO ACHIEVE PEACE
President Higgins speaking in Belfast on Tuesday 30th October 2012:
"the next stage of the peace process requires us all to be pilgrims on a journey of such ethical reflection as will lead us to the light of peaceful enjoyment of the complex way our lives are intertwined."

7.
CIA BOSS RESIGNS!
David Petraeus has resigned as the director of US intelligence agency the CIA after admitting he had an extra-marital affair.

MAKING LOVE IS A CRIME .....MAKING WAR (and killing thousands) is O.K.