'Give me your name and address or I'll rape you': the reality of Corrib policing

national | miscellaneous | feature

Tuesday April 05, 2011 09:24

by Rossport Solidarity Camp
Prominent Gardaí accidentally record their own disturbing conversation
Gardaí in Co Mayo have been recorded talking about threatening to rape a woman in their custody. The Gardaí, including a Sergeant, have been prominent in policing protests against Shell's inland gas refinery.
Audio Recording of the Alleged Threat (edited)


Related Links:
shell's Work Disrupted for 12 Hours in Aughoose Co. Mayo | On eve of judicial review, Rossport Solidarity Camp breaks up shell transport lines. | Tearing Up The Tracks | shell's work suspended by Day of Action | Urgent call out! Shell have started work-Days of action this Fri 1st & Sat 2nd April | Work restarts in Mayo | 22 TDs gather at gates of Dail to demand reversal of Corrib pipeline consents | Camp Work Weekend and Walk the pipe tour | shells Work Stopped for 4 hours | Rossport Solidarity Camp is Up! | Enda -prove you are for the people of Mayo | shells Work Stopped twice in two days | shell to Sea encourages people to enter Statoil competition | Questions for Politicians | Non Violent Direct Action Training 5-6th March | shell granted planning permission in mayo | shell To sea Solidarity Action Ghent ( Belgium). | Review of the Corrib Gas Project Oral Hearing | Joe higgins interviewed on RT. By contrast, Vincent brown sneers at him and screws shell to sea | Budget Day drama on Kildare Street | People's Alliance march in Tullamore | Four years since baton charge on peaceful protestors

Shell to Sea - Official Website
Rossport Solidarity Camp - Official Website

If you have problems accessing the shelltosea site directly, try going HERE and typing in the web address.
The Gardaí arrested two campaigners last Thursday (March 31st, 2011) near a Shell compound at Aughoose and seized their video camera. They inadvertently allowed the camera to continue recording in the squad car in which they travelled the 20km to Belmullet Garda station. The two women travelled in two other Garda cars in the same convoy.

After the women were released without charge, and the camera returned to them, the women discovered the recording of the Garda conversation. They were shocked and disturbed by what they heard.

The recording starts with the women being arrested and the camera been taken by Gardaí. The discussion in the Garda car includes the Gardaí talking about threatening to rape one of the women in their custody and laughing. They also talk about whether they should bother adhering to safety procedures for removing protesters from heights: the Sergeant advocates ignoring the rules learned in Garda training.

Referring to one of the women in their custody, who is travelling in the same convoy, the Sergeant says: "Give me your name and address and I'll rape you." The threat is repeated by at least one other Garda, to much laughter.

This is not the first time that campaigners around the Corrib project have been threatened with rape by Gardaí. However, it is the first time that such a clear recording has surfaced.

One of the women involved said: "It was terrifying to hear Gardaí talk in this way about rape. How can women living in the area feel safe when such a culture of brutal intimidation and violence exists here?"

Dublin Shell to Sea spokesperson Caoimhe Kerrins said: "This is shocking and extremely serious. It is very frightening for those of us involved in the campaign. Gardaí are the people that women are supposed to trust when they need to report a rape. Gardaí are supposed to be responsible for bringing rapists to justice."

There are several video and audio versions of the recording now in existence. This article includes:

• a video of the entire recording on Vimeo, with explanatory text at the start and subtitles on some segments:
http://vimeo.com/21952231

• a link to an audio file (mp3 format with some of the longer silences removed:
Edited audio of entire conversation with silences removed and quality improved

• A 2 min 23 sec audio file (mp3 format, size: 1.1mb) of the opening segment and also the segment in which the Sergeant and Gardaí talk about threatening to rape a woman in their custody. This file is attached on this page.

TRANSCRIPTS OF KEY SEGMENTS:

[ These transcripts, as well as the recording, were provided to the mainstream media by the Rossport Solidarity Camp. The Gardaí in question were named in the original transcripts. The Irish Times changed the name of the Sergeant to "Garda A" and changed the name of the other Garda to "Garda B". Rossport Solidarity Camp also decided to remove the names of the Gardaí before publishing here, but changed the Sergeant's name to "Sergeant" and the other named Garda to "Garda A", and incorporated this into the video file on Vimeo. Hence there seems to be an inconsistency between the Irish Times transcripts and the Indymedia transcripts, but there is not. "Garda B" in the Irish Times is "Garda A" on Indymedia and Vimeo. ]

Sergeant: "Who is them two lassies, do you know the two of them?

Garda A: "I don't know the second one, the first one is with blonde hair."

Unidentified Garda: "She was up on the tractor earlier on."

Sergeant: "It'd do no harm to get the second one's name again?

Garda A: "She's some Yank. I don't know who the fuck she is."

Unidentified Garda: " Is she a Yank?

Garda A: "It sounds like it, it sounds like it, the accent anyway

Unidentified Garda: "Sounds like a Yank or Canadian."

Garda A: "Well whoever, we'll get Immigration fucking on her."

Sergeant: "She refused to give her name and address and told she would be arrested."

Garda A: ".......and deported"

Sergeant: "And raped."

Garda A: "I wouldn't go that far yet….. She was living down at that crusty camp, fuck sake, you never know what you might get."

Sergeant: "Give me your name and address or I'll rape you."

Unidentified Garda: "Hold it there, give me your name and address there, I'll rape you."

Sergeant: "Or I'll definitely rape you."

Unidentified Garda: "Will you be me friend on Facebook?"

[Conversation continues about Facebook in Garda station]

Excerpt from video camera recording in which Gardaí discuss safety and techniques for arrest at protests.

Sergeant: [on phone to a colleague]: "I know we don't want to be arresting them but by the same token, we were left with no option. We have an issue there as well with the lads in the protest removal team there, of actual climbing the tractors. So what we're going to do is we're going to get safety ropes and ladders and we're going to leave them in the van in case we have to go up on the cab of the tractor again. So we're looking after that now at the moment."

Sergeant: ends call.

Garda A: "You see at least you're a sergeant, like."

Sergeant: " like some of auld timers who were here in the area in the first and second campaign. I'll tell you one thing, the decisions that were made policing at that time."

Garda A: I'll still go back to what says there . . . If someone gets hurt we're going to be on our own in the blocks."

Sergeant: ". . . I don't think we're going to be on our own. If we have exercised due diligence and we have used common sense and used whatever was available to us to remove them. At the end of the day, we have a certain duty of care to them. We ask them to get down, if they don't get down, we tell them we are taking them down forcefully. We take them down forcefully.

"We use whatever means at our disposal, which includes ladders and ropes or whatever to get them down safely. If one of them slips, so fuckin. What can we do?"

Garda A: "Ladders and ropes. All I'm saying is, the point is

'Garda, are you a member of the protest removal team?'

'I am.'

'Have you received training with working at heights?'

'Yes, I have.'

. . .'How did you train to bring someone down?'

'In a harness with ropes.'"

"We didn't have any of them options today there . . . That's all I'm saying. And is dead right; if we're in the box:

'Have you received training on how to take a protester down from heights?'

'Yes'."

"And if we did it with ropes and harnesses . . . then why did you let my client fall? Did you not go get your ropes and harness to take her down. That's all."

Sergeant: ". . .To get them down safely we'd have to erect a scaffold tower beside them and abseil them down. And and, the, the, taking the common-sense approach, and a common-sense view, it would be impractical to erect a scaffolding tower to get them down off it. And we use whatever safe means at our disposal, as we considered safe protest removal team to take them down, ie, ropes and ladders."

Unidentified Garda: "What was the obstruction?"

Garda A: "There was no obstruction . . ."

Sergeant: "They were obstructing the road."

Garda A: "There was no obstruction . . . The tractors all other vehicles were able to get past."

Sergeant: "They were obstructing the road. Excuse me. If a car stops there, in the middle of that fucking road, and it's stopped there, it's obstructing the road. It doesn't have to be blocking it. If it's parked there it's obstructing it."

Unidentified Garda: "Well if nothing else they were obstructing the vehicle."

Garda A: "That's the only vehicle obstructed."

Unidentified Garda: ". . . free passage."

Sergeant: "The vehicle was obstructing the road. Just because other vehicles could pass didn't mean the road wasn't being obstructed."

Sergeant seems to get out of the car . . .

Garda A: "We all said this, it was a safety issue."

Unidentified Garda: "It was the best option . It was the best option at that time, there's no doubt about it."

Garda A: "We all said it because of a safety issue. There was three up, there was a wind blowing. And like did you fucking feel safe, 100 per cent safe going up there taking down two people."

Unidentified Garda: "No".

Garda A: "...I don't know what you thought?"

Unidentified garda: "All I know is that if something happens, who's going to stand fucking behind me."

Garda A: "And do you honestly think that is going to turn around and say "oh look it". We got trained a certain way.

'Garda did you fucking, take a protester down the way you were trained'.

'No I didn't.'

'Well then Guard.'

"And the job will say were you fucking trained a certain way. The job will fucking ditch you."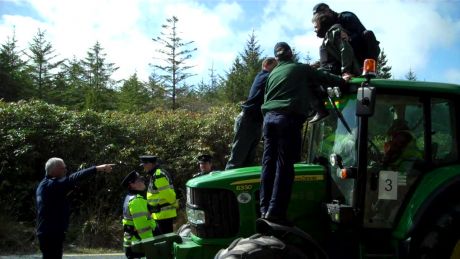 One of the two campaigners shortly before being arrested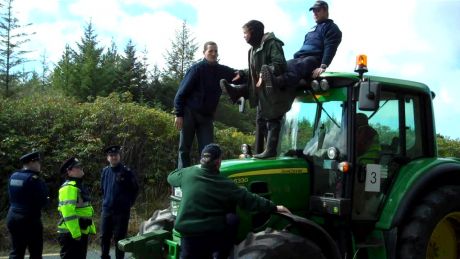 One of the two campaigners shortly before being arrested


2 min 23 sec audio clip of segment in which Gardai discuss threatening to rape woman in their custody 1.09 Mb