Bethany survivors write to new Minister for Education

national | rights, freedoms and repression | news report

Friday March 11, 2011 10:42

by Derek Leinster - Bethany Survivors 00 44 1788 817311

derek.linster at talktalk dot net

42 Southey Road Rugby CV22 6HF Warwickshire

00 44 1 788 817311
"Dear Ruairi please put us on the redress scheme list...."
Dear Ruairi Quinn, Minister for Education and Skills,

Congratulations on your appointment as Minister.

We ask you to consider sympathetically and favourably the request of Bethany Home survivors to be included on the schedule to the redress scheme for survivors of institutional abuse. We have been greatly assisted in the past by, amongst others, Joe Costello TD, Katleen Lynch TD and by Senator Ivana Bacik, who have supported our campaign. TDs from all parties have supported our request.
The Bethany Home, Dublin took in non-Catholic unmarried mothers, their children, prostitutes and women, including children, convicted of various crimes between 1922-72. The home's intake reflected the criminalisation of childbirth outside marriage in Irish society.

In 2010 our researcher, Niall Meehan of Griffith College, discovered the unmarked graves of 219 Bethany children in Mount Jerome cemetery. They died between 1923-49. Over one third died in a five year period, 1935-39 and nearly two-thirds between 1935-44. For further information on this subject see Church and State and the Bethany Home (History Ireland, 2010, attached below).

In October 1939 William S Berry, the Deputy Chief Medical Adviser in the Dept of Local Government and Public health, callously dismissed these deaths and signs of medical and nursing neglect discovered by his own inspectors. He observed that it was 'well known' that illegitimate children were 'delicate'. He called instead, as a means of defecting public concern, for the home to cease admitting Roman Catholics. Bethany Home was denied a discretionary maternity home grant until 1949. When the grant was given, deaths and serious illness appeared to taper away to nothing.

It can be argued, at the very least, that from the time the state covered up death and serious illness at the home, until centrally administered funding was made available, a 10-year period, the state's sectarian negligence resulted in severe sickness and death at the Bethany Home.

We have come a long road, but it is one in which obstacles to the truth have been put in our way, time and again.

Officials have said the Bethany Home was not eligible for inclusion in the schedule of redress for survivors of abuse, as it was a privately run mother and baby institution in which the state played no role. When corrected on this the story changed. In order to qualify for inclusion Bethany it was alleged that residents would have had to be sent to a home by a court. It was pointed out that while there were 50 institutions where this was the case, there were over 100 on the schedule where it was not the case. However, in any case, courts did send persons to the Bethany Home.

For 13 years Bethany survivor Derek Leinster tried to obtain Bethany Home records in the state's possession, but were denied them. After he obtained official documents in 2007 by other means, the HSE finally notified Education that Bethany Home residents did indeed qualify for redress. Education still said no. We were turned down again.

In Ireland's Magdalen Laundries and the Nation's Architecture of Containment (2007), Professor James Smith of Boston College noted that non-Catholic women were being sentenced in the Four Courts for Infanticide and given the option of serving their time in the Bethany Home. After that, Niall Meehan produced contemporary newspaper reports of other women sentenced for these and for lesser crimes sentenced to serve their time in Bethany.

In 2010 Meehan notified the Justice Dept that in 1945 Bethany's Managing Committee wrote to Justice to ask why a court sent a particular child to Bethany. More information was drip-fed. Justice revealed that the then Minister of Justice Mr Boland asked Dublin Church of Ireland Archbishop, Dr Barton, to nominate a place of detention for C of I females up to the age of 17 years. Barton chose Bethany Home.

Government officials would have been aware of these facts, but hid them until forced to reveal them. The Bethany Home is eminently qualified to be included in the Redress schedule. It is too late for the 219 Bethany children buried in unmarked graves, whose final resting spot in Mount Jerome Cemetery was discovered in 2010. It is not yet too late for those still living.

Why have Government officials denied non-Catholic children justice? There should be a public enquiry into this scandal.

The Government has paid out 1.2 billion mainly to Catholic survivors of abuse. The Irish Embassy in London is funded by the Irish Government to the tune of 800 million Euros to help survivors' groups. When Bethany survivors applied for funding, we were turned down. We also applied to Education for funding. Again we did not qualify. They went to great lengths in telling us how careful they were required to be in doling this money out, so careful they were giving us none. Recent media reports indicate that the state has thrown money unaccountably at this problem, trying to buy off its responsibility for running a dysfunctional sectarian health, education and welfare system. It is now 'solving' the problem in an equally sectarian manner, leaving non-Catholics outside the door.

We are appealing to all people in a position to influence justice in the Irish Society. Victims of non-Catholic abuse should be treated equally and no differently than had they been abused as Catholics.

The children of the nation were abused equally. Let those who survived now be treated equally.

Derek Leinster
Chairperson Bethany Survivors
42 Southey Road
Rugby CV22 6HF
Warwickshire
England

For further information:
New Church of Ireland Archbishop of Dublin speaks on Bethany Home
http://www.indymedia.ie/article/98808
Bethany Home Children's Graves discovered
Former residents call for memorial - Wednesday 26th May, 12 noon, at MOUNT JEROME Cemetery
http://www.indymedia.ie/article/96739
From Wicklow to Wakefield - a victim of Protestant prejudice and state neglect
Derek Leinster survived to become a trade union convener, a father and a grandfather
http://www.indymedia.ie/article/92984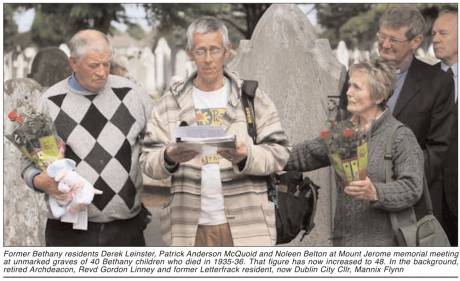 Former Bethany residents Derek Leinster, Patrick Anderson McQuoid and Noleen Belton at Mount Jerome memorial meeting at unmarked graves of 40 Bethany children who died in 1935-36. That figure has now increased to 48. In the background, retired Archdeacon,


History Ireland article Sept-Oct 2010 on Berthany Home - right-click and 'save' to download 1.57 Mb