Strabane Trades Council Rally against Community Cuts

tyrone | worker & community struggles and protests | press release

Wednesday December 15, 2010 14:41

by PRO - SIPTU
SIPTU supported the Strabane Trades Council in a rally against cuts to the public and community sector.

The rally was held at 2pm on Saturday 11th December in the town's Castle Street, catching the attention of hundreds of busy Christmas shoppers.

Ryan McNulty of the local Trades Council chaired the proceeding, with the main speakers on the day being Michael Craig of the Unemployed Union, Brian Campfield of the Derry Trades Council and Kenny McAdams of NIPSA.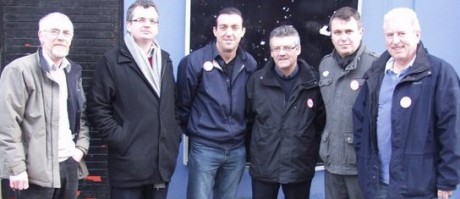 (Michael Craig (Unemployed Union), Martin O'Rourke (SIPTU), Paul Gallagher (Strabane Trades Council), Kenny McAdams (NIPSA), Ryan McNulty (Strabane Trades Council) Brian Campfield (Derry Trades Council)
Speaking on the rally, SIPTU Lead Organiser Martin O'Rourke said,

"It was heartening to see representatives of Strabane, Derry and Letterkenny Trades Councils coming together to stand up for the most vulnerable in our society and those who provide services to them. This is a crucial time for everyone to make a stand against cuts to frontline services, whether that be in the public or community sector. SIPTU insisted that a strong community message was heard today, ensuring that we are also organised against any proposed cuts to our community services."

"In the time ahead, SIPTU as 'The Union for Community Workers', will be campaigning to ensure that the frontline services in our local areas, the very lifeblood of our communities are protected from the savage slash and burn cuts being proposed by the Millionaire Tory Cabinet. We will be work with every stakeholder, to safeguard the very future of our communities, and we call on everyone's support in this important task."