Press Release: "General Strike needed to take political power from the wealthy elite" – 1% Network

national | anti-capitalism | press release

Wednesday November 24, 2010 22:33

by onepercent Network - onepercent Network
The 1% Network has called on all Workers to attend the march organised by the Irish Congress of Trade Unions on Saturday morning next to "show their opposition to the anti-people policies of the Irish government, the European Central Bank and the IMF".

"It's important that Saturday's march is a large showing of public anger at the economic policies currently being implemented," said Brian Leeson 1% Network spokesperson, "but we know that ICTU will not lead a real fightback."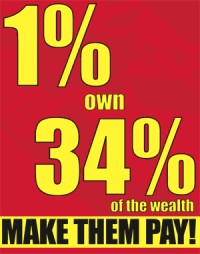 Press Release:
"General Strike needed to take political power from the wealthy elite" – 1% Network
The 1% Network has called on all Workers to attend the march organised by the Irish Congress of Trade Unions on Saturday morning next to "show their opposition to the anti-people policies of the Irish government, the European Central Bank and the IMF".
"It's important that Saturday's march is a large showing of public anger at the economic policies currently being implemented," said Brian Leeson 1% Network spokesperson, "but we know that ICTU will not lead a real fightback."
"In fact ICTU have accepted the government's cuts agenda," Mr. Leeson continued, "they just want them to be spread out over a longer period of time. What is needed therefore is that people use Saturday's march as a springboard from which to organise a real fightback aimed at taking political power away from the wealthy elite and constructing a new society based on fairness, justice and equality."
"
1% of the population owns 34% of the wealth
," said Gregor Kerr, 1% Network spokesperson. "
This concentration of wealth naturally leads to a similar concentration of political power. While this wealth and power divide exists, society can never be run in a fair and democratic manner.
"
"But it doesn't have to be like this," went on Mr. Kerr. "Clearly those who have such power are not going to give it up easily. But we are many and they are few and we have the ability to organise to defeat them. The way in which they can be defeated is through the organisation of a general strike. They need our labour, by withdrawing it we can show where real power lies."
"ICTU won't organise such a general strike," concluded Brian Leeson. "Therefore it is up to each one of us in our workplaces, in our trade unions, in our residents and community associations to begin to build a strong, united campaign and to begin the process of working towards that general strike. Our message is simple - The 1% have the wealth. We have to take the power."
Statement Ends
Note to Editor: The 1% network is a coalition of socialist groups which has come together to oppose the cutback agenda of the government and to promote a socialist alternative to the current socio-economic system. Organisations within the coalition include éirígí, Irish Socialist Network, Seomra Spraoi and the Workers Solidarity Movement. The name of the coalition was chosen to highlight the fact that just 1% of the population control in excess of 34% of the wealth of the state.
For more information, contact Gregor Kerr 086 1501151 or Brian Leeson 086 8071010 or log onto www.onepercentnetwork.org