Students Occupy Department Of Finance

dublin | rights, freedoms and repression | feature

Wednesday November 03, 2010 21:22

by Andrew - wsm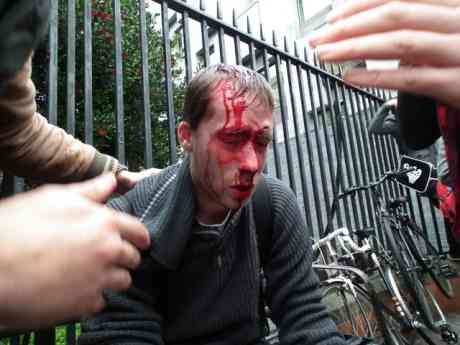 News is coming in that upwards of thirty students have occupied the Department of Finance in the centre of Dublin with several hundred supporting them in the streets outside. Tens of thousands of students are demonstrating as part of the USI protests against plans to introduce fees, these students carrying out the occupation appear to have broken away from the main demonstration which is taking place around the corner in Merrion square.
Indymedia Links:
French student protests | Police attack student demo | Interviews with students who took part | Profile of Gary Redmond USI president | Anti capitalist protest | students and unemployed protest education cuts | 1% Network Find The Pot Of Gold On Shewsbury Road | Walking Tour sees 'how the 1% live | John Pilger on UK austerity measures |
Other Links:
WSM coverage | EdufactoryIreland site | Trade Union TV video | RTE video coverage | Irish times coverage
Girl knocked unconscious by gardai

Wikipedia Links:
USI
It has been reported that eggs were thrown at the building and that four Gardai horses have just arrived on the scene.

This article will be updated as news becomes available at http://www.wsm.ie/c/students-storm-department-finance-dubin


USI President Gary Redmond has condemned the protesters but he did not condemn the violence from the Gardai. However Gary Redmond is known member of the Fianna Fáil party, the same party that lead this country to ruin and which is now stripping it bare whilst leaving the culprits completely untouched.