New book offers insights into a changing world

donegal | miscellaneous | press release

Monday September 27, 2010 10:48

by Journey in Wonder (volunteer) - www.journeyinwonder.com

journeyinwonder at gmail dot com
Reflections on travels in Native America, India and Nepal
A new book by Donegal community worker Keith Corcoran promises to offer important insights into a rapidly changing world and provide an entertaining read into the bargain.

'Journey in Wonder' is an account of Keith adventures through 2006 and 2007 when he travelled through North America and Asia. Keith explains how he came to write the book.

"While I was away on my travels I used to send back a group email every few weeks to let friends and family know I was still alive and to share some of my experiences. Then one day while I was in India, an email arrived from my sister Donna to say that a Donegal paper had begun publishing my travelogues, which was a big surprise at the time! That gave me the idea to start writing a complete account of my travels when I returned home and the book 'Journey in Wonder' began to take form."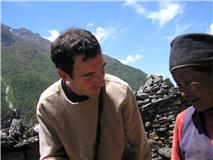 The book is interlaced with comic situations the author gets himself into, yet suspense, tragedy, unexplained encounters, danger and romance are also woven into the pages of this unique journey. The book also takes a fresh look at how ancient wisdom and culture can help us better understand ourselves and the situation we find ourselves as a nation, economically, socially and environmentally.

His accounts also reflect the inherent kindness in people he meets, who care, support, or offer wisdom as he travels. Whether staying with a Northern Cheyenne family on a reservation in Montana or meeting a young Tibetan monk in Katmandu, he is ever curious to see how others see their role in the world.

It is an often madcap quest to explore how important and resilient the human spirit is in creating a better world for us all and a celebration of travelling for the sheer wonder and experience of it. This journey is sure to stay with you
long after you read it.

Before embarking on his travels Keith establish the award winning SpunOut.ie national youth agency ( http://www.spunout.ie ), which helped inspired the journey he would take. Keith also feels that his Donegal heritage was a great help in connecting with people he met on his travels;

"I felt that a strong sense and love for my own local place in the world, helped me better understand and connect with people I met along the way, regardless of their race, religious beliefs or economic background. Human kindness was the prevailing experience that I encountered on my travels".

Keith is also launching his new website www.journeyinwonder.com which contains over 100 photos of his travels, a regular blog, online sales of his book and a launch pad for a series of specialised 'Journey in Wonder' eco-cultural tours and education programmes.

ABOUT KEITH

Keith Corcoran is a 35 year old writer, community worker and tour guide based in County Donegal, in the scenic North West of Ireland. He is the co-founder of the SpunOut (www.spunout.ie) multi-award winning national youth agency, which reaches over half a million young people per year. Keith holds qualifications in Journalism, Cultural Studies and Irish History and writes regularly for newspapers on health, social and environmental issues. Keith is currently active in the areas of Irish language education, walking therapy, cultural tourism and environmental preservation.