The Release & Homecoming of Pat 'The Chief' O'Donnell - Photo Essay

mayo | rights, freedoms and repression | feature

Monday July 19, 2010 11:48

by FSB! - Rossport Solidarity Camp
Selected photographs of the triumphant homecoming of a Hero and Friend!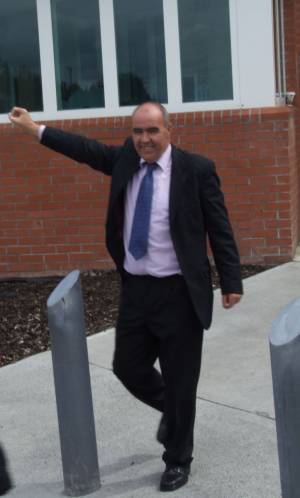 Erris was abuzz with joy and merriment as one of her finest sons, Pat 'the Chief' O'Donnell was freed from Castlerea Prison yesterday after 158 days of Shell-decreed incarceration. He was met by an ecstatic group of well-wishers outside the prison and was piped off the prison precincts after speeches by himself, Maura Harrington, and a message of support from Luke 'Ming' Flanagan, Mayor of Roscommon County Council.
Related Links:
Indymedia:
Eirigi call for support for protesters | Beat the Boreholes launch | The Pipe - Film about the shell protest | The Pipe wins film fleadh award | Shell to sea campaigner attacked | Shell ignores the law but gets campaigners jailed | Shell to Sea campaigner Niall Harnett sentenced to 5months in jail | 27 Shell to Sea campaigners face court "special sitting" | éirígí slam Devins over Corrib gas controversy | Erris Rally of Solidarity with 'the Chief' Pat O'Donnell | Joe Higgins MEP visits 'Shell To Sea' Activist, Pat O'Donnell, In Castlera Prison | Eoin O'Leidhin - Interview | Erris Sinn Féin Councillor criticises jailing of activist | Another Shell to Sea Campaigner Imprisoned | Shell retreats as solidarity with Pat O'Donnell continues | Mary O`Donnell interview | Video: S2S Solidarity with jailed Pat o'Donnell | Audio: Shell to Sea protests against jailing of fisherman Pat O'Donnell at Shell HQ | Court Report from Mayo | Shell Corrib Gas - Who are the real Thugs & Bullies? | Pat o'donnell - "Hero and Friend" not "Bully and Thug" | Review of the week of Shell to Sea court hearings
Video:
The Release
Pat "the chief" gives 'em hell june 2009
Pat "the chief" interview june 2009
Those who dance (part1of 5) | (part 2) | (part 3) | (part 4) | (part 5)
Join the cause:
Shell to sea website | Rossport Solidarity camp website

Pat then returned to his native Porturlin in a motorcade via Ballyhaunis, Claremorris, Castlebar, Foxford, Ballina, Killala and Ballycastle. In Castlebar and Ballina he was piped through the main streets to the appreciation of passers-by. At Glenamoy Cross, Pat left his car to enter the joyful embrace of his friends, neighbours and supporters who had waited several hours for his return. After half an hour there of being welcomed back, Pat and the motorcade made the final leg of the journey home to Porturlin, where the whole village was assembled round a roaring bonfire to welcome their valiant neighbour back to his home patch.

Today, Pat attended the Street Feast outside McGuire's in Pollatomish, and there he thanked the many friends and supporters who kept his spirits up while imprisoned, and the many friends he made while in prison, and reminded people to keep up the support for Niall Harnett, another prisoner of Shell now jailed for his 89th day. the well-attended Street Feast made a fitting end to a most joyful weekend in Erris.

The Chief Abú!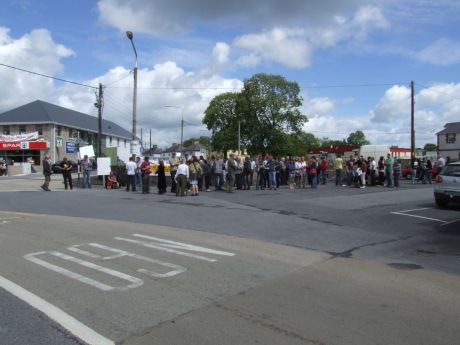 Assembling before Pat's release celebration, Castlerea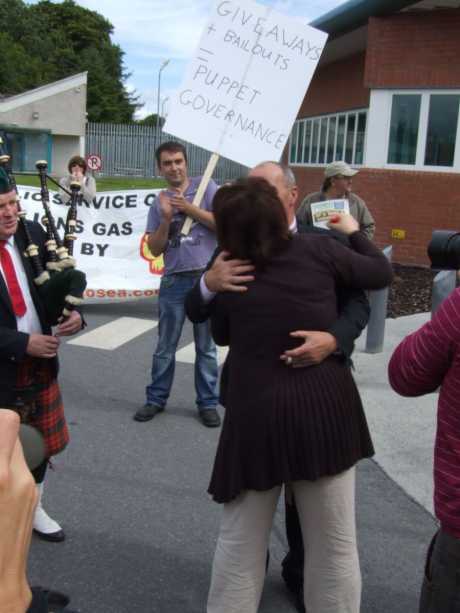 Pat being embraced by his wife Mary