Irish Rachel Corrie Deportees Vow To Return, Call For International Inquiry And Boycott Campaign

international | rights, freedoms and repression | feature

Tuesday June 08, 2010 04:48

by Kev - IPSC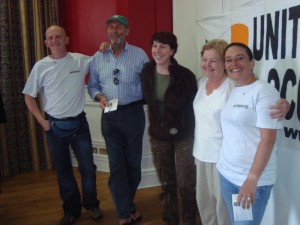 Today family, friends and supporters welcomed home the five Irish MV Rachel Corrie passengers who were this morning deported from Israel. The five – Denis Halliday, Mairead Maguire, Fiona Thompson, Derek Graham and Jenny Graham – were greeted in Dublin airport by cheers and hugs from the assembled crowd who were there to salute their bravery, as well as a large media presence.
Related Links: At Least 9 Internationals Killed As Israel Attacks And Hijacks Gaza Flotilla In International Waters
Israel to deport all 680 Flotilla passengers - Irishman reported 'roughed up' by interrogators
Gaza Flotilla: Press Conference with Shane Dillon today at 2pm, Central Hotel, Dublin
Freedom Flotilla: Irish on the way home (via Istanbul) / Audio of Shane Dillon / Dublin Demo on Sat
Freedom Flotilla: Fintan Lane speaks of his harrowing experience
Full Steam Ahead for MV Rachel Corriie
MV Rachel Corrie 80 Miles from Gaza
MV Rachel Corrie Boarded by Israeli Forces
Following Flotilla Massacre, Repression Continues Apace in the West Bank

Following their safe arrival back on Irish soil, Mr. Halliday, Ms. Maguire and Mr. Graham addressed a press conference hosted by the Ireland Palestine Solidarity Campaign (IPSC) in the Central Hotel. Full audio from the press conference is available here: http://tinyurl.com/27rb46b

Ms. Maguire spoke of her motivations for taking part in the Freedom Flotilla which sought to bring much needed humanitarian aid and supplies into Gaza by breaking the illegal Israeli blockade. Ms Maguire said: "Israel is carrying out a slow genocide against the Palestinian people. It engages in collective punishment and practices apartheid policies worse than those of South Africa. For these reasons, we set out to break the three-year-old illegal siege of Gaza, to try and help ease this unspeakable suffering in a small but symbolic way by bringing humanitarian aid. Unfortunately we never made it to Gaza as we were boarded illegally in international waters and taken at the point of a gun to Israel. However, we say to the people of Gaza, we will be back. We will treble our efforts, we will not rest until the siege is lifted, the occupation of Palestine is ended and Palestinians have the right to self-determination. We will not be silent, and we will not be stopped."

Mr. Graham, who was First Mate on the Rachel Corrie, recounted the boarding of the ship by the Israeli navy and the events leading up to it, and thanked the IPSC and the Irish media for the support and coverage they had given the Rachel Corrie mission, which he said he felt was crucial in ensuring their safety.

Mr. Halliday urged the Irish government, along with the EU, the US and especially the United Nations to take action against Israel. He also called for an independent international inquiry into the Israeli attack on the Mavi Marmara which left at least 9 people dead last Monday, something which Israel has rejected.

The other two passengers, Ms. Thompson and Mrs. Graham were praised by the speakers. It also emerged that Ms. Thompson, a documentary-maker, had managed to securely smuggle out five video tapes documenting their voyage from leaving Malta up until the Israeli boats approached the Rachel Corrie. However, the Israelis stolen her camera, which is her livelihood.

Freda Hughes, chairing the meeting on behalf of the IPSC, called for an intensification of the Boycott, Divestment and Sanctions (BDS) campaign. She said: "Some of the parties involved in the flotilla are looking towards building another one. However, flotillas alone will not end Israel's crimes against the Palestinian people. To that end the IPSC calls on the people of Ireland to carry out an economic boycott against Israel, for Irish multinational CRH and French multinational Veolia to divest from Israel where they are involved in building the apartheid wall and Jerusalem Light Rail respectively, and for the Irish government to pursue sanctions on the rogue state of Israel until such time as it complies fully with its obligations under international law and ends its apartheid regime"

All the speakers expressed their condolences to the families and friends of those who were murdered by Israeli commandos last Monday on board the Mavi Marmara aid ship.

Final deportee Al Mahdi Al Harati to return tomorrow

Al Mahdi Al Harati, will be the final Irish flotilla member to return to Ireland. He will be arriving in Dublin Airport tomorrow at 1.45pm, and there will be a welcoming for him. The IPSC encourages our supporters to go and welcome him home.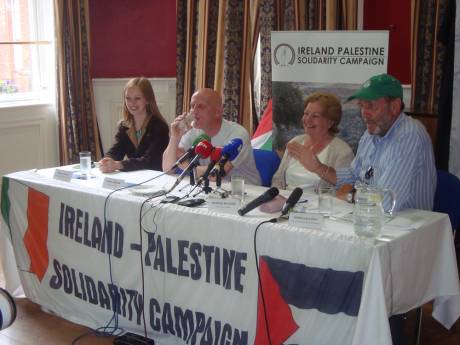 L-R: Frea Hughes (IPSC), Derek Graham, Mairead Maguire & Denis Halliday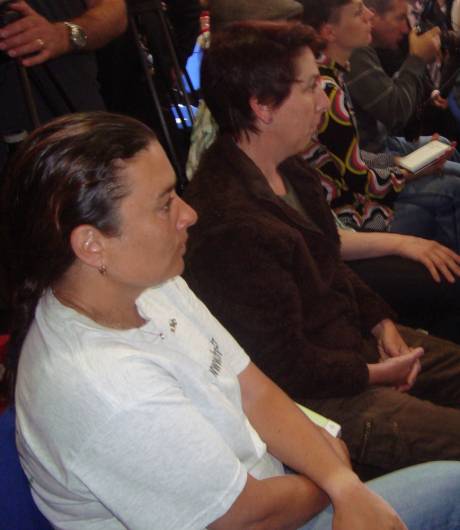 Jenny Graham (foreground) and Fiona Thompson

http://www.ipsc.ie/multimedia/IPSC_Press_Conference_07-06-2010_(DerekGraham_DenisHalliday_MaireadMaguire_FredaHughes).mp3

Audio of Press Conference