Full Steam Ahead for MV Rachel Corriie

international | rights, freedoms and repression | news report

Friday June 04, 2010 16:35

by Iyad Burnat - Bil'in Popular Committee
Iron-Willed
This afternoon, I spoke to Mairead Corrigan-Maguire at 4.20 pm aboard the Irish Ship, MV Rachel Corrie currently heading to Gaza with a shipment of humanitarian aid supplies for the besieged enclave and Mairead, I'm happy to report, and all on the ship are granite hard in their determination to reach their destination come hell or high water - barring another Israeli murderous attack, the ship should dock in Gaza around 9am tomorrow morning.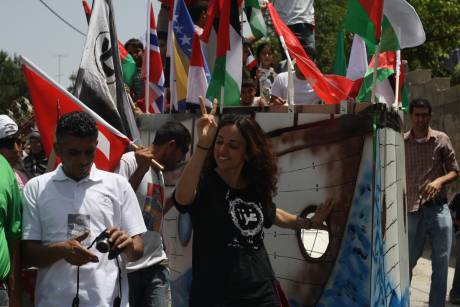 Huwaida Arraf at today's protest in Bil'in prior to her arrest by Israeli Occupation Forces at the Apartheid-Annexation Wall
The above photo was taken at today's protest in Bil'in' against the nearby Apartheid-Annexation Wall - Huwaida along with Bil'in activist, Ashraf Abu Rahmah and Israeli Anarchist Against the Wall, Ilan, were arrested by Israeli Occupation Forces at the Wall and all are still in custody as I write. Huwaida currently chairs the Free Gaza Movement, the organization behind the Gaza Freedom Flotilla and was on board Challenger 1 and was severely beaten by the pirate commandos. The arrest is unfortunate as Huwaida was due to fly to New York later on today to meet her husband, Adam Shapiro.