Gaza Freedom Flotilla in final stages of trip

international | rights, freedoms and repression | news report

Sunday May 30, 2010 12:50

by Kev - IPSC
The Gaza Freedom Flotilla is now in the final stages of its mission to Gaza, as it set sail from the waters outside Cyprus at 12.30pm today toward its final destination. Despite the loss of several Irish passengers - including politicians Aengus O Snodaigh TD, Chris Andrews TD and Sen. Mark Daly - due to Cypriot bureaucracy under severe pressure from Israel, the others are now en route to Gaza. They are expected to near Gaza sometime tomorrow (Monday 31st) afternoon.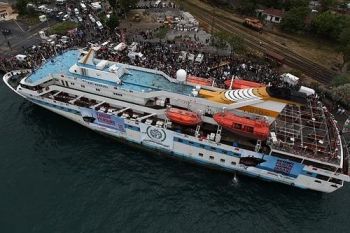 Dr. Fintan Lane, Ireland Palestine Solidarity Campaign (IPSC) media officer and Freedom Flotilla participant said: "After a lot of wrangling and nonsense, we are finally on our way. We understand that Israel remains committed to stopping our supplies reaching Gaza, but we on the Freedom Flotilla remain just as resolute in our mission."

Meanwhile, the IPSC is organising a demonstration in solidarity with the Flotilla, tomorrow Monday 31st May at 6pm at the Spire on O'Connell Street, Dublin 1. We are calling on Irish people to show their support for this important mission by coming out on the streets.