Hugely Successful and Comradely 'Women in Struggle' Dinner Dance

tyrone | gender and sexuality | press release

Sunday May 23, 2010 23:00

by Ní Saoirse go Saoirse na mBan - Ógra Shinn Féin

ograsf at gmail dot com
"A very comradely initiative" is how guest speaker Barry McElduff MLA described Ógra Shinn Féin's 'celebrating the women of struggle' dinner dance.

The national event held in the Fir Trees, in Strabane last Saturday night attracted a large crowd from across Ireland gathered to pay tribute to the woman on the roll of honour, to their families and a number of honourees.
Chaired by Ógra's National Gender Equality Officer, Gemma McKenna, the proceedings on the night got underway with a fáilte from National Organiser Donnchadh O'Laoghaire, Maureen McGuinness then read aloud a beautiful rendition of 'Invisible Women.'

Ógra's very own Bard of Armagh, Liam Lappin sang 'Four Green Fields' before the main speaker of the night, West Tyrone MLA and former corner half forward for Carrickmore, Barry McElduff took to the mike.

Barry commended Ógra for the event which he described as 'a very comradely initiative' and spoke at length of the hugely important roll that women have played in Ireland's freedom struggle.

Indulging in some lose chat he recalled his experience in working with some extraordinary women like Mairead Farrell and he also spoke of his huge fondness and admiration for the honourees.

On another matter, he talked about the huge hassle currently being created by volcanic ash on air travel, however, to rapturous applause and bringing it back to topic, he noted that Rose Dugdale was certainly not hampered by volcanic ash on her last 'flying' visit to Strabane.

Saoirse O'Neill was next, reading the Republican Women Roll of Honour, which was followed by presentations to the families of the women.

Short bios were read about each of the women being honoured, and they were each presented with a small token of appreciation from Ógra Shinn Féin.

The women honourees were Susan McGillion, Rose Dugdale, Padraigín Uí Mhurchadha , Eibhlin Glenholmes, and a posthumous presentation to the family of Paula Murphy.

A big 4 course meal followed the presentations and the night was brought to a lively conclusion with music by 'Paddywagon.'

Speaking on a hugely successful event, Barry McColgan said,

"The inaugural 'celebrating the women of struggle' dinner dance was a huge success. It was an honour to host the families of the women on the roll of honour and the honourees; they deserve the recognition, admiration and ongoing solidarity of all of us. Everyone had a great night and we would like to thank everyone who assisted in any little way."

"Ógra are committed to ensuring that this becomes an annual event, as a focus on bringing the issue of gender equality to the fore and also ensuring that the many stories of women in struggle are told and more and more republican women's sacrifice and hard work is honoured."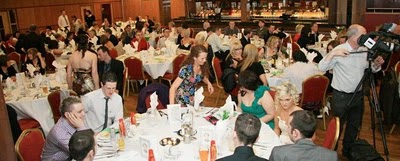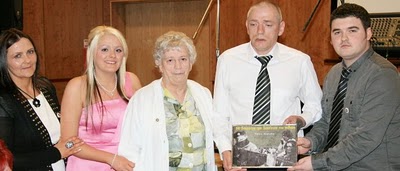 Barry McColgan making presentation to family of Paula Murphy