Solidarity caravan in Oaxaca attacked by paramilitaries - deaths, injuries, disappeared

international | rights, freedoms and repression | news report

Thursday April 29, 2010 15:04

by LASC - Latin America Solidarity Centre

events at lasc dot ie

5 Merrion Row

01 6760435
The two individuals whose deaths have been confirmed are Beatríz Alberta Cariño, the director of CACTUS and member of the Southeast Mexican Indigenous Community Radios Network, and Jyri Jaakkola, an international solidarity observer from Finland.

Four people have been confirmed disappeared: David Venegas Reyes and Noe Bautista Jimenez, from VOCAL, and Érika Ramírez and David Cilia, reporters from Contralínea.
Approximately 100 kilometers before reaching La Sabana, the road was blocked with rocks, and that is where the cowardly armed attack began, by about 15 paramilitaries in the service of the murderer Ulises Ruiz Ortiz's government (the type of weapon is unknown), leaving vehicles destroyed, wounding a comrade, and leaving two people dead.

During the attack, some comrades escaped, hiding in the hill, and of those who don't know their way we are worried that they have been captured by the paramilitaries. Those comrades who as of now are disappeared are NOE BAUTISTA JIMENEZ, DAVID VENEGAS REYES, and DANIEL ARELLANO CHAVEZ, all of them members of VOCAL.

Regrettably, as information is coming in we know that two comrades lost their lives in this paramilitary attack; they are BEATRÍZ ALBERTA CARIÑO TRUJILLO, a member of CACTUS, and TYRI ANTERO JAAKKOLA, an international observer comrade from Finland. Both died as a result of gunshots.

During the events, comrade MONICA CITLALI SANTIAGO ORTIZ was wounded in the back by a gunshot and was attended to by medics in Juxtlahuaca.

Those who stayed in the area of the shooting were taken from the vehicles and brought to the hill to be interrogated; some were threatened with death and later were released on the highway. Comrade RUBÉN VALENCIA NUÑEZ, a member of VOCAL, was detained by paramilitaries who took his I.D., his cell phone, and threatened him with death, then let him go.

An ambulance came to the site of the events to attend to the wounded, but was also cowardly shot at by the paramilitaries, which forced it to leave. While they were leaving, they found a wounded comrade who they attended to, and to whom they confirmed the death of the comrades previously mentioned.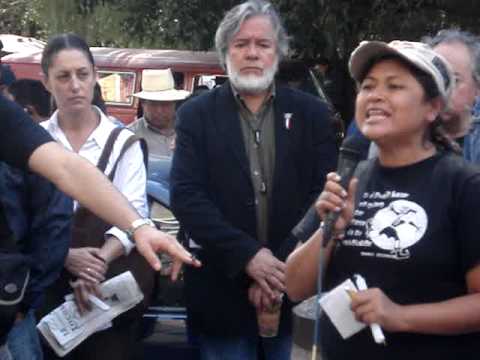 Caption: Bety Cariño http://www.youtube.com/watch?v=TWPkLcoVoaI
Solidarity

http://www.espora.org/limeddh/IMG/mp3/27_M270410_MASACRE_EN_LA_SABANA_ACRIBILLAN_A_CARAVANA_DE_PAZ.mp3