Court rules Garda Supt. M. Larkin responsible for Violation of the Rights of Shell to Sea activists.

mayo | environment | news report

Tuesday March 30, 2010 13:13

by Niall Harnett - Shell to Sea / Rossport Solidarity Camp.

rossportsolidaritycamp at gmail dot com

085 1141170
Shell to Sea Protesters were Unlawfully Detained by An Garda Síochána within Shell Compound for 'operational reasons' which did not satisfy Judge.
On Thursday 25th March 2010 at Belmullet District Court, charges against 9 Shell to Sea protesters were withdrawn or dismissed by Judge Gerard Haughton, because the '9' had been unlawfully detained following their arrest and they were not brought to court 'as soon as practicable', amounting to a 'conscious and deliberate violation of their constitutional rights'.

In the 'test' case of Mr Eoin Lawless, potentially effecting all of the 9, the court ruled that the accused was/were held for an unreasonable amount of time before being charged, they were denied 'station bail' and were unreasonably delayed before being brought to court to allow them to apply for release on bail. Barrister Leo Mulrooney, acting for the 9, had put it to Garda Superintendent Michael Larkin that he had failed in his duty to vindicate the rights of the prisoners, and when asked to account to the court for his inaction, Judge Gerard Haughton expressed dissatisfaction with Supt. Larkin's explanation.
On Sunday 28th June 2009, just after the arrival in Broadhaven Bay of Shell's pipe-laying ship, the Solitaire, a number of Shell to Sea activists set up obstacles to Shell vehicles travelling to the Shell site at Glengad with pipe-laying machinery. At approximately 2pm a simple tripod made from 21ft scaffold poles was erected in the middle of the road close to the Glengad site. A gentleman who came to be known as 'Tripod Man' climbed the tripod, hung a seat from the top of it and strapped himself on with a safety harness. Shell vehicles were blocked from the site while he remained in this position until approximately 5.30pm. A scaffold had to be erected to remove him and he was subsequently arrested and detained by Gardaí.

Three other individuals, including Mr Eoin Lawless, were also arrested as they approached the scene to witness the actions of the man on the tripod. Mr Lawless was arrested as he took notes at the scene of the tripod. A Garda stole his notebook and he was arrested for the 'public order offence' of trying to retrieve his personal property from the offending Garda.

At approximately 8pm on the same day, as the scaffolding was being dismantled from around the tripod, and the road cleared, 5 other individuals lay down and locked on to each other with fortified arm tubes, in a star formation in the centre of the road a few hundred metres closer to the Shell site. Specialist cutting equipment was required to remove the protesters from the 'lock-on' and they were arrested at approximately 2am.

Work was hindered for a period of about 12 hours; 4 men and 5 women had been arrested, 9 in all.

They were detained overnight and brought to court the following day at 5.30pm, where Judge Mary Devins denied all 9 legal aid and denied 7 of them bail. 7 were further remanded to prison for a few days longer until a case could be brought to the high court to secure their release. The High Court overruled the Devins decisions, the women were released on Wednesday 1st July and the men were were released on Thursday 2nd July.

Belmullet District Court Hearing

The 9 cases were eventually adjourned to Belmullet for hearing on Wednesday 24th March 2010.

Barrister Leo Mulrooney made an application to Judge Gerard Haughton to strike out the charges against the 9 on the basis that the violations of their rights to liberty were so grave that it was the positive duty of this District Court to vindicate their rights by not proceeding any further with the cases being prosecuted against them.

And so the legal argument began.

One of those arrested was Mr Eoin Lawless. Mr Lawless' case is the one that was used as the 'test' case in examining the whether rights had been violated or not, having regard to all of the 9 who were arrested and detained in similar circumstances.

The circumstances of the arrest and detention of Eoin Lawless.

Mr Lawless had been arrested on the public road at 2.20pm on Sunday 28th June. He was put into a prison van and transported for detention inside the Shell site. At 4.30pm he was brought to Ballina Garda station in a prison truck, where he arrived at 5.30pm. He was charged with Public Order offences at 9.15pm. He was detained in custody till the following day and brought to court at 5.30pm on Monday 29th, 27 hours after his arrest.

Mr Mulrooney raised questions about the length of Mr Lawless' detention before being charged, and the length of his detention before being brought to court. When a person is arrested on Public Order (minor) charges, he must be processed quickly, released or charged within a reasonable time period, and if charged, must be brought before court, and a special sitting arranged if necessary, 'as soon as is practicable'. Every moment that an accused spends in custody, while his presumption of innocence is intact, should be avoided unless necessity dictates that it cannot be avoided.

Explanation Required.

Judge Gerard Haughton agreed at this stage that there was an onus on the prosecution to establish the lawful detention of the accused, and this was an issue on which the prosecutors had to satisfy him.

In other words, Garda Supt. Michael Larkin had some explaining to do. He took the stand to give evidence.

The Evidence of Garda Superintendent Michael Larkin.

Supt. Larkin told the court how he was the officer in charge of 'Operations at Glengad'. He had made an operational decision to set up a 'Prisoner Processing Operation' on the Shell works site at Glengad. He had decided that the facilities at Belmullet Garda station were not sufficient to deal with 'prisoners', and even if they could use the station cells, there wasn't sufficient staff on duty at the station to deal with prisoners, as "Gardaí were all down at the Shell site at Glengad", he said.

The Context of Supt. Larkin's evidence.

Over the course of May, June and July 2009, covering the period of Shell pipe-laying works at Glengad, hundreds of Gardaí were stationed within the confines of the Shell site at Glengad. In effect a huge Garda barracks was set up on the Shell site. Belmullet Garda Station operations and staff were simply moved to the Shell site. Coaches transported hundreds of Gardaí (Public Order Units, Riot Squad, armed Gardaí, rank and file) in and out of the site on a daily basis. Gardaí and IRMS security personnel (described by journalist Michael McCaughan as 'a ragtag militia with links to eastern European Mercenaries' [1]), combined forces to protect the pipe-laying works. Portacabins, kitchens, toilets, washing facilities, rest areas were constructed and a whole 'Garda Suite' was set up to accommodate the huge numbers of Gardaí and Shell security. The site was packed with Garda vehicles, Garda prison vans and a Garda prison truck. A number of hi-tech Garda Command & Control vehicles were set up as offices for senior Garda officers including Supt. Michael Larkin and a number of Garda Inspectors. CCTV cameras were set up all over the site and senior officers would at all times have been monitoring the security operation from within their 'Garda Suites' and the 'Communication Facilities' of the 'Command & Control' vehicles. It was in this context that Garda Supt. Michael Larkin gave evidence of the detention of the 9 accused, from knowledge acquired in the office of his 'Private Command Vehicle' where he said he was "fully aware of developments".

Supt. Larkin continues.

Supt. Larkin said that he would have become aware of the arrest, and the reasons for the arrest of Mr Lawless within a half an hour, (2.20 – 2.50pm). At 5.50 pm, at which point Mr Lawless was a prisoner at Ballina Garda station, and in custody for 3½ hours, Supt. Larkin contacted the Ballina court clerk with a view to arranging a special sitting of the Ballina District Court the following day. He said he had also spoken to Judge Devins himself, and she said that she would not be available till 5.30pm on Monday 29th , almost 24 hours later. In cross examination Supt. Larkin conceded that he did not ask Judge Devins to come earlier. He did not ask the court clerk to ask another judge to come earlier. He did not make any effort to inquire about the availability, logistics, transport or processing of prisoners to another court such as a Galway or Dublin court for 10.30 am on the Monday, to expedite their application for bail. Supt. Larkin said he was "quite happy" with the arrangements already made with Judge Devins and "didn't take the matter any further".

Mr Mulrooney put it to Supt. Larkin that he had failed in his duty to vindicate the right to liberty of the accused by failing in his duty to bring Mr Lawless before a district court having jurisdiction to grant him bail, as soon as practicable.

Supt. Larkin said that he believed he had fulfilled his obligation.

Mr Mulrooney then presented some case law to the judge and made submissions that the denial of Mr Lawless' liberty for over 27 hours was a 'conscious and deliberate violation of his constitutional rights' and it was open to the court, having regard to case law, to find that this was 'an outrage' as a matter of law and, in those circumstances, the judge had the discretion to choose not to proceed any further with the case against Mr Lawless.

Then, to give everyone a chance to study the case law, the court adjourned till the next day, Thursday 25th.

Court adjourned till following day.

Judge Haugton started Thursday's proceedings with a judgement of his findings of the facts and the law in relation to the detention of Mr Lawless.

He said that Mr Lawless was entitled to be conveyed to a Garda station without unreasonable delay, be charged without unreasonable delay, and be brought before a court without unreasonable delay. If one judge is unavailable, another may take his/her place in any place. The onus is on the prosecution to establish beyond reasonable doubt that the accused is held in custody in accordance with lawfulness.

Unlawful Detention.

Judge Haughton ruled that there was no explanation from Garda Supt. Michael Larkin for the length of time that Mr Lawless was detained at the place of arrest.

"Mr Lawless was unlawfully detained by 4.30pm", the judge ruled.

There was no explanation for the delay of 7 hours in charging Mr Lawless, which further exacerbated the unlawful nature of the detention, said the judge.

It was Supt. Larkin's responsibility to bring Mr Lawless before a court 'as soon as is practicable', and the arrangement for a 5.30pm sitting the following day did not relieve Supt. Larkin of his statutory duty to arrange a court sitting sooner than that.

No consideration whatsoever was given by Supt. Larkin to bring Mr Lawless to the Galway court, a full seven hours earlier, or to any other courthouse. No consideration was given to asking the court clerk to ask another judge to come at an earlier time.

Supt. Larkin's failure to consider other options was not explained or justified by the evidence of Supt Larkin and Judge Haughton was satisfied that the defendant was not brought before a court 'as soon as is practicable'. The judge ruled that Mr Lawless was 'unlawfully detained' when he was brought before the special sitting of Ballina District court at 5.30pm on Monday 29th June 2009.

Submissions of Barrister Leo Mulrooney.

Barrister Mr Leo Mulrooney, had made submissions in relation to the issues which may affect the decision of the judge in proceeding or striking out the case. Was the unlawful detention of the accused an 'an excusable illegality' or 'a conscious and deliberate violation of constitutional rights'? Mr Mulrooney asked the judge to find that it was the latter and suggested that the court must vindicate the constitutional rights of the accused. The right to liberty must be guarded jealously, he said by way of closing submission, and he asked the judge to dismiss the charges.

Conscious and Deliberate Violations of the Rights of the Accused.

Judge Haughton said that he was satisfied that the state and Supt. Larkin had 'consciously and deliberately violated the rights of the accused', but not with any 'bad faith'. However that was of little comfort to the accused, who had been unlawfully detained for 27 hours, said the judge, and it was now necessary for him in this court to put 'his stamp of approval or disapproval' on what happened to Mr Lawless.

The judge concluded by saying that it was appropriate to vindicate the rights of Mr Lawless by dismissing the charges against him

Consequently, because of the potential of this judgement to affect the cases of the other 8 accused in exactly the same way, Inspector Joe McKenna, prosecuting for the State, withdrew the charges without proceeding any further with them.

The significance of this judgement in favour of Shell to Sea activists is clear. For the last few years campaigners have complained about different 'illegalities' attached to the activities and behaviour of Shell and the Gardaí. Those 'illegalities' have been presented and argued in the courts to excuse the actions of protesters, but the judges take the view that nothing is unlawful unless a court of law decides that it is. Suggestions to the courts that environmental degradation, health and safety failures, human rights abuses and economic treason are 'illegal' fall on the deaf ears of judges who say that campaigners are not the arbiters of what is lawful, unlawful or otherwise. It's the function of the courts to decide what's legal or illegal, they'll say. Right or wrong doesn't come into it.

But here is a definitive judgement from a court of law that the State and the Gardaí are responsible for the unlawful detention of Shell to Sea protesters and a violation of their fundamental and constitutional rights, because of the conscious and deliberate actions of Garda Superintendent Michael Larkin,

This is the second time that Judge Gerard Haughton, a 'moveable' judge, has come to Belmullet for a week long special court sitting. In December he convicted everyone before him. It appeared to many attending his court that he has a selective approach to considering evidence in favour of the Gardaí. This time was different, with some cases dismissed and many withdrawn. Some people who attended court take the view that Judge Gerard Haughton wanted, in this case, to use the opportunity to be seen to be fair and even-handed in dealing with Shell to Sea cases, and chose to give Shell to Sea activists a break for that reason. Others take the view that the law was so clearly outlined to him by barrister Leo Mulrooney, that any judgement other than the one taken would have been manifestly unjust and unfair, and the judge wasn't going to risk the embarrassment of an injunction being sought against him by way of High Court Judicial Review.

There was clearly no other lawful option to the court other than to vindicate the '9'.


[1]. Taking on Shell Oil in Ireland: The Strange Saga of Pat O'Donnell, by Michael McCaughan – Towards Freedom : http://www.shelltosea.com/content/taking-shell-oil-irel...nnell

Special thanks to barrister Leo Mulrooney.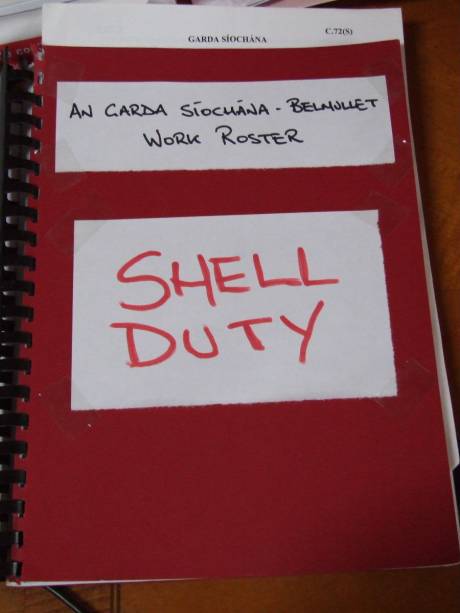 The 'Shell Duty' work roster for sign-up at Belmullet Garda Station. (pic by arrestee)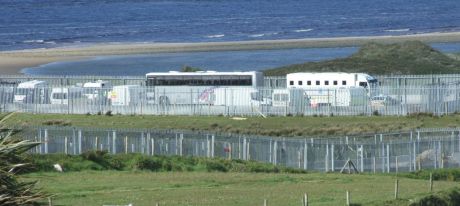 Garda 'Prisoner Processing Operation' within Shell Security Compound, Glengad.