éirígí urge support for Castlerea protest in support of Pat O Donnell

sligo | miscellaneous | press release

Tuesday March 23, 2010 16:37

by Dungloe and proud - Too independent for any
éirígí call for people to support Saturdays demonstration outside castlerea prison in support of jailed fisherman Pat O'Donnell. They call for his immeidate release, an end to Shell's pipeline and the nationalisation of our natural resources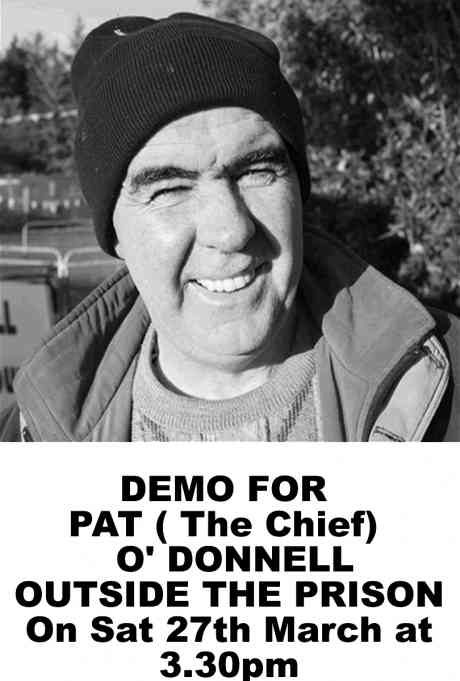 The Republican Socialist party éirígí have re-iterated calls for the release of jailed fisherman and prominent Shell to Sea campaigner Pat "the Chief" O Donnell. They have also urged people from throughout the north-west to attend a national demonstration, organised the Shell to Sea campaign, outside Castlerea prison in County Roscommon on Saturday next March 27 at 3.30pm in support of O'Donnell.

On February 11, Pat O'Donnell received a seven month prison sentence at Castlebar Circuit Court. relating to two separate incidents that occurred in September 2008. These incidents occurred during a cavalcade organised in support of another prominent Shell to Sea campaigner Mayo woman Maura Harrington, who was on hunger-strike at the time.

Sligo éirígí activist Gerry Casey said: "As Pat O Donnell enters his second month unjustly imprisoned at the behest of Shell, éirígí want to re-iterate our demand for his immediate release. We also pledge our ongoing support for the community of Rossport and surrounding areas in their struggle against the oil giants Shell, a multi-national company with an appalling human rights and environmental record worldwide."

He added: "Pat's real crimes are not the politically motivated offences for which he was convicted. His real 'crime' is his continued defiance in the face of a concerted campaign of intimidation against himself and other opponents of Shell's planned pipeline by the so-called forces of law and order in this state on Shell's behalf. Many have been jailed and have suffered assault as a result of their opposition to this pipeline. Indeed, Pat has been assaulted on numerous occasions, has been repeatedly harrassed and arrested by Gardai and has his fishing boat sank by armed and masked thugs."

"Pat O Donnell, and others like the Rossport five and Maura Harrington who have also suffered such intimidation and imprisonment at Shell's behest, are be commended for their resilience. Their selfless sacrifice, their willingness to endure hardship for the safety of their community and the common good and their unwillingness to be intimidated or bought off with bribes is an inspiration. It stands in stark contrast to those politicians and sections of the media who sought to demonise and criminalise honourable people such as Pat and others opposed to the giveaway of our natural resources to Shell and their construction of an unneccessary and unsafe pipeline carrying raw unrefined gas through their community."

He concluded: "The bottom line is that Shell has no right to extract this gas. It belongs to the Irish people and must be nationalised and used for their benefit, not to boost Shell's profits. Pat O Donnell should be released immediately. éirígí would urge people to take part in Saturday's national demonstration outside Castlerea prison to lend their support to the demand for his release and to support the campaign to stop Shell's pipeline and to take back our natural resources."