Eoin O'Leidhin - Interview

national | environment | news report

Thursday February 25, 2010 09:32

by Dave Donnellan - -
Dublin - Sat 20 Feb
A recent interview with Eoin O'Leidhin who was jailed yesterday for non-payment of a fine incurred during a protest in Rossport, Co. Mayo. Eoin is one of a number of local residents who have been targeted by the authorities for expressing their concern over safety aspects of the controversial Shell gas pipeline in Mayo. The decision to lay the high pressure production gas pipeline by Shell close to human dwellings was made without any consultation with local residents and has no planning permission.
In the interview Eoin states that any local resident who has managed to raise his or her head above the parapet in opposition to the Shell pipeline has had to endure a campaign of vilification by the national media. Recently a local fisherman, Pat O'Donnell a vocal critic of the project, was jailed for 7 months. He was one of a group of 60 who were part of a non-violent protest in Erris. No-one else from the protest was targeted in such a way. Other local residents who have been targeted are Willie Corduff, Maura Harrington and Niall Harnett.

The contrast between the softly, softly Garda response to criminal activities in the banking sector and the hardline strategy displayed towards local residents in Rossport couldn't be more stark. In 2008 Garda cars were parked outside the headquarters of Anglo Irish Bank on St.Stephen's Green for two days and made a public display of taking out boxes of files from the Anglo offices. Over a year later no banker has been charged or held to account by the same authorities now jailing local residents in Rossport. The IFSC in Dublin became known as the 'Wild West' in global financial circles because of the lack of accountability or control by the authorities. The Garda Fraud Office remaining mute dumb throughout the period. In retrospect the performance on St.Stephens Green was nothing more than a piece of street theatre.

The jailing of Eoin O'Leidhin and Pat O'Donnell does raise the issue of legitimate protest in Ireland. Whatever your shade of opinion on the issue is the question must be asked why are Eoin O'Leighin and Pat O'Donnell in jail? With all the machinery of mediation and conciliation at the State's disposal is incarceration the only way to deal with their concerns and the concerns of the community in Rossport? The current hardline policy of the government towards the community in Rossport is foolish and shortsighted. And until evidence of a fairness and equality in clear in the application of law it will never win hearts and minds.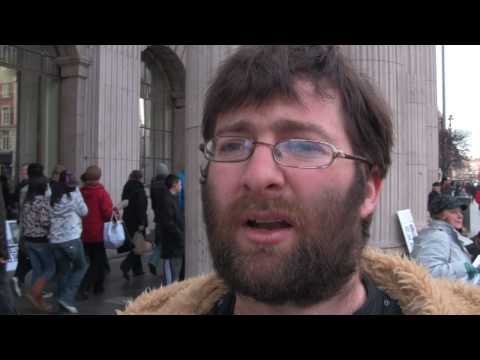 Caption: Video Id: _59xyjdAVYI Type: Youtube Video
Eoin O