Another Shell to Sea Campaigner Imprisoned.

mayo | environment | news report

Wednesday February 24, 2010 19:07

by Niall Harnett - Shell to Sea / Rossport Solidarity Camp

rossportsolidaritycamp at gmail dot com

085 1141170
Eoin O'Leidhin of the Rossport Solidarity Camp has been imprisoned for non-payment of a 250 euro fine.
Eoin O'Leidhin has joined fisherman Pat 'the Chief' O'Donnell at Castlerea prison today. Eoin was convicted of Section 8 of the Criminal Justice (Public Order) Act 1994 for 'failure to comply with the directions of Garda' at a protest outside the Shell site Glengad on 30th August 2008.

Garda Sean Cunnane, who likes to ham it up as he whinges to the courts, convinced Judge David Anderson that Eoin's behaviour was a crime.

The short video below shows the true flavour of the occasion.
Shell to Sea campaigners had blocked the entrance to the Shell on 30th August 2008, while Eoin attended quietly on the fringes of the protest. He was minding his own business and got into a ditch to avoid any confrontations with Gardai. Garda Cunnane ordered him to leave the area (the ditch), with no good reason and Eoin found himself the victim of another spurious prosecution.

He was fined 250 euro, or 5 days imprisonment in default of payment.

Eoin has refused to pay the fine.

Eoin has been approached by Gardai to pay the fine on a number of occasions, but has declined.

By arrangement, Gardai arrived at the Rossport Solidarity House this morning at 9am and Eoin was arrested and detained to Belmullet Garda station.

He has since been taken to Castlerea prison, where he will remain imprisoned for up to 5 days.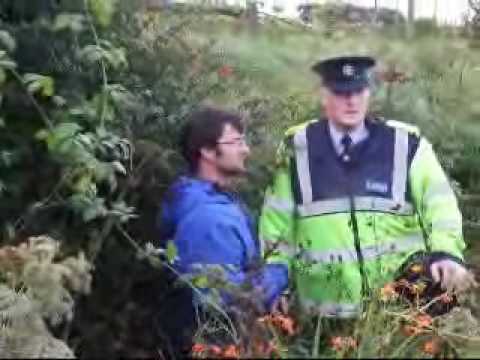 Caption: Video Id: 3QmTZD0CYiw Type: Youtube Video
Eoin O Leidhin and Garda Sean Cunnane, Glengad, August 2008.