Over Three Flights A Day Carrying U.S. Weapons of War Through Ireland

national | anti-war / imperialism | news report

Sunday January 24, 2010 21:20

by Shannonwatch

shannonwatch at gmail dot com
A total of 1276 civilian flights were granted permits to carry weapons and munitions of war through Ireland in 2009. The vast majority of these were from American civil airlines, chartered by the US military, and involved flights to or from the United States. Almost all landed at Shannon Airport.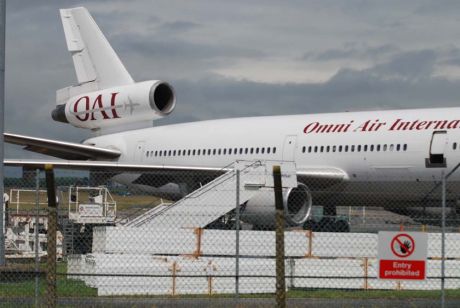 Over 1200 planes like this one photographed at Shannon were granted permits to transport weapons of war through Ireland in 2009
This information was supplied by the Minister for Transport in response to a question from Labour Party TD Michael D. Higgins. The Minister did not say where the weapons were destined for, stating that "in general flight applications requesting permission to carry munitions identify the airports immediately preceding and following the aircraft's arrival in Shannon", and that the final destination of these flights would not necessarily be known by his Department. This is surprising, as flight plan must be filed for all civil and military flights across international borders.

The Minister said that approximately 90% of the flights that requested permission to carry weapons or munitions were for the personal weapons of troops that are "safely stowed". The remaining 10% - in other words over 120 aircraft - were allowed to take other military equipment through Ireland. The Minister did not say how many of these landed at Shannon or how many overflew the country.

The Department of Transport refused a further 30 requests to carry weapons or munitions through Ireland. The Minister did not reveal who these requests were made by, or why they were refused.

Shannonwatch is gravely concerned that there are over 3 flights a day taking lethal weapons and other munitions through Shannon airport. Not only are the weapons being used to cause civilian deaths and suffering in Iraq and Afghanistan; they also present a grave risk to the safety of people working or visiting the airport. Shannon Airport was designed to operate as a civilian airport, not the military air base it has now become.

Despite several requests from Shannonwatch activists to Gardai at Shannon in the past number of years, they repeatedly claim not to know anything about the cargo of US military contracted planes. Nonetheless they refuse to inspect the contents of these planes. It would appear therefore that US military contracted flights go through Shannon without any scrutiny for breaches of safety regulations, or for illegal and indiscriminate weapons such as cluster bombs, white phosphorus and depleted uranium.

Any civilian aircraft seeking to land or overfly the State requires the permission of the Minister for Transport to carry military weapons or munitions. Permission must also be sought and granted for all military aircraft flying through sovereign Irish airspace, regardless of whether or not they are landing in the country.