Shell to Sea Express Empathy & Solidarity in Galway For the Beleaguered People of Palestine

galway | rights, freedoms and repression | news report

Sunday October 18, 2009 20:47

by TD - Free Palestine Campaign
Shell to Sea : Israel to the International Criminal Court
If adversity breeds empathy and solidarity it was certainly on display yesterday in Shop Street, when after their participation in the protest march against the ongoing government attacks on the vulnerable and voiceless in Irish society, 6 Shell to Sea stalwarts joined forces with activists with the Free Palestine Campaign to express solidarity and empathy with the Palestinian people and their revulsion at what Gazans were subjected to last Dec/Jan - at what President of the UN General Assembly Miguel d'Escoto Brockmann called "genocide".
Further back, it was certainly in evidence in the Great Famine when after their ethnic cleansing and decimation in the forced Trail of Tears march, the pauperized Choctaw people collected an astonishing sum of sum and sent it to help our starving forebears. "It had been just 16 years since the Choctaw people had experienced the Trail of Tears, and they had faced starvation ... It was an amazing gesture. By today's standards, it might be a million dollars" according to Judy Allen, editor of the Choctaw Nation of Oklahoma's newspaper, Bishinik, based at the Oklahoma Choctaw tribal headquarters in Durant, Oklahoma.

In the slow breaking of a defenceless people in an ongoing mediavel siege, we all have to be Choctaws' and more.?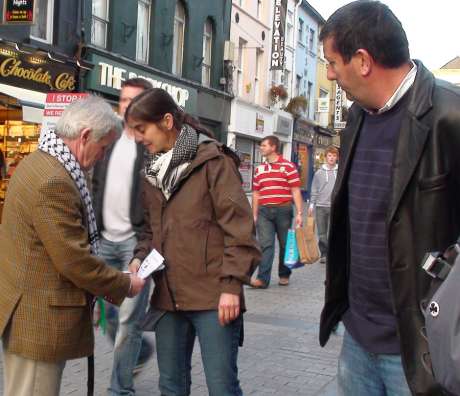 Naoise and in the foreground, Eamon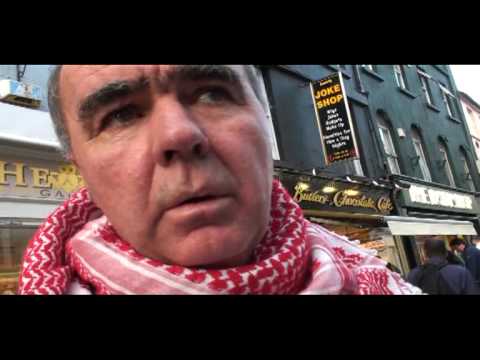 Caption: Shell to Sea Express Empathy & Solidarity in Galway For the Beleaguered People of Palestine