Dublin Ógra Shinn Féin slam latest education cuts

dublin | education | press release

Sunday August 30, 2009 14:24

by Educate to be Free - Ógra Shinn Féin

osfnational at yahoo dot ie
Dublin Ógra Shinn Féin's Saturday stall became the centre of a protest today against the latest attack by the Fianna Fail/Green Government against education. Over thirty activists gathered at the GPO to distribute leaflets explaining the cuts.

According to Dublin spokesperson, Marcas Ó Mhaoldomhnaigh, many parents have been hit with bills costing hundreds of euro for books and school uniforms.

"Many schools are set to lose special needs assistants and other vital resources. This government did not invest properly in the education system during the boom years and now we are seeing school children and their parents paying for their mistakes, it is completely unacceptable. Free primary education will truly be a thing of the past if we allow our schools to be further stripped of resources."
At the picket ÓSF National Organiser, Barry McColgan stated,

"What makes these cuts particularly nauseating is that they are targeting children from the most disadvantaged backgrounds. These cuts are not necessary. It is a simple matter of priorities. Do we bail out the banks or educate our children."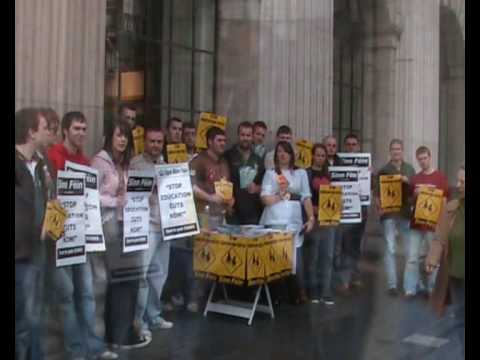 Caption: Video Id: N5fRgAe0MuQ Type: Youtube Video
Embedded video Youtube Video