VOTE NO to Lisbon - Raft on the Liffey Launch

international | eu | feature

Sunday August 09, 2009 13:46

by Michael Gallagher - Photojournalist
Irish (and tourist) People Wake Up to a Sign of the Coming Times in Dublin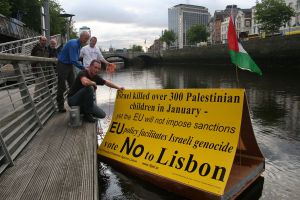 Irish (and tourist) people wake up to a sign of the coming times in Dublin.

Hello friends,

This Morning, Saturday the 8th August at 7am, Irish Friends of Palestine Against Lisbon (IFPAL) launched the Vote No To Lisbon raft on the River Liffey in Dublin City Centre.

Irish Friends of Palestine Against Lisbon are calling for Irish voters to oppose the Lisbon Treaty in the forthcoming re-run of the Lisbon Treaty Referendum, a referendum that is exactly the same as the one they have rejected already. VOTE NO to Lisbon on October 2nd.

Issued on behalf of IFPAL.

Related Links:
Irish Friends of Palestine Against Lisbon put their case to the public in Dublin's Grafton Street | Green Party U-Turn on a Democratic EU | The Lisbon Treaty and the Triumph of Technocracy | Debut of Irish Friends of Palestine Against Lisbon outside Dublin EU Parliament Offices | 13 Things the Lisbon Treaty Would Do | The Legal guarantees on Lisbon Treaty will not change treaty - a propaganda stunt to mislead voters | Dáil shouldn't have inferior Lisbon Treaty powers to German Parliament, controlling ministers | The Lisbon Treaty, Alan Shatter and the guys in hoods! | Lisbon Treaty News: German Constitutional Court delays Germany's ratification of the Lisbon Treaty | The Gurantees: Comment by Jens-Peter Bonde | Spoofing the Irish media and public with Lisbon "guarantees" that guarantee nothing | Supposed 'hard fight' to secure guarantees on Lisbon Treaty: a clever tactic to mislead says McKenna | Lisbon: Round Two - A bosses charter, with or without 'guarantees' | The Lisbon Assurances - A Closer Look

Irish Friends of Palestine Against Lisbon Website - www.ifpal.ie
* EU foreign policy has damaged the human and political rights of the Palestinian people by giving Israel financial and political support regardless of its gross human rights violations in breach of numerous statutes of international humanitarian law and the EU-Israel Trade Agreement

* EU foreign policy has emboldened Israel which continues its policies of murder, ethnic cleansing, illegal detention, home demolition, land and water theft, construction of the illegal apartheid wall, torture, genocide, and apartheid without fear of sanction from the EU.

* It would pivot Ireland from its present status as an independent sovereign country to that of a minor subordinate in a newly constituted European superstate

* It would allow the EU Council to change the manner in which EU Foreign and Security Policy (CFSP) is decided from unanimity to qualified majority vote thus removing Ireland's veto.

* Ireland would be obliged to uphold the CFSP even if we disagree with the policy

* Ireland would lose its sovereign right to espouse an independent foreign policy, even in the United Nations where a new EU foreign minister, as proposed by the Lisbon Treaty, would represent all EU member states

* EU foreign policy is decided behind closed doors away form public scrutiny and is manipulated by a well funded Zionist lobby embedded in the political architecture of the larger states that dominate and control EU foreign policy.

Vote No to Lisbon - protect human rights and democracy!

Photo Shows members of IFPAL and CAEUC (Campaign Against EU Constition)

Pics Credit Michael Gallagher 086 4048249 email: libertypics@yahoo.ie

For further information contact
IFPAL spokesperson Sean Clinton: 0872725300
Website: www.IFPAL.ie

---------------------------------------------------------------------------------------------------------------------------

The EU aids and supports Israel

When Israel launched a 22 day assault against defenceless, impoverished and imprisoned civilians in Gaza, already severely weakened by a devastating two year siege - a war crime - the EU took no action to protect these people or to rein in Israel. No sanctions were applied and no reparations sought for the loss of life and devastation to the infrastructure of Gaza.

As the people of Gaza were attacked day and night from land, sea, and air with weapons of mass destruction, including white phosphorous bombs and flechette nail bombs, the EU continued to promote economic and diplomatic relations with Israel. No Israeli ambassadors were expelled from any EU member state and none of the EU states withdrew their ambassadors from Israel – the very minimum that should have been done.

The EU gave Israel the Green light to continue its assault which killed 1417 people including 315 children and left hundreds of others burned, blinded, crippled, and maimed for life in an impoverished and ruined ghetto that has neither the facilities nor the means to care for these people.

Irish Foreign Policy now decided by the EU

The Common EU Foreign and Security Policy has already had a serious negative impact on Irish foreign policy. This is evident from the decisions agreed by Irish foreign minister Micheál Martin which are counter to Ireland's proud record of supporting human rights and the rule of law.

In June 2008 Minister Martin agreed to upgrade relations with Israel even though in the previous five months Israel killed over 380 Palestinians, including 60 children. He failed to use the Irish veto to block the EU upgrade despite Israel's actions which also breached the "essential" human rights Article of the EU-Israel Association Agreement (aka TheEuro-Mediterranean Agreement). In doing do he also ignored a direct plea from the Palestinian Prime Minister to our Taoiseach not to agree the EU upgrade.

When Israel killed over 300 children in January Minister Martin took no action to punish Israel for its gross human rights violations. He refused to withdraw the Irish Ambassador or to expel the Israel ambassador or to even call for a suspension of the EU-Israel trade agreement which affords Israel lucrative concessions on its exports to the EU, its largest trading partner,

Minister Martin failed to act because he could not do so without breaching the Common EU Foreign and Security Policy which shelters Israel from sanctions and which all EU states have agreed to uphold.

This situation will be set in stone if the Lisbon Treaty is ratified. Israel will continue to be sheltered and aided by the EU and Ireland will have to comply.

Vote No to Lisbon - protect human rights and democracy!