13 things the Lisbon Treaty would do

national | eu | feature

Thursday July 09, 2009 20:29

by O. O'C. - National Platform EU Research & Information Centre

info at nationalplatform dot org

24 Crawford Ave. Dublin 9

01 8305792
A summary explanatory document on Lisbon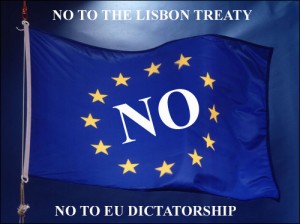 The Lisbon Treaty will result in: A big-state power grab; copperfastening Laval; permitting direct EU taxes; exclusive power regarding foreign direct investment, & Court power to harmonise; abolishing right to propose Commissioner; establishing an EU Federal State; requiring citizen loyalty; power to decide our rights; abolishing veto, binding us in 32 new policy areas; reducing National Parliament power; a self-amending treaty; enabling politicians over voters and militarizing EU. Thats all we know about so far, there may well be even more.
Other Anti-Lisbon Groups:
Say NO | Socialist Party of Ireland | Vote NO | Lisbon Vote | No 2 Lisbon | Vote No to Lisbon | People.ie | National Platform | Peace and Neutrality Alliance - pana | People before Profit | Republica Sinn Féin - RSF | Communist Party of Ireland | Socialist Party | Socialist Workers Party - SWP | Workers' Party Ireland | Sinn Fein | 32 County Sovereignty Committee - 32CSM | Ógra Shinn Féin - OSF | Éirígi | Le Chéile Saor |

Letting the Politicians know how YOU feel - closing the democratic deficit
Contact.ie - Contact ALLTDs, Senators, and MEPs and let them know YOUR feelings about being asked to vote for a second time on the Lisbon Treaty.

Messages of Support for those struggling against Lisbon 2
"Best wishes to you and the movement in Ireland." - Prof. Howard Zinn
"All power to you." - John Pilger
"Sounds as though you've got a good collection of people." - Prof. Noam Chomsky
"Best wishes." - Milan Rai
"I really appreciate the request – but I just don't know enough about the situation to write on it, I am afraid. But I look forward to reading your piece, and learning more that way." - Michael Albert
"Best wishes." - Prof. Edward Herman
"Keep up the great work, Indymedia's so crucial, and we have lots to learn from your fightback in Ireland!" - Prof. Patrick Bond
"Thank you very much for inviting [me] to take part in an article for Indymedia Ireland. [I] very much appreciate this invitation." - Naomi Klein
"The establishment lies about Lisbon must be combated through a vigorous campaign. We have to explain the pro-big business and anti-worker nature of the Treaty." - Joe Higgins MEP

The Lisbon Treaty ...

1. Would be a power-grab by the Big States for control of the EU by basing EU law-making post-Lisbon primarily on population size. This would double Germany's voting power in making European laws from its present 8% to 17%, increase Britain's, France's and Italy's from 8% to 12% each, and halve Ireland's vote to 0.8%. How does having 0.8% of a vote in making EU laws put Ireland "at the heart of Europe" ? Taoiseach Brian Cowen's "guarantees" do not explain how having half as much influence in the EU as Ireland has today would induce the other Member States to listen to our concerns on unemployment and help to resolve the economic crisis in the interest of Irish companies, workers and farmers.

2.Would copperfasten the Laval and related judgements of the EU Court of Justice, which put the competition rules of the EU market above the rights of Trade Unions to enforce pay standards higher than the minimum wage for migrant workers. At the same time Lisbon would give the EU full control of immigration policy (Art.79 TFEU).

3. Would permit the post-Lisbon EU to impose Europe-wide taxes directly on us for the first time without need of further Treaties or referendums (Art.311 TFEU).

4. Would amend the existing treaties to give the EU exclusive power as regards rules on foreign direct investment (Arts.206-7 TFEU) and give the Court of Justice the power to order the harmonisation of national indirect taxes if it decides that this causes a "distortion of competition" in the market (Art.113 TFEU). These changes could undermine our 12.5% corporation profits tax, which is the principal attraction of Ireland for foreign business.

5. Would abolish our present right to "propose" and decide who Ireland's Commissioner is, by replacing it with a right to make "suggestions" only, leaving it up to the incoming Commission President to decide (Art.17.7 TEU). Our No vote last year secured us a commitment to a permanent Commissioner, but what is the point of every EU State continuing to have its own Commissioner post-Lisbon when it can no longer decide who that Commissioner will be?

6. Would give the European Union the Constitution of an EU Federal State which would have primacy over the Irish and other national Constitutions. This post-Lisbon EU would for the first time be legally separate from and superior to its 27 Member States and would sign international treaties with other States in all areas of its powers (Arts.1 and 47 TEU; Declaration 17 concerning Primacy). In constitutional terms Lisbon would thereby turn Ireland into a regional or provincial state within this new Federal-style European Union, with the EU's Constitution and laws having legal primacy over the Irish Constitution and laws in any cases of conflict between the two.

7. Would turn us into real citizens for the first time of this new post-Lisbon European Union, owing obedience to its laws and loyalty to its authority over and above our obedience and loyalty to Ireland and the Irish Constitution and laws in the event of any conflict between the two. We would still keep our Irish citizenship, but it would be subordinate to our new EU citizenship and the rights and duties vis-a-vis the EU that would attach to that(Art.9 TEU).

8. Would give the EU Court of Justice the power to decide our rights as EU citizens by making the EU Charter of Fundamental Rights legally binding for the first time (Art.6 TEU). This would give power to the EU judges to use their case law to lay down a uniform standard of rights for the 500 million citizens of the post-Lisbon Union in the name of a common EU citizenship in the years to come. It would open the possibility of clashes with national human rights standards in sensitive areas where Member States differ from one another at present, e.g. trial by jury, the presumption of innocence until proven guilty, habeas corpus, the legalisation of hard drugs, euthanasia, abortion, labour law, succession law, marriage law, children's rights etc. Ireland's Supreme Court and the Strasbourg Court of Human Rights would no longer have the final say on what our rights are.

9. Would abolish the national veto Ireland has at present by handing over to the EU the power to make laws binding on us in 32 new policy areas, including public services, crime, justice and policing, immigration, energy, transport, tourism, sport, culture, public health, the EU budget and international measures on climate change.

10. Would reduce the power of National Parliaments to make laws in relation to 49 policy areas or matters, and increase the influence of the European Parliament in making EU laws in 19 new areas (See euabc.eu for the two lists).

11. Would be a self-amending Treaty which would permit the EU Prime Ministers and Presidents to shift most remaining EU policy areas where unanimity is required and a national veto still exists - for example on tax harmonisation - to qualified majority voting on the EU Council of Ministers, without need of further EU Treaties or referendums (Art.48 TEU).

12. Would enable the 27 EU Prime Ministers to appoint an EU President for up to five years without allowing voters any say as to who he or she would be - thereby abolishing the present six-monthly rotating EU presidencies (Art.15.5 TEU).

13. Would militarize the EU further, requiring Member States "progressively to improve their military capabilities" (Art.42.3 TEU) and to aid and assist other Member States experiencing armed attack "by all the means in their power" (Art.42.7 TEU).

TEU = Treaty on European Union as amended by the Lisbon Treaty
TFEU = Treaty on the Functioning of the European Union as amended by the Lisbon Treaty
euabc.eu = Website http://euabc.eu -ABC of the EU.

The euabc.eu site also has a PDF with reader friendly annonations of the TEU and TFEU. See: The Lisbon Treaty - The consolidated reader-friendly edition of the treaty on European Union (TEU) and the Treaty on the Functioning of the European Union (TFEU) as amended by the Treaty of Lisbon