Spoofing the Irish media and public with Lisbon "guarantees" that guarantee nothing

national | eu | feature

Tuesday June 23, 2009 23:48

by O. O'C. - National Platform EU Research & Information Centre

info at nationalplatform dot org



24 Crawford Ave. Dublin 9

01-8305792
The central point to grasp about the current EU Summit proceedings on the Lisbon Treaty: so-called "legally binding guarantees" do not change a jot or tittle of that Treaty.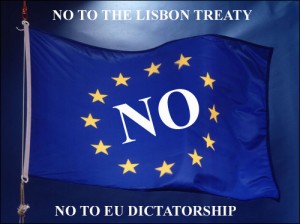 EU politicians cannot change the treaties, or their effects, just by signing a new agreement: the Court of Justice will always say that the provisions of a fully ratified European Treaty trump any attempt to modify the operation of the Treaty through an unratified agreement.
Other Anti-Lisbon Groups:
Say NO | Vote NO | Lisbon Vote | No 2 Lisbon | Vote No to Lisbon | People.ie | National Platform | Peace and Neutrality Alliance - pana | People before Profit | Republica Sinn Féin - RSF | Communist Party of Ireland | Socialist Workers' Party - SWP | Workers' Party Ireland | 32 County Sovereignty Committee - 32CSM | Ógra Shinn Féin - OSF | Éirígi | Le Chéile Saor |

Get YOUR Group Added
If you'd like to add your group to the list above, please send us an email

Letting the Politicians know how YOU feel - closing the democratic deficit
Contact.ie - Contact ALLTDs, Senators, and MEPs and let them know YOUR feelings about being asked to vote for a second time on the Lisbon Treaty.
The central point to grasp about the current EU Summit proceedings on the Lisbon Treaty is that Messrs Brian Cowen's and Micheál Martin's "legally binding guarantees" to meet Irish voters' concerns do not change a jot or tittle of that Treaty.

If they changed even a comma, the Lisbon Treaty would become a different Treaty and would have to be ratified again from scratch by the National Parliaments of the 27 EU Member States.

EU politicians cannot change the treaties, or their effects, just by signing a new agreement: the Court of Justice will always say that the provisions of a fully ratified European Treaty trump any attempt to modify the operation of the Treaty through an unratified agreement.

EU treaties cannot be amended in any way unless the document embodying the amendments has been both signed by EU leaders, and then ratified by all EU Member States "in accordance with their respective constitutional requirements". That is not happening here.

Thus the Lisbon Treaty which the Irish people will be voting on in the autumn will be exactly the same Treaty as the one which the majority of voters rejected in last year's referendum by 53% to 47% on a 53% turnout.

If the Lisbon Treaty comes into force, it would be the EU Court of Justice which would interpret it, as the EU Court is the only body authorised under the European Treaties to interpret them and decide how they should be applied.

The "decision" or agreement of the European Council that certain provisions of the Lisbon Treaty mean such and such is just that - an agreement between the 27 Prime Ministers and Presidents. It is legally binding on them as individuals, but it is not an international Treaty between States which would require ratification by the 27 EU States putting it before their National Parliaments for approval, as is the normal mode of ratification of treaties.

The text of the introduction to the Summit "decision" states that it is made by the Heads of State or Government "desiring to address those (Irish) concerns in conformity with that Treaty", viz the Lisbon Treaty.

Being in conformity with the Lisbon Treaty, the "decision" or agreement cannot add to or substract from Lisbon in the slightest, and it would be for the EU Court, and the Court alone, to decide what Lisbon and its manifold provisions would mean if Lisbon should come into force.

So far as one can ascertain, the Summit "decision" or "agreement" is not actually being signed by the 27 Prime Ministers and Presidents who agree it, as would be normal with an international Treaty pending its formal ratification. Note that it is not being called a Treaty, but rather a "decision" or "agreement".

Formally registering this decision at the United Nations as a political agreement between the Prime Ministers and Presidents concerned, is intended to make it look more significant to the Irish public. This would confer on it a minor status in international law, but not in EU law. It would not and could not override EU law.

Some future meeting of the European Council of EU Prime Ministers and Presidents could make some other decision or agreement, possibly even in contradiction to this agreement, and that would be equally valuable or valueless, for it would not add to or take away from the Treaties one iota.

The whole process is meant to give the Irish media and public the impression that some real change is being made to the Lisbon Treaty, when nothing like that is happening.

Nor is the Summit "decision" or "agreement" a legally binding Protocol attached to Lisbon, which would form part of that Treaty and which would be binding in European law and on the EU Court of Justice in interpreting and applying European law. For that would require opening the Lisbon Treaty and ratifiying the new Protocol anew as part of it.

Promise of a special Irish Protocol or "clarificatory declaration" to be attached to some future EU Treaty, possibly years away, would be just that - a promise. It would not affect the Lisbon Treaty coming into force, with all its legal obligations. It would not prevent the constitutionally new European Union which Lisbon would create being established.

In no way could a promised Protocol to some future EU Treaty resile or pull back from the obligations entailed by the provisions of the Lisbon Treaty once Lisbon had come into force.

What could such a promised future Protocol do in any case, for Ireland is not seeking any opt-outs from the provisions of the Lisbon Treaty?

In 1992 when the Danish people voted No to the Maastricht Treaty, its Government sought and secured legally binding opt-outs from the central provisions of Maastricht - the euro-currency, EU military and security commitments, and Maastricht's provisions on EU citizenship. These provisions of Maastricht were never applied to Denmark and that position was formally recognised by a Protocol in the EU Treaties at the time of the 1998 Amsterdam Treaty, and these Danish opt-outs still apply.

Nothing like that is being sought by Ireland, whose Government has signed up to and accepted the provisions of the Lisbon Treaty and the EU Constitution which it embodies in their entirety.

That is just as true now as it was last year.

(Signed)

- Anthony Coughlan