Joe Higgins to do Online Live Q&A Session with Voters

national | elections / politics | feature

Saturday May 23, 2009 15:46

by Joe Higgins.eu - Socialist Party

info at joehiggins dot eu
Joe Higgins is standing for the Dublin Constituency in the Euro Elections to be held on Friday, June 5th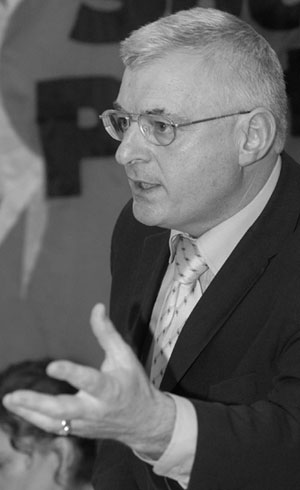 This Sunday (24th May), the Socialist Party candidate in the Dublin Euro Election Campaign, Joe Higgins, will be doing a live online video Q&A session, to give people throughout Dublin the chance to directly ask him questions. Starting at 5pm, he will be answering questions as they come in, live on video through his website . To watch the video, or ask a question people simply have to log on at 5pm.

The event, which his campaign believes to be the first of its kind for Ireland, will also reach out to those in the online blogging community, who the campaign are keen to engage with. As well as taking questions from the internet, a number of 'bloggers' will also be at the event, taking place in the IFI in Templebar, with plenty of time to interview Joe.

RELATED LINKS:

- More information about the bloggers side of the event: - "Open Invitation to Bloggers"
- "Joe Higgins Launches Online Euro Election Campaign": Click Here
- "Joe Higgins - Why I'm Standing": Click Here
- Information about all the candidates running in the Dublin European Elections, and a chance to ask them all questions by email: Click Here

Socialist Party of Ireland website
Joe Higgins website

The event aims to engage with the online community, and with the thousands of people who normally don't get a chance to question or talk to the candidates. Thousands of people throughout the city, particularly those living in apartment blocks, have never gotten the opportunity to engage with the candidates. Whilst candidates regularly answer questions from the media, Joe Higgins wants to engage directly with ordinary, working people throughout Dublin – arguing that they should be the ones to set the agenda of the election, not the media or the establishment parties.

Here is Joe's blurb for the election: "Joe Higgins is standing in the Dublin Constituency for the Socialist Party to give ordinary people all across Dublin the opportunity to strike a blow against the government's attempt to make us pay for the disastrous crisis caused by the profiteering and greed of speculators and big bankers in the property market and to put forward a socialist alternative to the the chaos of the market and the corruption of crony capitalism and crony establishment politics."

The live video streaming will be done through Joe Higgins' UStream account and clips from it will be made available afterwards on (his YouTube account. Questions can also be submitted via his Twitter account.