Schools Out! Stop the Commercialisation of Education

international | education | feature

Wednesday February 18, 2009 13:06

by Mark C - ASTI + CCFE (Pers. Caps.)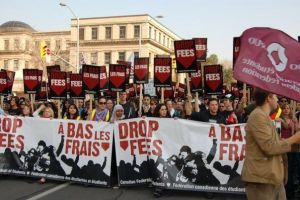 The loose network of struggling groups from around the world calling itself the International Students Movement has called for a Global Week of Action 2009 this coming April (20/04 - 29/04).
Last November, students from many countries across the world took part in the world's first coordinated action against the commercialisation of education and the (re)introduction of fees. The show of strength and solidarity was organised by the ISM, the International Students Movement (for free and emancipatory education), a loose collection of individuals and groups (not just students) with a common aim evident in the group's title.

November 5th saw actions take place in Ireland, Liberia, Greece, Germany, Croatia, Bangladesh, Canada, United States, Austria, Argentina, and many more. For a full report on the day, click here.

Related Links:
• International Students' Movement (for free and emancipatory education) - emancipating-education-for-all.org.
• Last year's call for the International Day of Action - indymedia.ie.
• Education articles on Indymedia.ie - indymedia.ie/education.
• Campaign for Commercial-Free Education, Ireland - commercialfreeeducation.com.
• Call for meeting of grassroots education workers, Ireland - indymedia.ie.

If you want to let the politicians know you don't want education spaces commercialised and/or fees reintroduced - contact them @ Contact.ie.

This year, ISM has decided to go for the big one and is coordinating a week of actions. This will begin on April 20th and last for nine days (it's going to be a long week!). The concept for the Global Week of Action 2009 will be similar to the one for the international day of action. It is up to each group how they want to express their protest and for how many days within that week. So far, groups in countries on every continent have signed up for actions during the week - Europe (Germany), Asia (Bangladesh), North America (Canada), Australia (Australia), Africa (Egypt), South America (Argentina), with many more to come.
One very interesting idea to have sprung up so far is the creation of a global flashmob. Groups around the world will mobilize for a flashmob at some prominent place (on April 22nd) in their region. Each flashmob will be filmed and the ISM will put a video together with all the flashmobs showing similar scenes around the world.
Other ideas that have been mooted include college occupations, teach-ins in public places, marches, information stalls - anything that gets the message out.
There are, of course, things that still need to be done, such as:
• forward the Call for the Global Week of Action to other groups around the world!! (please let as many struggling groups (students, teachers, pupils, parents, workers) as possible know about this week of action); a
group for the "Global Week of Action 2009" was set-up on Facebook
[invite "friends" and members of other groups]; this will only be successful, if we work on it together);
• promote awareness regarding the global perspective of the problem among societies around the world;
• expand networks on a local and global level (you are welcome to make use of the forums on the ISM site for that).
For further information see the
website of the ISM
or join the
Facebook group
.
Below is a slideshow of the actions from around the world on November 5th. Let's make the week a much bigger display.