9th World Social Forum Kicks Off in Brazil

international | environment | news report

Wednesday January 28, 2009 16:30

by dunk

fuspey at yahoo dot co dot uk
Another World is possible! Is it? If so, how?
In Brazil, more than one hundred thousand people are gathering for the ninth World Social Forum. A crowd of some fifty thousand kicked off the event Tuesday with a march through the Amazon city of Belem. The World Social Forum gathers social movements from around the world under the theme of 'another world is possible.' It's timed to coincide with the gathering of corporate leaders in the Swiss town of Davos.

Listen to the live broadcast, when available from AMARC: http://66.90.104.82:8330/listen.pls

WSF 2009 @ Belém - Pará - Brasil (27 feb - 1 feb, 2009) : http://www.fsm2009amazonia.org.br/


Another World is possible!
Rallying around the call of "Another World Is Possible," the World Social Forum has placed social justice, gender equality, peace, and defense of the environment on the agenda of the world's peoples. World Social Forums have collectively expanded the democratic spaces of those seeking concrete, progressive alternatives to imperialist globalization.

Why Belém, Brazil?
The city was chosen to host the 2009 edition of the global forum in order to highlight the importance of the Amazon region for the entire world, and because its local cultural, political and economic reality is strongly linked to many WSF issues, such as bio-diversity, climate change, ethnic and cultural diversity, colonialism, militarism and the various connections between labour and production (from subsistence mineral extraction to hi-tech industry).

Another World is possible! Is it? If so, how?
This post is not a dig at the social forum process, rather a question pondering whether this process is of any importance to us now on the distant side of this planet of suffering. Currently, there is no mention of this event on indymedia.org, indymedia Ireland or some of the email lists circulating amongst those working in Irish social movements and beyond.

How do those of us, many miles away, and in a different sense, many worlds away from Belém view these goings on? Do we have anything to contribute, do we have anything to learn, are there ways in which this process / event can be improved upon? When first it started, many felt something special was growing. In Ireland we had our own social forum(s), for many, both global and local they felt there was hijacking moves being made, at other times it was felt just to be yet another thing not worth bothering about. 2 years ago, when the WSF happened in Kenya, some of us tried to "horizontalise" the social forum process, to connect different communities in struggle with others in similar situations on other sides of the planet, we used radio streaming technology to listen live to others` stories, to a small extent we succeeded. Communities in Barcelona listening to Mary Cummings from the north wall womens centre talking about their story about the topic of "housing" felt similar things at play, corruption, speculation, inability for normal people to get adaquate housing...

The question im simply trying to pose is, does this social forum process still matter? If not, why did it fail? And lastly, if its something which still matters, and it just seems not much is happening in our part of the world about it, what can be done to improve things?

World Social Forum 2008 - Global

The eighth World Social Forum in 2008 was not organized at a particular place, but globally, which means by thousands of autonomous local organizations, on or around January 26. They are also known as the Global Call for Action.
http://wsf2008.net/eng/home/
World Social Forum 2007 - Kenya
Others are not traveling to Narobi but are staying at home to support the network by attempting to widen the discussion with the Global Listening Nodes project: a proposal to Syndicate content from different nodes in social centers and other alternative media outlets during the WSF and combine it with content from Nairobi also. A kind of global collaboration on both virtual and physical. Basically getting more social centres and other spaces to open up during WSF as local nodes around planet for people to go to to firstly listen to stuff live from kenya, but also maybe where they could have 2 way systems: being able to participate in forum without physically being there.
Indymedia radio support for WSF 2007 from Kenya
http://www.indymedia.org/en/2007/01/878667.shtml
When Social Fora break down, break up, splinter...
The European Social Fora 2004 - London
http://www.indymedia.ie/article/67091
Past World Social Forums
Past IMC WSF coverage : 2007: Kenya | 2006: Venezuela | Bamako, Mali | Pakistan (Znet) : 2005: Porto Alegre, Brazil : 2004 : Mumbai, India : 2003 : Porto Alegre, Brasil : 2002 : Porto Alegre, Brazil : 2001: Porto Alegre, Brazil
Related links
9th World Social Forum Kicks Off in Brazil
http://www.democracynow.org/2009/1/28/headlines#6
World Association of Community Radio Broadcasters AMARC, details:
http://www.amarc.org/index.php?p=World_Social_Forum_200...afe=0
listen, when available
http://66.90.104.82:8330/listen.pls
WSF 2009 @ Belém - Pará - Brasil (27 feb - 1 feb, 2009)
http://www.fsm2009amazonia.org.br/
Main WSF portal
http://www.forumsocialmundial.org.br/index.php?cd_langu...age=2
http://en.wikipedia.org/w/index.php?title=World_Social_...Forum
World Social Forum Charter of Principles
http://www.forumsocialmundial.org.br/main.php?id_menu=4...age=2
El Proceso de lo Posible (Foro Social Mundial) (trailer)
http://www.youtube.com/watch?v=jlPl0UUWf5k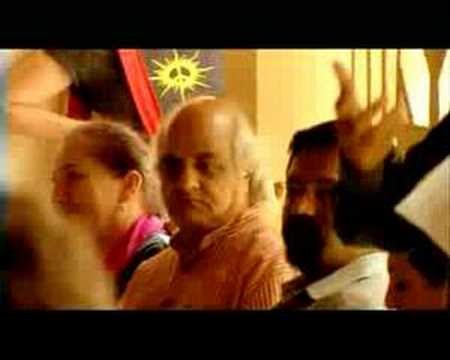 Caption: Video Id: jlPl0UUWf5k Type: Youtube Video
Embedded video Youtube Video