Bob Doyle: 12th February 1916 - 22nd January 2009: 'An Unusual Communist'

international | miscellaneous | feature

Friday January 23, 2009 23:37

by anarchaeologist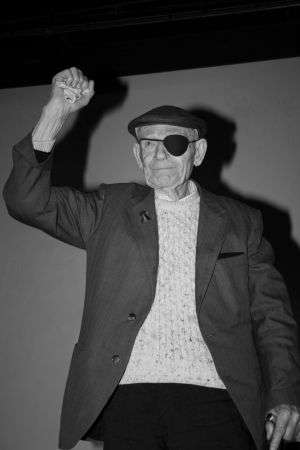 The death has occurred in London of Bob Doyle, the last surviving Irish soldier of the XV International Brigade of the Spanish Republican Army. Bob, whose health had been failing for some time had survived a recent double heart attack, before passing peacefully last night surrounded by his family. He was a few weeks short of his 93rd birthday.

Bob's career as an political activist has been recorded in his book Brigadista, which recounted his early life in Dublin as a Republican volunteer and later as a member of the Republican Congress, prior to his abortive first attempt to fight against Franco in July 1937, which saw him stow away on a ship to Valencia.

On his return to London (which he was to make his home for the remainder of his life) Bob contacted the CP and arrived in Spain by the more usual route, walking over the Pyrenees in a group of 15 volunteers, including the writer Laurie Lee. Bob was given basic military training and promoted quickly due to his aptitude and experience. Assigned to a training base behind the lines, Bob disobeyed orders and left with a detachment of British volunteers to take part in the second battle of Belchite in February 1938. He was captured at Calaciete with Frank Ryan and survived the concentration camp of San Pedro, before being released in a prisoner exchange in February 1939.

Bob joined the merchant navy on the outbreak of the second world war, where he received a medical discharge for an ulcer. He spent the remainder of the war as a firewatcher on the roof of the CP offices in central London.

He threw himself into political activity after the war and was one of the Communist leaders of a major printworkers' strike in 1959 and the fight for a 40 hour week. Bob was also undertaking more dangerous work, frequently travelling to Franco's Spain helping to organise the underground unions there.

Bob was an unusual Communist. This writer first encountered him in London during a Poll Tax demonstration, dressed in a top hat and tails. Bob was to be seen on many demonstrations in London throughout this period for a variety of causes and was not shy of confrontation with the bosses or the police. Bob was also a firm advocate of the legalisation of cannabis and was an enthusiastic grower of the herb in his north London greenhouse.

More recently, Bob has been in involved with Spanish Civil War commemorations both
here in Ireland
and
in Spain
and he was due to accept honorary Spanish citizenship in the coming months. He hadn't taken up an offer extended several years ago from the Zapatero government as it would have required giving up his Irish citizenship in exchange. Under a new law, however, non-Spaniards are entitled to retain their original citizenship.
Bob attended his
last commemoration at Jarama last February
where he delivered a a speech fired with passion and anger attacking global capital and the hold it still has on the world.
Bob's funeral arrangements are to be announced next week.
No Pasarán
'I am here to make you boil with anger; the powers that supported Franco in Spain are still active, and today their reach is global'
:
Report on Speech by Bob Doyle - September 2006
Some History of Irish Involvement in the International Brigades is Here.
Previous Indymedia Obituary of International Brigades Veteran James Maley.
Homage to an Anti-Fascist: Michael O'Riordan RIP.
Indymedia Article Marking 70th Anniversary of the Connolly Column
NOTE: Indymedia Ireland invite those with memories of, or reminiscences about, Bob Doyle to use this page as a virtual tribute. We will endeavour to, after a period, print the page out and present it to his family.