DDoS Attack: Website Monitoring Military and CIA Planes through Shannon

national | anti-war / imperialism | feature

Monday January 12, 2009 13:09

by shannonwatch webmaster
Well organised, repeated attempts to shut down ShannonWatch.org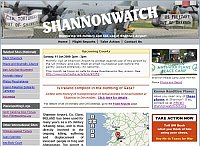 Shannonwatch.org, a website set up in December 2008 to document US military traffic and rendition flights through Shannon Airport has become the victim of organised international attacks. The attacks which started on January 8th are being repeated, and efforts to keep the website live are currently proving difficult. The website managers are determined that they will not be silenced however, and will continue in one form or another to publish information on military and suspect CIA flights through Shannon.
Related Links:
• Check to see if the Site is online yet: ShannonWatch.org
• ShannonWatch asks Is Ireland facilitating possible genocide at Shannon?
The attacks on ShannonWatch.org indicate that a concerted effort is under way to stop the dissemination of information about US activities in Shannon. According to the Internet Service Provider (ISP) that hosts the website, the ongoing distributed denial-of-service (DDoS) attacks are far more sophisticated and determined than most such attacks. Efforts to make websites unavailable are not unusual, but a spokesperson for the ISP said this was "the second serious one [they have seen] in ten years". The attacks involve thousands of hits per second, first on the nameserver, then on the server hosting the website, with uploads of hundreds of megabytes designed to bring the entire system down.

After the initial attack on Thursday (Jan 8th), the website was successfully restored. However the attacks were repeated, causing many of the websites hosted by the ISP to become unavailable.

One can only speculate as to exactly why the site is being attacked, and by whom. It may be because it provides a count of planes carrying US troops through Shannon airport on their way to/from an illegal war, or because it documents the number of US military planes landing at Shannon and passing through Irish airspace. Or it may be linked to the fact that the website lists the known CIA-controlled planes that have used Shannon airport since August, along with details of other rendition planes that people should watch out for.

Another possible reason for the attack is that the website identified a recent landing at Shannon that may be connected to the covert transportation of deadly weapons. Shannonwatch.org highlighted the fact that a plane registered to Kalitta Air landed in Shannon on Dec 20th and again on Dec 22nd. Given that this airline company transported laser-guided bombs for the Israeli bombing of Lebanon in 2006 and that it brought these through Prestwick without the appropriate clearance (see http://uk-airport-news.info/prestwick-airport-news-281106.htm), the presence of its aircraft in Ireland merits further investigation.

Shannonwatch.org is maintained by Cosantoiri Siochana, which is a group of human rights and anti-war activists based in the mid-West of Ireland. They are now appealing for assistance towards getting the website up and running again as quickly as possible. Mirrored hosting and/or an ISP that can handle large scale malicious attacks may be required; anyone with suggestions or offers of help is invited to contact shannonwatch[at]gmail.com.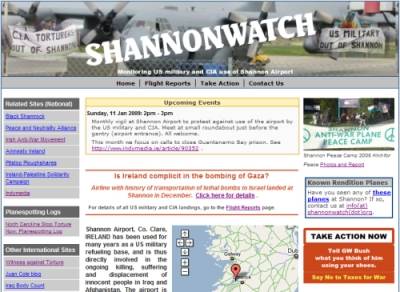 Screenshot from www.shannonwatch.org which was attacked repeatedly this week