Eight Arrested as S2S Flotilla Acts Against Winching Preparations – Thurs. 4th September.

mayo | environment | feature

Saturday September 06, 2008 11:08

by FSB! - RSC
Rammed, Dunked, Arrested – Shell to Sea Flotilla take on Shell's Thug Fleet in Sunset Action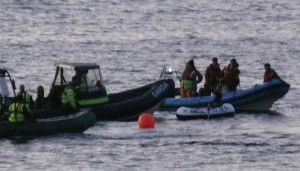 The Shell to Sea Flotilla took to the waves in Broadhaven Bay this evening towards sunset in an attempt to foil winching preparations in advance of the pipe-laying ship the Solitaire's arrival possibly sometime soon. The intrepid S2S Flotilla were opposed in their mission by Shell's fleet of security mercenaries, Gardaí, and the Irish Naval service, which were deployed in overwhelming numbers and in an aggressive, deliberately un-safety-conscious manner. Seven S2S marine protestors were arrested and taken to Belmullet Garda station. In a simultaneous action at the gates of the Shell Glengad compound a local man was arrested and taken to Belmullet Garda station. An earlier marine S2S sortie successfully held up shore-based dredging operations in the Glengad compound this afternoon for about two hours; there were no arrests that time.
Related Links: Shell to Sea Coverage on Indymedia.ie | Glengad, Mayo - July 29th | Shell & Gardaí Force Community from Glengad Beach | Shell halted as Shell to Sea '8' are illegally detained + Video of Event | Audio Interview with S2S activists after weekend trip down | Rossport Solidarity Camp Returns to Glengad with a Fresh Call Out for Action
This evening's S2S marine action was launched in response to the arrival of the winching platform being towed into position and being made ready. As a prelude to operations, a delegation of five people in four kayaks went forth to the Shell Fleet to attempt a parley. The Shell side were insincere in their parley for they immediately commenced offensive operations against the S2S Flotilla delegation. After being harassed by nearly all of Shell's vessels, the delegation made it back to shore and the Solidarity Camp, where it was decided to go out and attempt action against winching preparations.

The following timeline of events is taken from the Shell to Sea Flotilla log (with some additions from photo timestamps):


| | |
| --- | --- |
| 19:52 | S2S delegation in kayaks set out to attempt parley with Shell's fleet. |
| 19:58 | All Shell Thug Fleet vessels bar four heading to kayak delegation |
| 20:04 | After being chased by opposition kayak delegation make for beach and Camp. |
| 20:08 | Kayak delegation returns to shore and Camp. Decision made then to launch action. |
| 20:20 | Launch |
| 20:24 | Group head over land toward compound |
| 20:28 | Garda boat has kayak. |
| 20:31 | Garda capsize S2S boat. Occupant pushed into water. Garda take kayak. |
| 20:33 | Garda jumps into water. Lasso – S2S person picked up. |
| 20:39 | 3 boats surround dinghy; it evades. Occupant then dumped in water – attempts to swim away; Gardaí go in after him (this person was taken by Gardai some minutes later). |
| 20:44 | 3 other S2S marine activists arrested in 5-minute period. Observations confirmed at this point that all Shell 'safety' boats have Garda personnel on board – Shell effectively have no safety boats – all Shell vessels are hostile. S2S safety boat the Florence Nightingale withdraws under threat of ramming by Gardaí. 2 S2S vessels withdraw from action. |
| 20:48 | 4 ribs go for S2S dinghy – 2 Gardaí jump in and take person. |
| 20:50 | Another dinghy assaulted by Shell Fleet. Occupant rammed and tossed into water – 2 Gardaí jump in after him. |
| 20:55 | Remaining S2S Flotilla boats move inshore. |
| 21:07 | Last S2S boat makes shore. |
| 21:10 | Last of shore-based group return from compound over land to Solidarity Camp. |
The following list is of the S2S Flotilla vessels deployed (list includes vessel type, squadron and name). Vessels are grouped by condition at end of action. List of losses may not be complete at time of posting.
S2S Fleet vessels committed
Losses:
Irish Flotilla
Kayak the Niamh Cinn Óir from the Fianna Squadron
Kayak the Maedbh from the Emerald Squadron
Dinghy the Michael Davitt from the Mayo Squadron
International Flotilla
Kayak the Robin Hood from the Sherwood Squadron
Dinghy the Hypatia from the Freedom Squadron
Dinghy/Kayak as yet unidentified
Retrieved Damaged:
International Flotilla
Dinghy the Twn-Sion Cati from the Freedom Squadron
Returned Unharmed:
Irish Flotilla
Dinghies the Ronnie Drew and Luke Kelly
International Flotilla
Dinghy the William Wallace
Safety Boats
Dinghy the Florence Nightingale.
Overall number of S2S activists in action – 11 in 10 boats total (kayaks and dinghies)
Opposed to the S2S fleet were the following:
2 Irish Navy ribs with 1 Garda on board each
3 Garda 21-foot ribs
3 Garda inflatable vessels
5 Shell Security boats with 1 Garda on board each
1 Shell War-Boat the Aoife
All above vessels with exception of Shell War-Boat were equipped with powerful outboard engines.
Estimated number of Shell personnel (Shell's own, Garda, Irish Navy) deployed against S2S Fleet – min. 60, of all types. Number of land-based Gardaí - min. 30.
During this action all of the S2S Fleet were rammed by Garda or Shell boats, with the exception of the S2S safety boat which was threatened with ramming by the Gardaí boats before she withdrew. All of Shell's 'safety' boats had Garda personnel on board, thereby invalidating their 'safety boat' status and declaring themselves as hostile. S2S attempts at parley were met with insincerity, since offensive operation against the S2S parley team almost immediately. Gardaí operated during this action with flagrant disregard for their own safety as well as that of protestors. Land-based participants in this action experienced rough treatment from Gardaí near the Shell compound.
It appears that Irish Navy personnel deployed on Irish Navy ribs were under orders not to communicate whatsoever with S2S activists. All attempts by S2S marine activists to speak with Navy personnel were met with silence.
Meanwhile, at the Shell Glengad compound gates the indomitable Shell to Sea local campaigner Maura Harrington and her brother Martin maintained a vehicular blockade for nearly two hours. Near the end of the action Martin was arrested and taken to Belmullet Garda station. A request from Maura to have a doctor called to attend to Martin in the station was denied by the Gardaí.
All arrestees bar one S2S marine activist have been released from Garda custody at time of posting
Report and photos of the afternoon action will be posted later today, due to time constraints.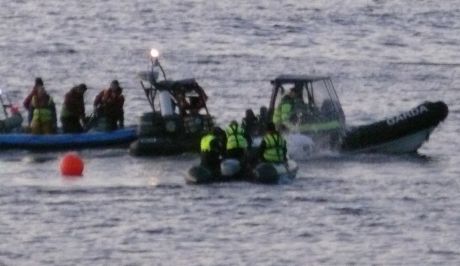 The seizure of the S2S Michael Davitt - 2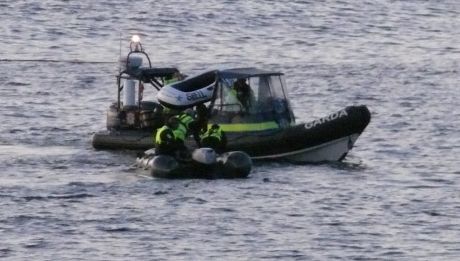 The seizure of the S2S Michael Davitt - 3