1798 Commemoration tara

national | miscellaneous | news report

Tuesday May 13, 2008 15:53

by Tara Tara Tara
A Memorial Stone dedicated to the Irish Rebels killed during the 1798 Rebellion at tara has mysteriously disappeared.
Gardai are currently investigating the mysterious disappearance of a 1798 Memorial Stone from a wall on the roadside on the border between the townlands of Odder and Castleboy on the Hill of tara.

The monument was erected in 1998 by a group called Comoradh Rioch na Mhi and was inscribed with

"1798- 1998 in memory of the Croppies who gave their lives for Ireland, 26 May 1798 Erin Go Bragh"

Patrick Pryle, one of the founding members of Comoradh Rioch na Mhi organised bus loads of Pike groups from Wexford to attend a wreath laying ceremony on Sunday. It was well attended by locals and visitors all outraged at the disappearance of the stone. Patrick Pryle has written to the OPW, the Meath County Manager and the Chief Super in Navan garda station asking them to investigate the matter.

He is quoted as saying " It is Sacred land and it is under the protection of the state and it is up to the state to protect its own property and the memory of these people who died for Ireland."

It is estimated that about 400 Rebels were killed in the battle and are buried on the Hill of tara in unmarked graves after being hung by the neck by the Brittish.

Anyone with information should contact Navan Garda Station.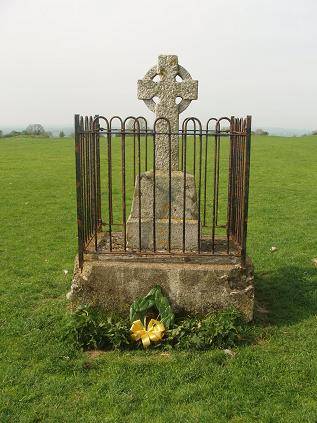 A 1798 Memorial still standing at Tara