A Hidden History of Social Centres In Ireland…

national | history and heritage | feature

Saturday April 05, 2008 23:33

by darren - Seomra Spraoi

seomraspraoi at gmail dot com
Ireland & Social Centres: Synonymous?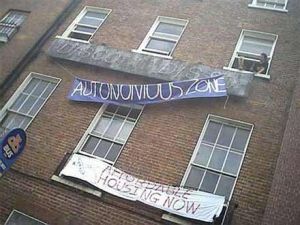 Not exactly…
But there might be more than you'd think.

On the 11th -13th April Seomra Spraoi host Ireland's first Social Centre Gathering. What better excuse to have as look back at radical spaces in Ireland over the last 30 years.

Details on Social Centre Gathering
Web Resources on Social Centres In Ireland: Direct Action Against Apathy — Housing Resource on Struggle
Currently in Ireland there are at least four active social centre initiatives. Just Books are set to make a comeback in Belfast; the Cork Autonomous Zone have been keeping it real in the people's republic; the recently-formed and aptly-named Galway Social Space seek ... a space in Galway; and although temporarily homeless, Seomra Spraoi continues to carve a space for libertarian activity in Dublin.

When it comes to social centres its been a "tradition" to look beyond Ireland's fair shores for inspiration. Without doubt we've a lot to learn from the UK and continental Europe, where social centres are well established and serve as the focal points of social movements.

But as Scoil Spraoi (the educational working group of Seomra Spraoi) gears up to host Ireland's first Social Centre Gathering, it seems timely to take a peek back at what has gone on this little isle. Hopefully, in glancing backwards (as well as sideways to our Euro-compadres), we can avoid having to constantly re-invent wheels and can potentially bridge some generational gaps of knowledge.

I've avoided the conundrum of having to define "social centre": that just sounds too painful for right now. If a space seems like it is/was a social centre, I've included it. The list of social centres below is by no means comprehensive and is pretty admittedly Belfast- and Dublin-centred. I'd love to learn about more social centres in Ireland, so please add to the list…

This article was generated by snooping around the net and trawling people's memories. There's stuff ripped from all over the place - sources are given at end of each listing.


Just Books, Belfast (1978-1994)
Just Books was a 'bookshop' that was opened by the Belfast Anarchist Collective in June 1978. More than just a bookshop, the building became a centre for anarchist ideas and activity – during its time the building included a short-lived library, the Print Workshop, a meeting and exhibition space, the Hideout Café, Belfast Independent Video, Belfast Unemployed Group, Prisoner Book Scheme and Women's News office.

Set up without any form of state subsidy or grant, money was raised through running benefits and from interest free loans and donations from supporters. The bookshop, which became a feminist collective from the mid-'80s until it became a mixed gender collective again in the early '90s, was always run on a self-managed basis, with collective decision-making at its core.

The location of the bookshop in the old Smithfield Market area of Belfast, at the bottom of the Shankill Road and the Falls Road, was important in terms of making the space accessible to people from all communities.

A victim of the general decline of the Smithfield area following the 1986 development of Castlecourt Shopping Centre, a more general squeeze on radical booksellers brought about by recession, increased book prices and growing competition from bigger outlets, Just Books closed its doors proclaiming that "16 years of providing an invaluable service to the community and being a focus for social change and revolutionary ideas is something to celebrate."

http://www.anarkismo.net/newswire.php?story_id=427


Anarchy Centre, Belfast (1982)
Can't say too much about the Anarchy Centre in Belfast other than it earned its legendary status when Crass played there in 1982, supported by Stalag 17. The gig helped kick-start a new wave of activity in the Belfast - anarcho punk scene.
http://www.newsletter.co.uk/entertainment/Fuelled-by-th...34.jp


Warzone/Giro's, Belfast (1986 –2003)
Giro's was an entirely volunteer run collective that existed for 18 years. Operating under the umbrella of the Belfast Youth & Community Group (an official charity). The space housed a music venue/rehearsal space for bands, veggie cafe/drop-in, various artists' facilities, library, recording studio, food co-op, info-shop, office space, & was home to many groups' organisations & a miss-mash of Belfast misfits wanting to carve out a space that was free from sectarianism & intolerance.

The BYCG received funding from the Arts Council Of Northern Ireland that more or less covered the rent of the large Premises on Donegal Lane. The activities of the space were pretty much self-funding with a large emphasis on keeping things cheap & accessible. The cost the famous giros veggie burger was not much more in 2003 than it was in 86.

Warzone was the 'mecca' of punk in Ireland. Hundreds of bands from around the world played there culminating in the annual the Warzonefest that ran from 98-2003. The 'do it yourself' ethic of punk permeated the space & created a sense of possibility & creativity that was sometimes in short supply in Belfast. Anarcho-punk introduced many of the kids to anarchist politics.

The Centre operated as an all ages gig venue. Concerts however weren't just attended by teenagers, the kids also organised/promoted gigs & performed in the bands. Some of them even sounded good.

The politics were not limited to punk; giro's was a hub of anarchist & libertarian resistance during the Gulf Wars, was home to many campaigns & organisations, hosted the Grassroots Gathering in 2002 & was home to 'our kitchen' – (a Belfast node of the Grassroots Network) in it's later years.

The collective's activities weren't confined to the building - 'Off the Beaten Track' was a community festival from taking place from 98-2001. This event took place over the '12th Weekend' in July' in various locations in Co. Down & Antrim. July being a tense time in Northern Ireland the festival was a space of respite & regeneration, & of fostering friendship & community that transcended sectarianism. Off the Beatten Track is set to make a return this year…

In the end the Warzone Collective decided to wind up, due to various factors – a pretty big one being the 10 year lease for the space on Donegal Lane being up. Many of the collective having been involved from the very start seized this as an opportunity to claim their lives back. Giro's closed in September 2003 with a month of events to celebrate the achievements of the collective.

http://geocities.com/warzonecollective
http://www.geocities.com/directactionagainstapathy/issu...Track


Hope Collective, Dublin (1990s)
The Hope Collective organised independent gigs from around 1995 to 1999. The collective gave out leaflets explaining the DIY independent ethos, whereby the collective wanted to provide the music for the greatest number of people - for example by organising afternoon gigs, all ages were allowed to attend as well as the entrance fee being very low - varying between 2 and 3 Irish punts. The collective made some moves towards finding a social space in the mid 1990s. It didn't work out. Awesome gigs though…

http://thumped.com/wiki/index.php?title=Hope_Collective


Garden Of Delight, Dublin (1997)
The Garden of Delight was a self-managed space in Dublin's city centre that was run by a collective for nine months in 1997. It provided space for a range of campaigns, public meetings, art exhibitions, political exhibitions and a huge variety of parties and happenings. Armed police raided it after a banner declaring the EU to be the Fourth Reich was hung on the roof during the European summit. The space saw many other police visits, normally in response to parties that went on late into the night. On the night GoD closed, no less then two of the collective members and two international visitors were arrested. Like a shooting star, the GoD led a short but brilliant life.

http://struggle.ws/garden.html


Queerspace, Belfast (1998 – Present)
The Queer Space Project opened in 1998 as a cafe, community centre, library and resource centre for the lesbian/gay/bi/transgender community. The project is run by a collective, which welcomes the participation of ALL members of the queer community. The plan was ... to run an organization without bosses ... to politicise queer identity, to explicitly refuse to hide the existence and nature of this queer place. And to sit down with each other to make deliberate decisions about what a Belfast queer community should look like. Most of the LGBT activities in Belfast at that time were centred on bars. Queerspace provided a safe space to meet and hang out and do something other than drink.

Queerspace occupied two venues in Belfast, in 1998 Botanic and Eglantine avenue. The space functioned as a coffee lounge most of the time (in fact the project was almost entirely funded by coffee donations). It hosted many events, meetings, and art shows. The collective took Belfast by storm, hanging flyers for events and sometimes just flyers about the fact that queers existed; we posted the word "queer" all over the city. A direct action group 'Queer Action Belfast' which had a particularly great logo, and made t-shirts, and protested Newt Gingrich and posted signs asking "Do you love the lesbians in your life?

Queer Space transformed Belfast just by existing. It's just a crazy example of how taking the risk of breaking silence, saying things out loud that are maybe considered irrelevant or obnoxious (like "Hey, I'm queer!"), can change everything.

Queerspace no longer operate a full time space, but operate a twice-weekly drop–in and other activities from the Cara Friend Building in Belfast.

http://www.queerspace.org.uk/
http://irishqueers.blogspot.com/search/label/Belfast
http://www.geocities.com/directactionagainstapathy/issu...Space


Cork Autonomous Zone, Cork (2002 – Present)
The Cork Autonomous Zone (CAZ) started running early in 2002. It hosted campaigning groups, facilitated art, music, etc. It was originally located in a small lane off Camden Quay. In July 2005 a new space was found at 61 Barrack Street, sharing the space with the workers' cooperative, Barracka Books.

Since settling into this space, an independent committee has formed to keep the CAZ running, delegates from each group that use the CAZ are asked to participate. Most nights are booked and some Sundays with various campaigning meetings, film nights, life drawing and workshops.

In September 2007, the CAZ and Barracka Books decided to scale back the size of the bookshop to allow the creation of a cafe, library and internet space. Volunteers are asked to offer one afternoon a month to maintain the opening hours of the CAZ. The CAZ filled an important gap, gave a secure meeting place to several groups and a work space to many others. The financing comes from voluntary donations and subscriptions from users. All work is done by volunteers on specific CAZ work days. There is a good sense of ownership amongst the users.

http://corkautonomouszone.blogspot.com/


Disco Disco (2003) Dublin
On the 13th July 2003 activists calling themselves 'Autonomous Community Spaces' entered 'Disco Disco', a building in Parnell Square that had been vacant for 11 years. The high profile squat action was the first in Dublin in many years. They were violently evicted 24 hours later. Although the life of the squat was short it fired the imagination off many & helped put political squatting back on the map in Ireland for a time.

A lot of preparation and research went into Disco Disco; researching buildings to find out as much as possible about their structural state, ownership and previous uses. Two of the group went to Amsterdam to meet with members of the squatting community there and see what kind of uses they have made of their spaces. The Amsterdam squatters where very supportive & a crew even came to Dublin to help open up Disco Disco.
The Dutch people who came had a lot of expertise of the locksmith variety. They knew a lot about connecting up water supplies, wiring electricity, and barricading, among other things. It was useful to have people there who were positive about the experience and excited to be here. They completely believe that squatting is possible anywhere.

Disco Disco came to and end when a crowbar (wielded by landlords henchmen) smashed through the door & even one of ACS head (luckily with no serious injury). Two people where arrested for refusing to move from the footpath.
Many of the people involved in ACS went on to become Magpies & Seomra Spraoi…
http://ie.indymedia.org/article/60401
http://www.geocities.com/directactionagainstapathy/disc...o.htm


Magpie Squat, Dublin (2003-2004)
From August 2003 to April 2004 the Magpie Squat was a beautiful space in Dublin, proving that a bunch of crust kids and some cleaning fluids could ignite the imagination of a city.

The house on Upper Leeson Street had been lying empty for around 10 years, and was in a poor state of repair. Gradually, over the eight months that the house was occupied, it was transformed into a colourful home for the people who lived there and for the many visitors who stayed there.

But more than just a home, it was used as an autonomous space; a place from which to organise meetings, workshops and discussions. In its short existence, the squat facilitated meetings by groups such as Reclaim the Streets, Gluaiseacht, Food not Bombs, anti-war groups and a woman's group. It housed the Bad Books' library and was used as a creative space for artists and street theatre enthusiasts. Friends and neighbours living in flats and apartments and with no access to their own gardens, turned the yard into an organic vegetable garden.

The house was quite a hub of activity in the run up to MayDay 2004, and it was probably the sudden Garda interest in all things Dublin Grassroots Network that brought an end to Dublin's best-kept secret. With the pressure of constant surveillance, an eviction imminent, and the furniture donated to the Mayday Indymedia Centre, the Magpie Collective decided to call it a day in April 2004. The house was exited "stage left" (through a sympathetic neighbours attic!) with the entrances left 'barricaded to fuck'...

http://struggle.ws/wsm/ws/2004/82/squat.html
Magpie Squat on youtube


San Soucci Squat, Belfast (2003)
In September 2003 (coinciding with the closure of Giros), a group of people involved in the 'our kitchen' network in Belfast took over former student accommodation at Sans Souci Park off the Malone Road. This building, though listed, had been empty for years as it didn't fit into the University plans to redevelop the area into a prestigious and profitable "Cultural Quarter". We had never expected to stay long, but in fact we lasted nearly three weeks.

A lot of time was spent talking; there were so many ideas and so much enthusiasm. Most people felt strongly that the point of the squat should be to provide a space that people could use to do whatever it is that people do. Living and working in a communal space provides the perfect opportunity to have a go at things like compost toilets, urban vegetable gardens, kitchen waste and grey water recycling and experimenting with different ways of keeping the house warm.

The squat in Sans Souci was evicted after 17 glorious days. In that time all involved got to see how much can be achieved by making the leap and squatting a building. We also got a taste for the potential a place like ours had.

http://www.geocities.com/directactionagainstapathy/sans...i.htm


Our Kitchen Squat Café (2003) Belfast
Chefs from the 'our kitchen' network created this temporary autonomous space one cold night in November in Belfast. Around 25-30 people showed up for the food music & discussion on upcoming actions & events. The atmosphere was really chilled out & everyone went of on a buzz scheming about where they'd do it next time...

http://www.geocities.com/directactionagainstapathy/squa...e.htm


The (Una)Warehouse, Dublin (2004-2005)
The (Una)Warehouse situated on North Strand was an alternative living, leisure and social spaces. Hosting gigs, art shows, meetings, film screenings, and housing the bad books and forgotten zine library. The Certain Death Café became a regular Sunday autonomous space, serving super vegan grub and brain-poppin' Zapatista coffee. The Dublin Grassroots Network used the warehouse as a creative space in the run up to Mayday 2004; it was also an important space for Dissent! Ireland in the run up to the G8 in 2005.

Also worth a mention are Spacecraft, from whom the warehouse space was inherited. Spacecraft was formed as a response to a growing need for available and non-commercially organised space for a wide variety of cultural exploits. The collective concerned themselves with the importance of creative and unapologetic use of public and waste space to reintroduce direct and people-based culture, street theatre, oration, visual arts etc.

http://www.indymedia.ie/article/68420
http://www.div.org/SpaceCraft/Manifesto.htm


Basta Collective! Paddy's Hall, Wicklow (2004-2006)
Basta was a youth-led collective, working to improve the quality of life and facilities for young people and, indeed, the whole community in the areas in which we live and recreate. The collective consisted of about 20 young people, was run on an open, autonomous basis and decisions were made collectively. Paddy's hall was the group's base of operations from their formation in October 2004.

The group of self-organised teenagers used the hall for over a year to put on alcohol-free, drugs-free gigs, as well as film showings and providing space for their Basta drama group. As well as hosting bands from the US and Europe, the hall provided space for many local bands to play that wouldn't normally have a chance to play to large crowds of their peers. Originally owned by the local Protestant church, the hall was sold on to a consortium of developers who allowed Basta to continue using it so long as they provided their own insurance. In 2006 the hall was boarded up due to "vandalism".

http://www.bastayouthcollective.tk/


Seomra Spraoi (2004-Present) Dublin
The Seomra Sproai collective was started three years ago with the intention of setting up an autonomous social centre in Dublin. We reckon we've been pretty successful…

Since our humble beginnings we have occupied three different spaces of our own, each bigger than the previous one. Our move to 4 Mary's Abbey in July 2007 saw a huge surge in activity and an expansion of the collective. Over 20 groups held regular meetings or events there, with hundreds of people using the space on a weekly basis. After a month of bureaucratic dealings with the landlord, fire authority & police the collective decided to terminate the lease. From this experience we learned a lot...

We keep on learning. The collective is highly organised, with around 30 people managing the social centre, via working groups, and an open meeting of the collective every Thursday. The Scoil Spraoi Social Centre Gathering is our latest project & we hope to have a range of input from people who've been involved in social centres past & present in Ireland & other countries.

http://www.seomraspraoi.blogspot.com


Rossport Solidarity Camp (2005 – 2007) Mayo
The Rossport Solidarity Camp was a tactic in a campaign against Shell and not set up specifically to create a community space, none-the-less the space operated as a kinda very scenic social centre providing links between people wanting show support for the campaign & the Rossport community. The camp enabled people who wanted to show practical solidarity to stay in the area.

The camp was established in the middle of June 2005, at the request of residents of Rossport opposing Shells construction of a high-pressure raw gas pipeline and inland refinery plant in their area. It was born out of a solidarity gathering held in Rossport on the first weekend in June that year. The camp went one to organise 2 more summer gatherings & hosted the last Grassroots Gathering in 2005. Hundreds attended these gatherings including speakers from social movements in Bolivia & Venezuela & there was much discussion around ownership & control of natural resources in Ireland & further a field.

The camp organised non-hierarchically from the beginning decision being made collectively. The collective was tightly run, with a set of guidelines; including no drink no drugs, behave in a responsible manner, & a commitment to collective rather than individualist actions. They aimed to be responsible & accountable to people in the campaign. Based in a beautiful & ecologically sensitive area the camp established many practices to lighten its ecological footprint.

In July 2007, the camp was served with a notice to evict by Mayo County Council, which cited the unauthorised nature of the structures erected and the potential damage to a candidate Special Area of Conservation. The second reason was seen as grossly hypocritical by campers and local people alike, given the council's approval of Shell's plans to dig up the dunes for pipe-laying. Local people immediately offered the campers different places to stay and most are now resident in a house overlooking both the original camp and the Bellinaboy site.

http://www.struggle.ws/rsc/
http://en.wikipedia.org/wiki/Rossport_Solidarity_Camp


Just Books (2006 - Present) Belfast
Fingers crossed Just Books is set to become one of the oldest & the newest social centres in Ireland with plans to open a centre in Belfast in May. While the shop closed its doors in June 1994 the Just Books Collective has continued to provide stalls at events such as grassroots gatherings and at Belfast's annual St. Georges market May Day celebrations & had a temporary home in Giros info-shop in 2003, & the Blic Arts Space in 2006.
The online Just Books launched in 2006 carries titles on a wide range of topics such as: Irish and international labour history, Irish politics, anarchism, anti-capitalism, feminism, communism, socialism, sex and sexuality, current affairs, globalisation, racism/anti-racism, the environment, labour legislation and more.

The website as part of a project to create a labour resource and solidarity centre in Belfast that will incorporate accessible resources and information for workers in struggle - in a premises providing a multi-lingual resource library, a bookshop, meeting space, internet access and a coffee shop. We would also like to include a projector for showing films. This will provide much needed resources and solidarity for workers in struggle. We hope to open the centre as a practical commemoration of the Spanish Revolution.

Just Books has always been run on a self managed basis with collective decision making at its core. Currently a voluntary collective we hope to establish the centre as a workers co-operative.
http://justbooks.ecobytes.net/


Galway Social Space (2007-Present)
The Galway Social Space Project is a collective of individuals and groups working together to create a vibrant alternative space for music, art, discussion and learning.

According to a group spokesperson the notion of a new space for Galway has been in the pipeline for the last few months.

"We started of the process calling a meeting of friends and groups that we thought might be interested in the idea. After a few successful meetings we opened the process up with a public consultation at Aras na Gael in November. The support for the project has been overwhelming. Similar concepts have existed for some years in
Dublin, Cork and throughout Europe and now this association aims to develop a community orientated, community organised non-profit, cultural and creative space for Galway.'

www.myspace.com/galwayspace


Beyond Buildings: Community Gardens
The 'Anarchist Plot' in Belfast & the Dolphins Barn Community Garden in Dublin where both in some ways offshoots of the Grassroots Gatherings in 2004, & continue to grow as collectively managed community social space. Many of the folks involved in CAZ have been busy greening social space around Cork & Phibsboro got some action with the creation of the 'Cursed Earth Garden' by some people previously involved in the Magpie House.

http://www.eglantine-community-garden.blogspot.com/
http://www.dublin.ie/dolphinsbarngarden/?pageID=2&siteI...D=863


Honourable Mention: Red Ink (2003-2005) Dublin
Not exactly a social centre but who's counting; Red Ink was a book & zine shop stocking a whole host of radical literature, on anarchism, eco-action, music & a had a selection of sex guides transforming the sex lives of the radical left in Ireland. Murder City Records shared the space & provided a soundtrack of d.i.y. & independent music.