Winter Soldier - Public Testimonies in Washington from Iraq and Afghanistan War Veterans.

international | anti-war / imperialism | feature

Tuesday February 26, 2008 22:24

by Eoin Ó Broin - Gluaiseacht (Personal Capacity)
Please support generously.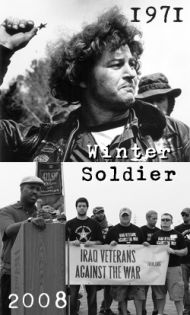 As many as 100 veterans of the recent U.S. army involvement in Iraq and Afghanistan will give public accounts of their experiences on the ground, at an event organised by Iraqi Veterans Against the War from the 13th to the 16th of March, in the U.S. federal capital Washington D.C. The hearing will coincide with the 5th anniversary of the U.S. invasion of Iraq and will precede a series of actions and protests taking place accross the U.S. on March 19th [1].

Liam Madden, a sergeant in the Marine Corps from January 2003 to January 2007 who was deployed to Iraq, Kuwait, Thailand, Japan, and Korea and during his last year co-founded the Appeal for Redress [2], a campaign of service members demanding that congress halt the war in Iraq, said that veterans and civilian survivors of both conflicts will give public testimony and share eyewitness stories that have been censored from the American public about the true cost of these wars.
The hearing is called Winter Soldier and is the second such event to take place in the U.S., the first having been in Detroit in 1971 where Vietnam veterans publicly recounted their own negative experiences. Many Vietnam and WW2 veterans who are involved in the Veterans for Peace Campaign are endorsing and actively supporting Winter Soldier 2.
Related Links: Review of the Winter Soldier Movie | Winter Soldier Site
The hearing is called Winter Soldier and is the second such event to take place in the U.S., the first having been in Detroit in 1971 where Vietnam veterans publicly recounted their own negative experiences. Many Vietnam and WW2 veterans who are involved in the Veterans for Peace Campaign are endorsing and actively supporting Winter Soldier 2.

Winter Soldier 2 is expected to cost $250,000. Contribution towards making it happen are being sought. Fundraising events are being held throughout the United States in the lead up. One such fundraiser is described below. Winter Soldier will be broadcast live via Internet.

http://www.ivaw.org/wintersoldier

WINTER SOLDIER FUNDRAISER in BOSTON on SUNDAY 27th JANUARY.

I found myself in Boston a couple of weeks ago. Coincidentally, a few days before arriving I had by way of a mass email from Fiachra O Luain [3], received an invitation to attend and spread the word about the following event:

- Howard Zinn invites you to: A House Party Fundraiser for Iraq Veterans Against The War Winter Soldier Hearings

I had a vague familiarity with Howard Zinn and the Peoples History of the United States [4] and the event looked interesting and so I went along. It was a Sunday afternoon in the snowy picturesque wooden house suburbs of Boston.

I arrived to about 50 people of mixed ages but with a majority in the 50+ age bracket mingling and making the most of the spread of food laid out and leaflets and T-shirts for Iraqi Veterans Against the War [5].

About twenty minutes after I arrived the fear an tí for the event Nate Golshlag, a member of Veterans for Peace [6], called people to order and introduced the day. He thanked those who had braved the elements and said that the goal was to raise money for Winter Soldier 2 to support the young veterans in their important work. Nate told us that we would hear from Joe Bangert who had been involved in Winter Soldier 1 in 1971 where Vietnam Veterans made public testimonies regarding the atrocities and vile acts they had witnessed their own army carrying out in Vietnam, Liam Madden of Iraqi Veterans against the War and Howard Zinn. Following Nate's introduction, Zinn, himself a WW2 veteran and now a sprightly 85 years of age, was first up. He talked briefly about the lack of choice in mainstream U.S. Politics and told us he had attended the first Winter Soldier hearings in Detroit in 1971.

A video from Detroit was then played [7]. It showed soldier after soldier recounting their experiences. The veterans in the video included an African American and a Native American soldier the former saying that what he had participated in in Vietnam in the name of democracy was the same as what the U.S. Federal Govt. had done against his own people.

Afterwards, Liam Madden [8], one of the Iraqi veterans present, none of whom looked a day older than 25, took the floor and introduced their project. Liam said that the hope was to have over 100 veterans of the Iraq and Afghanistan wars testify in a winter soldier type event in Washington from the 13th to the 16th March. The flyer handed out for Washington stated that "The history of these wars is being written by people who didn't fight them and that it was their responsibility to tell the truth". Liam informed U.S. that the broadcast, logistics and management of the event would cost $250,000 and thanked all those present for their support.

A second, as yet unpublished video from Iraq, was then shown which showed a lot of "collateral damage". Another Iraqi veteran present, Logan M. Laituri [9], who himself had shot the video, gave some personal accounts of events he had witnessed in Iraq which caused his concern and made him join the veterans against the war and get involved in Winter Soldier.

Soon after the fundraiser started, a demonstration had begun outside the house by an organisation called, The Gathering of Eagles [10]. Most of the demonstrators held U.S. Flags. Their placards read statements such as "Winter Soldier liars" and "Support U.S.Troops". From time to time the sports chant "U.S.A!, U.S.A!, U.S.A!" could be heard through the windows and an odd snowball would hit the front door. A video of a protestor "confronting" an elderly woman who was at the fundraiser can be seen on the Gathering of Eagles website. The repeated message in the video is that anti war protests encourage the enemies of the U.S. in Iraq and thus threaten soldiers lives plus a stream of justifications for the US dethronement of Saddam Hussein including that he indirectly funded the training of Oklahoma bomber Timothy McVeigh[11].

When all speakers were finished Nate did the rounds collecting money. After the first round $4,300 was in the bucket so a second round was called for to get a further $700.

Others in attendance at the fundraiser included Carlos Arredondo[12] whose son Alexander was killed in Iraq in 2004 and who subsequently has become active in the anti war movement, Pat Scanlon another Veteran for Peace who is involved in the "Where is the Rage project" and has recently written a song of the same name [13], Dick Crowley who has been involved in an Anti War protest on Boston Common every Saturday since 2003 and members of Merrimack Valley People for Peace [14].

Most people there were Boston residents. Some had been involved in an action on Veterans Day, 11th November 2007, where they had been prevented by the American Legion from marching in the parade with their placards. They marched anyway - behind the street sweepers. They requested a speaker at City Hall Plaza but were denied this request, so they lined up with gags in their mouths to protest the denial of their free speech. 18 of them were arrested for their troubles. Photos on [15] and on Pat Scanlons website.

The event lasted no more than two hours. The eagles had taken flight by the time people filed out of the house into the snow. The most lasting impression was the strength of the cooperation of youth and experience displayed. Given the wealth of experience obtained by some of the more senior veterans present it seems a fair attempt will be made at putting together a very eye opening hearing and obtaining the media exposure the hearing warrants.

The name Winter Soldier comes from the following quote from Thomas Paine. Although Paine never mentions the Winter Soldier, it is taken as the corollary of the summer soldier.

These are the times that try men's souls: The summer soldier and the sunshine patriot will, in this crisis, shrink from the service of their country... Thomas Paine

[1] http://www.5yearstoomany.org/
[2] http://www.appealforredress.org/
[3] http://www.indymedia.ie/article/78417
[4] http://en.wikipedia.org/wiki/A_People's_History_of_the_United_States
[5] http://www.ivaw.org/
[6] http://www.veteransforpeace.org/
[7] http://www.wintersoldierfilm.com/
[8] http://www.ivaw.org/U.S.er/130
[9] http://www.ivaw.org/U.S.er/252
[10] http://gatheringofeagles.org/
[11] http://gatheringofeagles.org/2008/01/29/aar-new-england...ivaw/
[12] http://en.wikipedia.org/wiki/Carlos_Arredondo
[13] http://www.patscanlon.com/
[14] http://www.merrimackvalleypeopleforpeace.org/
[15] http://veteransforpeaceactions.blogspot.com/2007/11/vet....html